The Melissa A. Fischer Nursing Award
The Melissa A. Fischer Nursing Award honors the dedicated nurses of NurseRegistry for their outstanding and continual commitment to exceptional patient care.
The award is named in honor of Melissa A. Fischer, COO of NurseRegistry, who has for over ten years devoted herself to supporting independent nurses as they grow in their careers to improve health care for patients.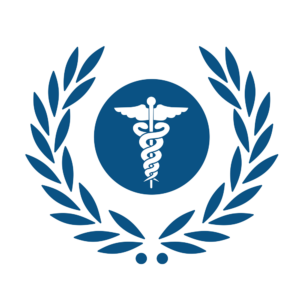 Honorees
We are honored to present the recipients of the Melissa A. Fischer Nursing Award.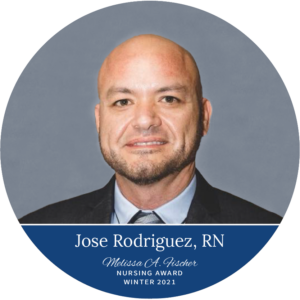 Jose Rodriguez, RN


Winter 2021
Nurse and mentor Jose Rodriguez, RN has been a nurse for twenty years. Working in a variety of settings—from clinics to large hospitals like UCSF Medical Center—he has amassed an incredible amount of experience and helped many new nurses forge their paths in the field of nursing. 
When Rodriguez first started working as a nurse, like for many new nurses, the first six months were overwhelming and the thought of quitting began to cross his mind. Rodriguez realized that what he loved most was surgery. So, he started applying for post-anesthesia nurse positions and was immediately offered a role. Since then, Rodriguez has been happily working in perioperative nursing care for nearly 20 years.
The support of his professors, mentors, and family members helped him get through the beginning growing pains. During the first two years in nursing, there are a lot of challenges and different demands. Nurses have to learn how to manage all that and coming out of school without those skills can be tough for some nurses. 
What helped him, in the beginning, was to quickly learn to multitask, prioritize, and "to develop relationships with the key people that would help me understand workflows and help me improve my workflows, so that I can become a better nurse."
It was then that Rodriguez learned the importance of talking with other nurses, seeing what they've done on their journeys, then stepping back and reflecting on his own situation. Now in a leadership role, Rodriguez goes above and beyond to help new nurses as they navigate through their careers. 
What's Rodriguez's advice for new nurses? "There's a lot of variety in nursing. Try to experience the most that you can, try to experience different areas, different environments. Look at what you like, and always go with what makes you feel the best because that's where you're going to be the most successful. If you like it and you're satisfied, that's going to make you feel good and help you perform better."
Try to experience the most that you can. Try to experience different areas, different environments. Look at what you like, and always go with what makes you feel the best."
What does he like most about working with NurseRegistry? "I was looking for ways to work more and help out. I found out about NurseRegistry and their administrative ease that makes picking up extra work easy. But, the agency does an excellent job of placing qualified nurses with the appropriate patients and that's key to be successful, and that's what engaged me right away."
Rodriguez devotes his life to nursing, working both full-time and on the weekends. So how does he do it? "By remember[ing] that anything that is going on is just happening right now. That's where the focus needs to be right now, as opposed to the future or the past." So when he's not with his patients, he's one hundred percent with his dogs and kids, hiking in Marin, or walking on Stinson Beach. 
We're very happy to have Nurse Jose Rodriguez's experience and caring for patients.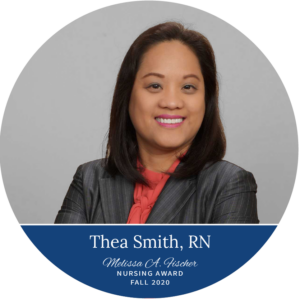 Thea Smith, RN


Fall 2020
Thea Smith, RN had always wanted to be a nurse. When the opportunity came for her to do her residency in Texas, her husband and two children stood by her. The whole family relocated to Texas for her two-year residency, to be with her as she pursued her dreams. 
Her story began as a licensed vocational nurse, in 2006. And as anyone who's met Smith knows, she believes strongly in learning and growth. She pushed herself through a registered nurse program finishing in two years, while raising her children. You can imagine the euphoria around her as she graduated and passed her boards.
Little did she know that real joy would find her working with MOVE! a program serving diabetes patients in the VA Health Care System. There they aimed to go beyond prevention and management but to reverse diabetes. Working with her patients, Smith successfully helped them lower their glucose and A1C levels, in what were everyday medical miracles.
A member of the American Nurses Association (ANA) or the Philippine Nursing Association of America (PNAA), when she isn't reading articles and learning, she's having fun and staying healthy. Zumba, tennis, long walks, and karaoke keep her positive and laughing. On weekends, you might find Smith with her family fishing for striper bass at the delta in the Burlingame Bayshore.
True to her love for nursing, Smith helps aspiring nurses-to-be by tutoring difficult subjects like medsurg, neuro, GI, and motility. At NurseRegistry, we know that with Smith's knowledge and experience patients rely on her to handle all types of cases, going above and beyond to care for her long-term and short-notice patients. 
What advice does Smith give to new nurses?
Continue on growing as a nurse. Don't be stagnant. Be proactive. Find out what you really want for your career and life, to be well-rounded and wholesome."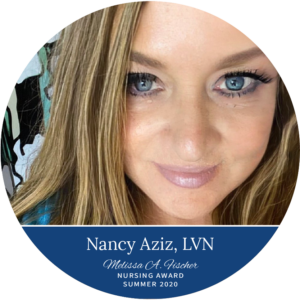 Nancy Aziz, LVN
Summer 2020
Nancy Aziz, LVN began her journey into a nursing career by searching for humanitarian work.
I was considering the peace corps but decided I could probably do more good as a nurse. I have been an LVN for 6 years and graduated from the RN program last year and now awaiting NCLEX."
Working with NurseRegistry, Aziz loves "the flexibility and the different types of assignments that offer a variety of experiences."
We asked Aziz what makes her smile while working—she shared that it's "patients who have not lost their sense of humor." Her least favorite part of her work is seeing patients suffering.
Not so surprisingly, Aziz's favorite podcast is Medicins sans Frontières. 
We know Aziz would have done a lot of good in the peace corps, but we and her patients are glad she chose nursing.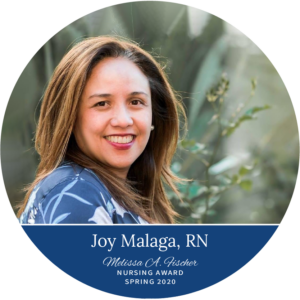 Joy Malaga, RN


Spring 2020
Joy Malaga, RN began her journey when she took nursing as a pre-med course, where she was so inspired by her nursing professors that she decided to pursue it full time. As she puts it, they taught her "the passion and beauty of nursing."
Twenty years later, Malaga is still loving her profession. Patients love her—if you met her, you'd understand why. Malaga carries a bright, cheerful energy that lights up any room.
When we asked Malaga why nursing is so fulfilling to her, she stressed the importance of advocacy—she enjoys advocating for her clients and providing them with the tools to advocate for themselves. Malaga truly loves making a difference in someone else's life, no matter how big or small.
Malaga shared her most treasured memory as a nurse—a time when she cared for a patient with liver, heart, and kidney failure. While the patient was in the ICU for 3 months, Malaga and their team did everything they could for the patient. As she recalls,
He finally got his heart, kidney, and liver all at the same time! He came back to us after surgery looking healthy and happy and thanking our crew. He also left us a  picture book of his journey. Seeing him happy and healthy after his journey was the most rewarding experience I had in my nursing career."
As Malaga loves to say, "Life is good!"—and we couldn't agree more. We're so pleased to celebrate Malaga as an honoree of the Melissa A. Fischer Nursing Award.
See past award recipients.
Deborah Viggiano
Winter 2019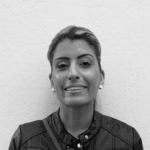 Freshta Azami LVN
September 2019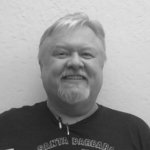 Allan Cronin RN
August 2019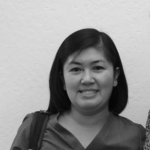 Mirasol Dang LVN
July 2019
Do you know a nurse you'd like to celebrate? Share an inspirational story about a nurse in your life, and we'll include it on the #CelebrateNurses page and across our social media accounts.