Community Giving
NurseRegistry Supports Local Schools
NurseRegistry believes that all students and teachers deserve quality school supplies and healthcare products for their classrooms, which is why we are proud to broaden efforts to support local schools with our new donation program.
As part of this commitment to improving the educational experience for our community's children, we have donated Clorox® wipes, hand sanitizer, Kleenex® tissues, antimicrobial balls, jackets, snacks, and more.
NurseRegistry works with over a dozen schools by providing exceptional nursing staff to students that need them most. With students back in the classrooms, schools are in need of general school supplies and healthcare supplies— like hand sanitizer, Clorox® antibacterial wipes, Kleenex® tissues, and antimicrobial balls—and we knew we needed to help.
This year, NurseRegistry has donated to 9 local schools, including Charter Alternative Programs, helping to fulfill thousands of dollars in requests for supplies for students and teaching staff.
We believe that all students should have access to everything from healthy snacks and sweatshirts to essential items like tissues.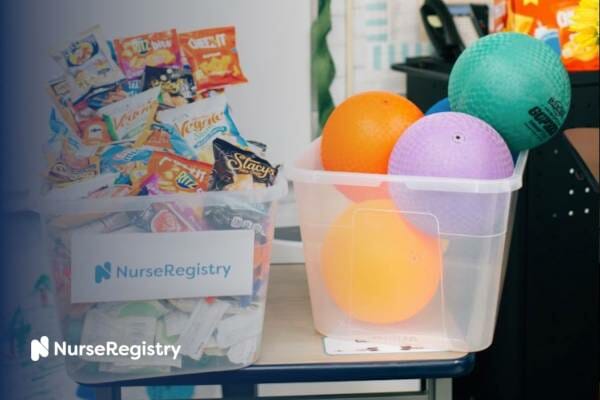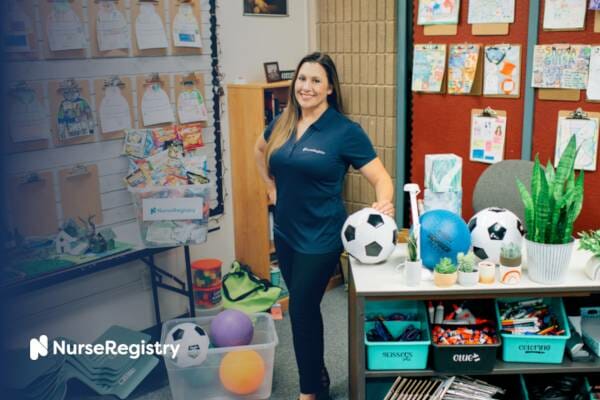 NurseRegistry Donates To Charter Alternative Program
Following the Covid-19 pandemic, Charter Academy has been a safe haven for students to learn. Charter Academy (Charter Home Study Academy K-8) is an alternative program that provides a unique way for kids to get an education. CHSA offers a hybrid model where students are physically in the classroom twice a week, and remote learning from home for the rest of the week.
NurseRegistry is proud to have filled requests by school staff for supplies that continue to keep their students healthy and safe.

NurseRegistry Coordinator, Karlei Newcomb, met with CHSA Principal, Steve Bryant, who received the donations on behalf of Charter Academy. Our team was thrilled to be supporting children at local schools—and we can tell by Principal Bryant's juggling that he was thrilled too.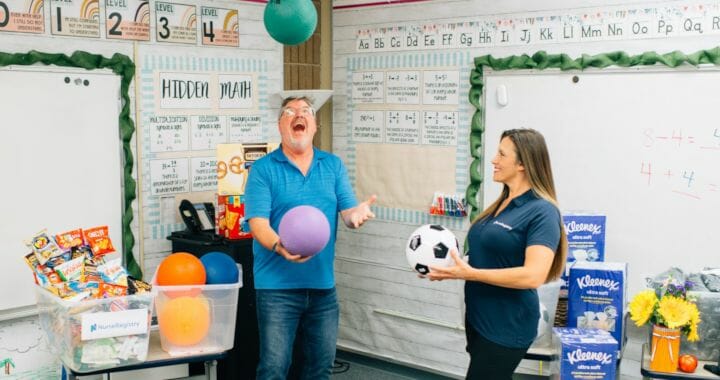 CHSA is a part of the El Dorado County Office of Education (EDCOA). Stacey, Communications Specialist at EDCOE, interviewed NurseRegistry's Linda Newcomb, who spearheaded the School Donation Program. Here's what Linda had to say about working with Charter Academy.

Our goal is to support even more students and teaching staff in the years to come.
When you need nursing services for your school or organization, you can count on NurseRegistry to provide exceptional service.
We understand that every student is unique and that there are multiple factors in play when it comes to the health of your community. That's why we offer a variety of options to meet the needs of each child, including:

Nurses accompany students from home to school and back home. Nurses can stay with students at school, if needed.

Nurses manage diabetes for students, including Blood Glucose (BG) Checking, Insulin Administration, and Insulin Pump Monitoring.

Nurses take part in educational programs on diabetic care and asthmatic care, lead training for school staff, and answer questions for staff and parents.

Nurses assist special needs students by monitoring for seizures and managing medications, among other care requests.

Nurses go beyond the school to provide care for children in their homes. You may be able to share NurseRegistry as a resource with parents.

If you are interested in learning more about NurseRegistry and the school donation program, please call (866) 916-8773.