Earlier this year, the Bay Area lost a gem when
Random Acts of Flowers
(RAF) was forced to close its doors. Now, three spectacular organizations have stepped up to continue the legacy of RAF in the Bay.
When it was still active, Random Acts of Flowers recycled donated flowers and vases into beautiful bouquets that they gifted to residents of local hospitals, senior living homes, and assisted living facilities. Their ultimate goal was to improve the emotional health and wellbeing of individuals in healthcare facilities. These beautiful flowers sparked a moment of joy for the residents. As it goes, happiness is one of the keys to good health.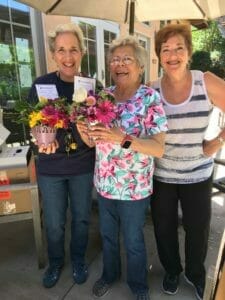 When Random Acts of Flowers closed its office in Menlo Park, three organizations stepped up to continue their legacy. These organizations include Avenidas Blooms (sponsored by Avenidas of Palo Alto), Flowers of Comfort (managed by Vicki Rasmussen in San Jose), and Blossom Buddies (led by Sheela Veerina in Los Altos Hills). At NurseRegistry, we are so happy to see these organizations continue the kind and important work that was once performed by Random Acts of Flowers.
NurseRegistry is proud to have supported Random Acts of Flowers in their mission to improve the emotional health and wellbeing of healthcare residents. We worked with their organization in sponsoring flower deliveries to Mission Hospice, Webster House, Avenidas Rose Kleiner Center, the Los Altos Sub-Acute and Rehabilitation Center, and the Palo Alto Sub-Acute and Rehabilitation Center. Scroll down to see photos of the recipients and volunteers.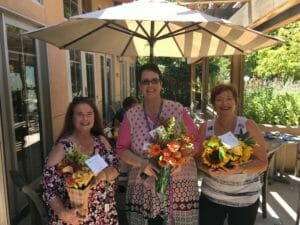 If you are interested in volunteering, contact Avenidas at (650) 289-5400 to learn more about Avenidas Blooms. Or, email info@blossombuddies.org to learn more about volunteer opportunities at Blossom Buddies.