Home IV Infusion Frequently Asked Questions
Home infusion therapy allows individuals to have infusion services provided in the comfort of their own home. This can be beneficial for people with a chronic illness, infection, or for those individuals who are recuperating from surgery.
Infusion therapy is when medicine is administered intravenously through a catheter or needle into a vein, or subcutaneously into the bloodstream and under the skin. Below you can find information on common questions regarding home infusion therapy.
What types of diseases/disorders may require infusions?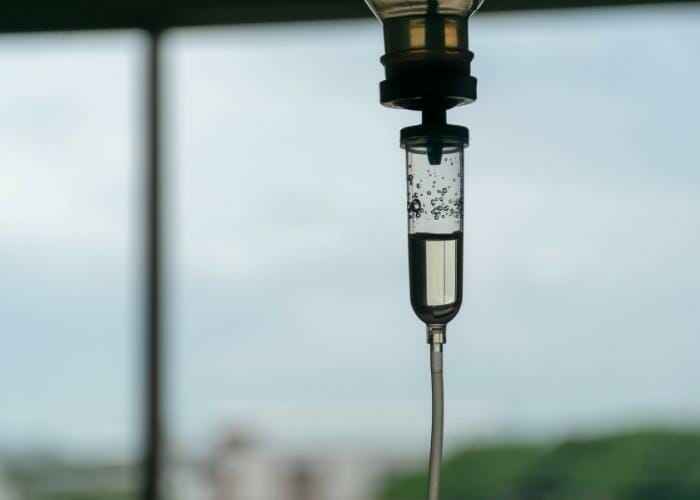 Infusion therapy is often used to treat serious or chronic infections, especially ones that do not respond well to oral antibiotics. It can be used for a wide variety of cancers and related pain. It is also largely used for dehydration and gastrointestinal diseases.
Specialty infusions may be part of a treatment plan for conditions such as hemophilia, congestive heart failure, multiple sclerosis (MS), Crohn's disease, congenital diseases, arthritis, high-risk pregnancy and various types of immune deficiency and growth hormone deficiency disorders.
Because of the frequency of infusions in some treatment plans, individuals may prefer to have their infusions administered at home as opposed to going to an infusion clinic.
Why do some people need infusions after a surgery or hospital stay?
Surgery can take a toll on the body. IV therapies can promote a smooth recovery for patients after surgery.
Home infusions can help with the replacement of lost fluids and is a way to deliver the most effective antibiotics after surgery. They are also used to deliver medications for pain management.
By scheduling infusions to be administered at home, patients can enjoy a shortened hospital stay and a reduced risk of hospital infections.
What types of infusions can be done at home?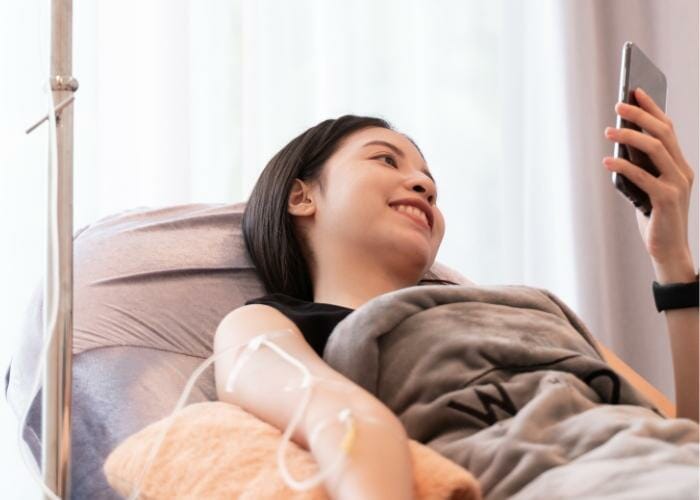 The most common drug therapies administered at home are antibiotics/antivirals, pain management, total parenteral nutrition (TPN), and intravenous immunoglobulin (IVIG).
Other infusion therapies include peripheral parenteral nutrition (PPN), enteral nutrition, hydration, inotropic therapy, chemotherapy, blood component stimulating factor, anticoagulation therapy, antihemophilic factors, and antiemetics. Let's take a look a few types of infusions.
Antibiotic therapy is typically used to treat severe bacterial infections.
TPN therapy is a fluid that is customized with most of the nutrients a person needs—vitamins, fats, carbohydrates, protein and electrolytes. It is one way of feeding that bypasses the gastrointestinal tract, and it can be used when a person cannot or should not receive feedings or fluids by mouth.
PPN therapy is supplement nutrition when the person has another source of feeding, unlike TPN therapy, which is the sole source of nutrition for the patient.
IVIG therapy is made up of antibodies. It is used to treat autoimmune, neuromuscular, and immunodeficiency disorders. It gives the body antibodies that it is unable to make on its own so that the body is able to fight infections.
How long does an infusion take?
Home infusions vary in length and frequency; they depend on the individual and the care plan they have been prescribed by their doctor. While some infusions may take a half-hour for the medication to enter the body, others can take three or four hours.
In addition, it will take time for your nurse to prepare the medication and supplies and to place the IV catheter.
What supplies are needed to administer a home infusion?
An infusion requires the prescribed medication and proper equipment. Equipment may consist of a pump for administering drugs and a subcutaneous needle set. Other supplies include a catheter, tubing, syringe pump, gauze, medical tape, wipes, and bandages.
Who can administer home infusions?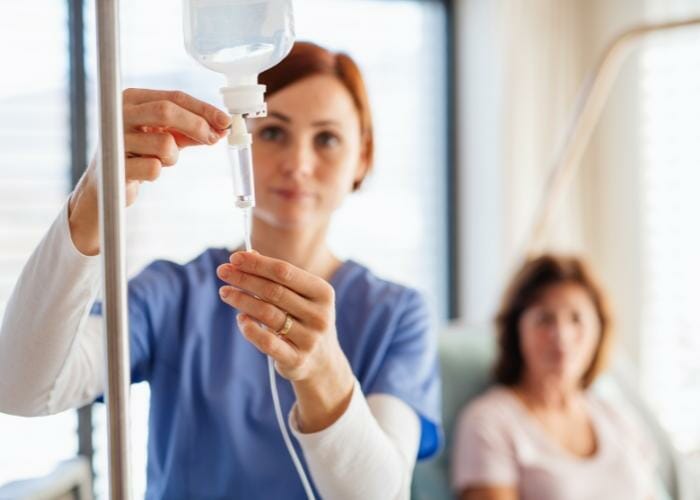 Infusion therapy was traditionally administered in hospitals, but it can now be administered in infusion therapy centers and at home by specially skilled nurses.
There are two types of licensed nurses: Licensed Vocational Nurses and Registered Nurses. Only registered nurses (RNs) are permitted to administer IV therapies.
Self-administration is also an option for individuals with chronic diseases. Nurses are available to train the patient or caregiver to self-administer different therapy medications.
NurseRegistry offers a variety of services. We have nurses available to administer infusions, or we have nurses that can provide patient or caregiver education on self-administration.
What education is provided if you want to self-administer?
Teaching visits are an invaluable tool in helping a patient or caregiver feel more confident in their abilities to move forward independently with infusions.
Nurses can educate patients or caregivers on safe administration, side effects, and therapy goals. At NurseRegistry, our nurses can provide teaching visits or ongoing support, depending on your needs and comfort level.
What are the benefits of home infusion therapy?
IV therapy at home often results in shortened hospital stays, patient autonomy, and the elimination of visits to infusion clinics/hospitals. This can be extremely beneficial for young patients, but we understand that people of all ages may prefer their infusions in the comfort of their own home.
Home infusion therapy is often more cost-effective than an inpatient hospital stay. Better yet, home infusions reduce the risk of acquiring an infection in a hospital or facility. Patients who receive their infusions at home also experience faster healing and recovery time.

— 
Receiving therapy at home can be life-changing for many people. It relieves the person of having to go on long and unnecessary trips to the hospital or infusion clinic. It also allows individuals to go about their usual daily activities with less disruption.
This may lead to fewer complications and better physical or mental well-being.
If you or a loved one is exploring home infusion therapy, NurseRegistry can help. Our skilled nurses are experienced in infusion therapies and available 24/7. They are able to care for people of all ages.
Call 650-462-1001 to learn more about how home infusions can benefit you or a loved one.
Resources:
The National Home Infusion Association has a list of resources for individuals.
Additional resources can be found on the ASHP Foundation website.
Option Care also provides a variety of information and resources for patients and caregivers.