Arthritis is not an unusual diagnosis as we age. On the one hand, it is good to know exactly why your hands and fingers ache after gardening, your knees hurt or are stiff when you get up in the morning, or your hips ache after walking in the mall. On the other hand, you have arthritis!
So, now what? The tendency is to cut back on activities that are now uncomfortable and eliminate any physical fitness activities. No one wants to be in pain, and it seems like the best course of action is to pamper your joints and minimize your activities.
What is Arthritis
Arthritis is a very common condition that affects millions of people worldwide. Essentially, arthritis is described as the inflammation in one or more joints. This inflammation often causes pain, stiffness, and swelling. Arthritis can affect people of all ages, genders, and races, but it is more common in older adults.
There are many different types of arthritis, but the most common are osteoarthritis and rheumatoid arthritis.
Osteoarthritis is caused by wear and tear on the joints, while rheumatoid arthritis is an autoimmune disease that causes the body to attack its own joints.
Arthritis can make it difficult to perform everyday tasks and activities, such as walking, typing, and even sleeping. However, there are many things that people with arthritis can do to manage their symptoms and improve their quality of life.
Importance of Physical Activity
Physical activity is essential for individuals with arthritis as it can help to reduce pain, and improve function, mood, and quality of life.
Joint-friendly physical activities are low-impact, which means they put less stress on the body, reducing the risk of injury.
According to the CDC, physical activity can also help manage other chronic conditions that are common among adults with arthritis, such as diabetes, heart disease, and obesity. It is important to note that physical activity should be a part of a comprehensive treatment plan that includes medication, self-management education, and other interventions as necessary.
Research shows that exercise can improve health and fitness without hurting joints when done correctly. It can strengthen muscles around joints, help maintain bone strength, increase energy, make it easier to sleep well, help control weight, and improve balance.
However, nearly a third of adults with arthritis are physically inactive, which can lead to severe joint pain.
Therefore, it is important to encourage individuals with arthritis to engage in physical activity that is safe and appropriate for their condition. Some examples of low-impact activities include walking, swimming, biking, yoga, and tai chi.
Benefits of Exercise for Arthritis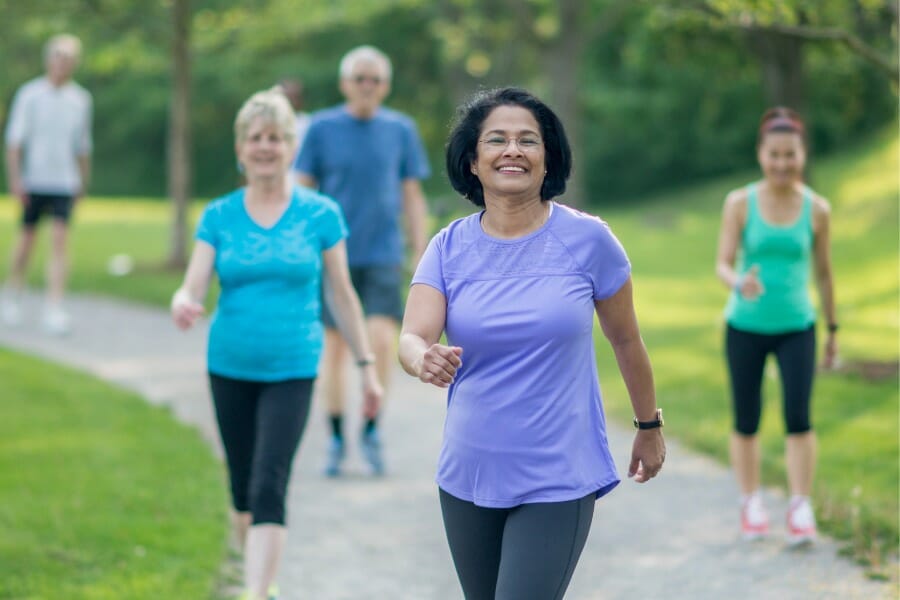 The exact opposite is true.
Exercise will strengthen the muscles which support your joints and take the pressure off of those joints. Exercise helps lubricate those joints and ease the pain associated with arthritis. Exercise releases endorphins, the "feel good" hormones, contributing to a sense of well-being.
Exercise will help you maintain and even improve your range of motion, which contributes to your active lifestyle and your ability to remain independent.
In addition to the benefits listed above, the cardiovascular impact of exercise cannot be overestimated. If you are currently overweight, that is putting additional strain on your joints. Think about carrying a five pound bag of flour around all day. By the end of the day, that five pounds will feel more like twenty-five or more. In other words, even a little weight loss can have a significant positive impact.
How to Start Exercising (for Seniors)
So, how do you start? First, always check with your physician before you start any new program. Once you have an OK from your doctor, start with a plan.
What time of day do you feel best? If you are stiff and sore when you start your day, but feel better after you have moved around and "loosened up," maybe your workout routine should be scheduled for the afternoon. If you get increasingly stiff, and ache after going all day, morning might be a better time for you to work out.
You will be more motivated if you feel your best, not your worst when you want to work out. Schedule your at-home senior care for that time of day, so they can support your efforts.
Tip: Make sure you are stretching. Click here for some easy exercise stretches for seniors.
Get Attuned to Your Body
One of the most important things you can do is to get attuned to what your body is telling you. You need to recognize the difference between muscle aches and joint pain. Muscle ache is a part of working out and is acceptable as long as it doesn't get worse than a two on a one-to-ten scale.
If your pain is higher than two or it lasts longer than a day or two after exercising, you are probably overdoing it, and you need to either shorten the length of time you are working out or decrease the difficulty of your workout.
If you are experiencing sharp pain, it could be an indication of injury or too much stress on that particular joint. Stop that exercise and rest that part of your body. And, as always, talk to your doctor if anything concerning happens when you exercise.
Best Physical Activities for Arthritis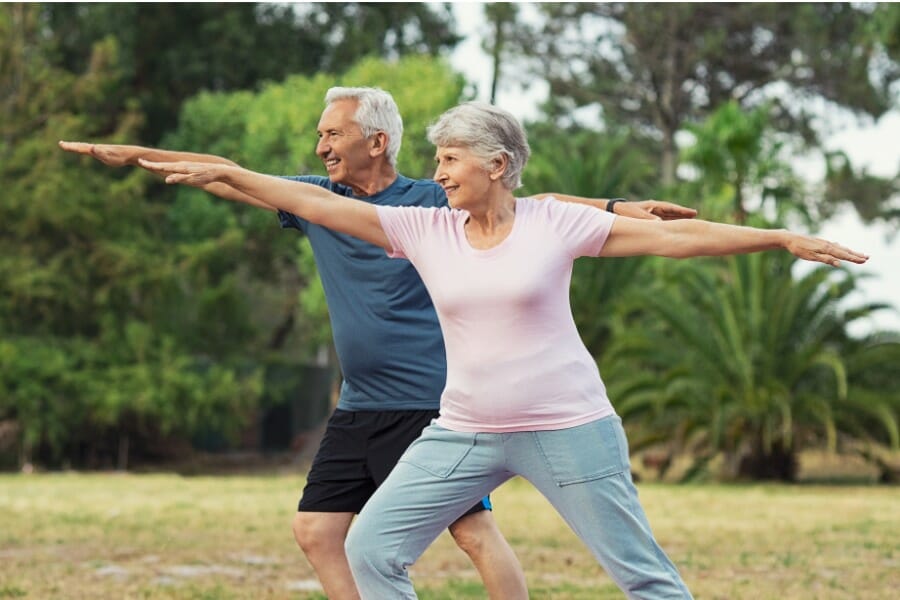 Arthritis can cause pain and stiffness in joints, making it difficult to perform daily activities. However, physical activity can help manage arthritis symptoms and improve overall health. Here are some of the best physical activities for arthritis:
Walking
Walking is a low-impact activity that can be easily incorporated into daily routine. It can help improve joint flexibility, strengthen muscles, and reduce pain and stiffness. Walking for at least 30 minutes a day, five days a week is recommended for people with arthritis.
Swimming
Swimming is another low-impact activity that is gentle on the joints. It can help improve cardiovascular health, muscle strength, and joint flexibility. Swimming for at least 30 minutes a day, five days a week is recommended for people with arthritis.
Cycling
Cycling is a low-impact activity that can help improve joint mobility, cardiovascular health, and muscle strength. It can be done outdoors or on a stationary bike. Cycling for at least 30 minutes a day, five days a week is recommended for people with arthritis.
Yoga
Yoga is a low-impact activity that can help improve joint flexibility, balance, and muscle strength. It can also help reduce stress and anxiety. Yoga classes for people with arthritis are available at many fitness centers and yoga studios.
In conclusion, physical activity is an important part of managing arthritis symptoms and improving overall health. Walking, swimming, cycling, and yoga are some of the best physical activities for people with arthritis. It is important to consult with a healthcare provider before starting any new physical activity.
My Favorite Tips for Exercising with Arthritis
With arthritis, the best exercise is low impact. So, rather than running, choose walking. Exercise in water will allow the buoyancy of the water to support your body weight. This is especially helpful for an overweight person with arthritis.
If you are lucky enough to have a backyard pool, take advantage of the pool for some of your routines.
Alternate walking or biking with swimming. It will help to keep you from getting bored if you have several options each day. The goal is to spend 30 minutes, five days a week. Remember, the 30 minutes don't have to be at the same time. Take your dog for a 10-minute walk in the morning and another ten minutes at night.
Take a ten-minute walk during your lunch break. Park your car as far from the mall as possible when running errands. All of these little time slots add up, and it might be better if you have a busy schedule.
Don't forget your upper body. Your shoulder joints are especially important for reaching and lifting. You need to have a good range of motion both in front of your body and behind your back. A good test is to reach over your shoulder with one arm and up from the waist with the other arm and you should be able to touch fingers behind your back.
You can work out at home and spend very minimal money.
Walking is free; however, it is a good investment to purchase a pair of walking shoes with good support. This will prevent injury and allow you to walk with good balance and comfort. You don't have to buy workout clothing. Comfortable clothing that stretches is perfectly fine.
You may want to upgrade if you are working out longer and build up to a sweat, or if you are using equipment that your clothes could possibly catch on.
Of course, wearing workout clothes that wick the perspiration from your body may be a goal once you establish an exercise routine. Maybe a new outfit could be your reward for achieving your current goal.
Another hint is to try to find a partner for your workout routine. If you have an at-home caregiver, ask them to walk with you. Statistically, you will be more likely to continue with your routine if you have someone else involved. You can motivate each other to continue with your program.
Plus, it is always more fun to walk with someone. Take turns deciding where you will walk each day. The time goes fast if you are walking in a botanical garden, around a lake shore, or on a groomed trail in the woods.
Creating a Balanced Routine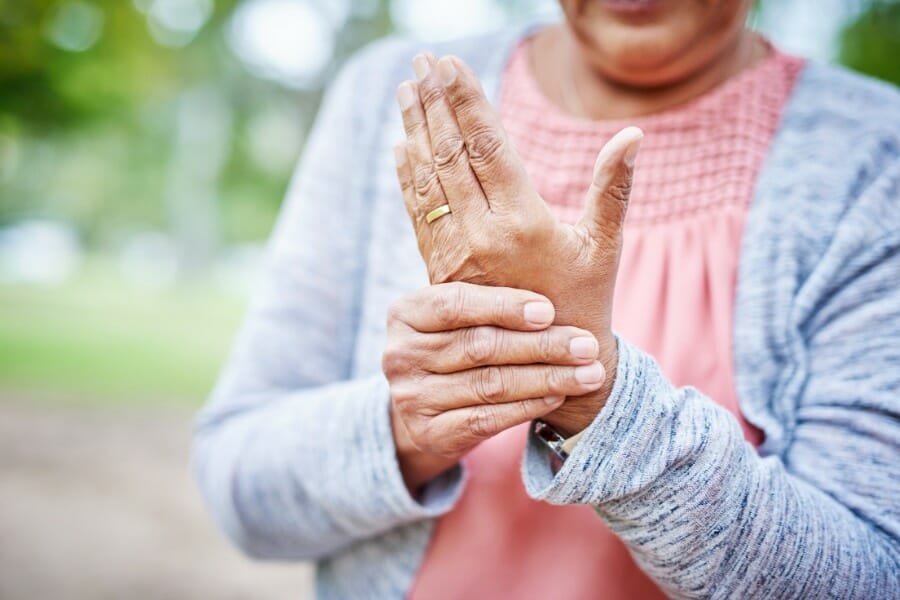 When it comes to managing arthritis, creating a balanced routine is key. This means incorporating a variety of activities that address different aspects of physical health. Here are some tips for creating a balanced routine:
1. Incorporate Aerobic Exercise
Aerobic exercise is important for maintaining cardiovascular health and can also help manage arthritis symptoms. Aim for at least 150 minutes of moderate-intensity activity per week, such as brisk walking or cycling. If you prefer more vigorous exercise, aim for 75 minutes of vigorous-intensity aerobic activity per week.
2. Include Strength Training
Strength training is important for maintaining muscle mass and bone density, which can help support joint health. Incorporate exercises that target major muscle groups, such as squats, lunges, and push-ups. Resistance bands or weights can be used to increase the intensity of these exercises.
3. Focus on Flexibility
Flexibility exercises can help improve range of motion and reduce stiffness in the joints. Incorporate stretches that target the major muscle groups, as well as exercises such as yoga or Pilates that focus on flexibility and balance.
4. Don't Forget about Rest and Recovery
Rest and recovery are just as important as exercise when it comes to managing arthritis. Make sure to incorporate rest days into your routine and listen to your body if you experience pain or fatigue. Consider incorporating activities such as meditation or gentle stretching on rest days to promote relaxation and recovery.
By incorporating a variety of activities into your routine and focusing on rest and recovery, you can create a balanced approach to managing arthritis that supports overall physical health and well-being.
For safety, always remember:
Consult with a medical professional prior to starting exercises
Choose low-impact activities
Warm up and cool down properly
Use proper technique
Listen to your body
There is a lot of help out there if you want a more structured exercise routine. There are online videos as well as DVDs. Check your local YMCA or senior center for classes geared to people with arthritis. Some fitness centers have fitness instructors who have specialized in people with arthritis. There are apps for your phone, as well as wristbands that count how many steps you take each day.
Whatever you decide, just take that first step to a healthier, more-fit you. 
Susan Ashby joined the Superior Senior Care team in July of 2014 as a Community Relations Manager. With over 27 years of experience in geriatric health, Susan brings a wealth of knowledge and insight to Superior Senior Care and plays an integral part in connecting consumers and communities with resources for independent living. Superior Senior Care is a home care agency located in Arkansas; they can be found online at www.SuperiorSeniorCare.com.