Children of all ages are vulnerable to vision and eye problems, like injury, infection and increased nearsightedness. In recognition of August as Children's Eye Health and Safety Month, we are sharing information on some eye diseases that children are susceptible to and some of their warning signs.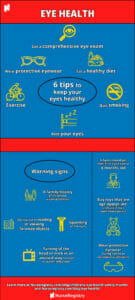 Kids and adults alike need comprehensive eye exams. Optometrists recommend that infants get their first eye exam at 6 months old; children should have additional exams at age 3 and around age 5 or 6. School-age children should get eye exams every two years if no corrective vision is required.
An eye doctor can detect nearsightedness, farsightedness, and astigmatism. They can also determine whether a child has any of the following diseases:
Lazy eye (amblyopia) – Abnormal visual development in infancy can result in decreased vision. Amblyopia is a condition where the nerve pathways between the brain and eye aren't properly stimulated, so the brain ends up favoring one eye. Treatment plans include eye patches, eye drops, and glasses or contacts.
Crossed eyes (strabismus) – This is a condition where the eyes do not line up properly. Strabismus is typically corrected with eyeglasses and/or surgery.
Drooping of the eyelid (ptosis) – The upper eyelid can droop over the eye just a little, or so much so that it covers the pupil. It can occur in one or both eyes. Ptosis can limit or even completely block normal vision, which can cause amblyopia or strabismus. Most often, doctors recommend surgery to correct ptosis.
Color deficiency (color blindness) – Color blindness can be tested for at age four, and it can be labeled as mild, moderate, or severe. From there, doctors, parents, and teachers can work together to create different kinds of lesson plans, along with other strategies to help the child cope with the color deficiencies.
Other warning signs of eye and vision problems can include:
A family history of childhood vision problems
Squinting of the eyes
Turning of the head or neck in an unusual way to read or watch television
A disinterest in reading or viewing faraway objects
In addition to eye exams, it is important to remember to protect the eyes during sports. Eye injuries are the leading cause of vision loss in children. To protect your child's eyes, get protective eyewear that they can wear during sports or recreational activities. Also, buy toys that are age-appropriate, and avoid toys with sharp or protruding parts.
The school year is almost starting! Give your child their best chance in school by scheduling their eye exam and talking to their doctor if you have noticed any of the warning signs described above.
References
Boyd, Kierstan. "What is Ptosis?" American Academy of Ophthalmology. 1 Sept. 2016.
Dang, Shirley. "Testing Children for Color Blindness." American Academy of Ophthalmology. 3 April 2014.
"August is Children's Eye Health and Safety Month." YourSightMatters.com.
"August is National Children's Eye Health & Safety Month." Cooper Vision. 12 August 2015.
"Eye Exams for Children." AllAboutVision.com.
"Eye Health Observances." American Academy of Ophthalmology.