In the summertime, it is important to protect your eyes from the sun's harsh rays with protective eyewear. This is one of many ways you can be proactive about your eye health. We have put together 6 more tips to help you keep your eyes healthy!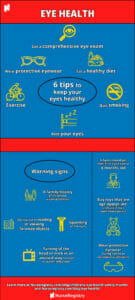 Get a comprehensive eye exam, which includes getting your eyes dilated. An optometrist can test for issues that you may be unaware of. Aside from prescribing glasses for improved vision, an optometrist can look for common eye diseases. Glaucoma, diabetic eye disease, and age-related macular degeneration have no warning signs. A dilated eye exam is the only way to detect these diseases in the early stages; dilating the eyes widens the pupils, allowing your optometrist to examine the back of your eyes. Even if you feel that your eyes or vision are fine, it is still important to go get them tested once per year.
Wear protective eyewear. As we mentioned earlier, sunglasses protect your eyes from the sun's ultraviolet rays. Look for ones that block UVA and UVB rays. Protective eyewear includes safety goggles and eye guards that can be worn during sports or activities around the home or at work. About 44 percent of all eye injuries occur in or around the home—often during improvement projects—so it's a good idea to always have a pair on hand.
Eat a healthy diet. A diet rich in fruits and vegetables, especially dark leafy greens such as kale, is an important part of protecting your eye health. Fish high in omega-3 fatty acids, such as salmon or tuna, also benefit the eyes. Eating healthy and maintaining a healthy weight also reduces the risk of diabetes and systemic health problems, such as high blood pressure, which can lead to vision loss, diabetic eye diseases, or glaucoma.
Exercise. Our body needs good circulation and oxygen; exercise promotes blood flow to every part of the body, including the eyes. A regular exercise routine can benefit your eye health.
Quit smoking. Smoking has been linked to an increased risk of age-related macular degeneration, cataract, and optic nerve damage.
Rest your eyes. When you focus on the computer or one specific thing, you don't blink as much and your eyes get tired. Try the 20-20-20 rule: every 20 minutes, look 20 feet in front of you for 20 seconds to reduce eyestrain. Also, be sure to get an adequate amount of sleep every night. Our eyes clear out irritants that may have built up during the day while we sleep.
Talk with your family members about their eye health history. It's important to be aware of any eye diseases or conditions that may be hereditary, so that you can let your optometrist know to watch out for any signs during your next dilated eye exam.
Women are also at an increased risk for developing glaucoma, and they are more likely to become visually impaired or blind due to glaucoma. Talk to your optometrist to discuss how often you should schedule follow-up appointments and about treatment options for any eye diseases you have been diagnosed with.
Sources
Age-Related Eye Disease Study Research Group. The relationship of dietary carotenoid with vitamin A, E, and C intake with age-related macular degeneration in a case-control study. Archives of Ophthalmology; 2007; 125(9): 12251232.
Age-Related Eye Disease Study Research Group. Risk factors associated with age-related nuclear and cortical cataract. Ophthalmology; 2001; 108(8): 14001408.
"Simple Tips for Eye Health," National Eye Institute, National Institutes of Health, 2017
"Tips for Eye Health in Adults Over 60," American Academy of Ophthalmology, August 28, 2014.
U.S. Department of Health and Human Services, Office of the Surgeon General. The Health Consequences of Smoking: A Report of the Surgeon General (Washington, D.C., 2004).