Choosing the right in-home care for a loved one can be a challenging task.
With an increasing number of seniors requiring assistance in daily living, families are often faced with the choice between Home Health services and Private Duty Nursing.
Or on the other hand, perhaps you're looking for private duty care to avoid visiting medical facilities for the sake of comfort.
Technically, both private duty nursing and home health can help clients safely live and thrive in their own homes, but how can one decide which one is the most suitable for their loved one's needs?
Let's take a look at the biggest differences between home health and private nursing care.
The Key Differences Between Home Health and Private Duty Nursing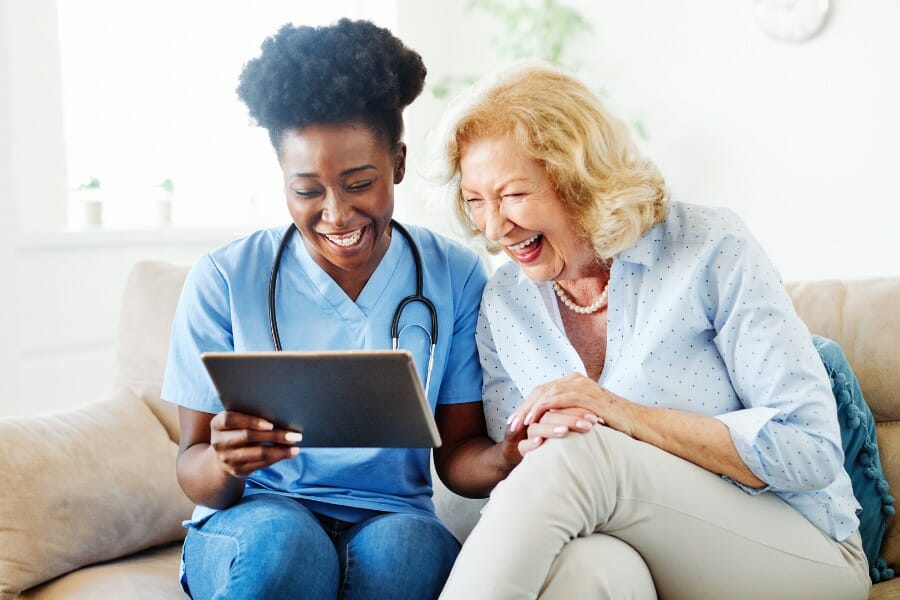 Home health care and private duty nursing both offer valuable services to patients who need medical assistance in their daily lives.
However, they are distinct approaches to care, each with unique characteristics to cater to individual needs.
As families weigh their options, it is crucial to consider the specific needs and preferences of their loved ones.
By understanding the differences between these care options and working closely with healthcare professionals, choosing the best in-home care solution becomes an attainable goal for families, ensuring the well-being and safety of seniors and patients in their familiar home environment.
Home health care is a comprehensive, short-term service that focuses on addressing specific medical needs.
It involves a team of skilled healthcare professionals, including nurses, therapists, and social workers.
Home health care is ideal for patients recovering from illnesses or surgeries, as well as those managing chronic conditions. Services typically include:
Activities of daily living assistance

Physical, occupational, and speech therapy

Medical social work

Health education and monitoring

Minor nursing care
Private duty nursing, on the other hand, offers flexible, one-on-one care for patients who need nursing care at home. This can be long-term care for patients with complex medical conditions that require continuous supervision. 
However, it is important to note that your loved one does not need to have a long-term or complex medical condition to opt for a private duty nurse. 
Private duty nursing is also an option for short-term care, such as post-surgical wound care, when you need a faster turnaround than home health can provide.
Private duty nursing just happens to offer more in-depth and hands-on medical care, which benefits individuals with more intricate medical conditions.
Private duty nurses are licensed practical nurses (LPNs) or registered nurses (RNs) who provide a higher level of personalized attention and assistance. Services often include:
Medication administration and management

Ventilator and tracheostomy care

General nursing care

G-tube feeding and care

Seizure monitoring and intervention

24/7 care

Wound care
Coverage and cost are notable factors when considering these two options. 
Home health care is often covered by Medicare, Medicaid, or private insurance for a limited time, and it typically requires a physician's order.
Private duty nursing, however, may not always be covered by insurance, and out-of-pocket costs can be higher. Some private nursing companies may be private pay solutions.
Scheduling also differs between the two forms of care.
Home health care visits are usually scheduled according to the patient's needs and the medical team's availability, lasting a few hours per visit. 
Private duty nursing, in contrast, can cover shifts ranging from 8 to 24 hours per day. 
While private duty nursing does not often fall under insurance coverage, you are able to take advantage of greater scheduling flexibility. 
For instance, a required home health visit after a hospital stay could be booked several days after you get home. Private duty nursing can fill the gaps and provide coverage immediately upon the return home. 
Many patients agree that this is one of the biggest benefits of private duty care over home health.
Key Takeaways:
In summary, Home Health care typically offers skilled nursing and therapy services that support a patient's recovery from a hospital stay or management of a chronic medical condition.
This service focuses on a patient's individual treatment plan, regularly updating it to ensure that proper medical care is given. In other words, home health care typically involves assisting patients with activities of daily living post medical care.
On the other hand, Private Duty Nursing provides continuous one-on-one care from a registered nurse or licensed practical nurse to ensure comfort and support, making it an ideal choice for those with complex medical needs who may require constant supervision for both short-term and long-term care.
Private duty care is considered more of a high-end service and aligns similarly to concierge nursing.
Factors such as cost, scheduling, and intensity of care should be carefully considered when determining the most suitable option for each patient.
Need more information for a better-informed decision for your loved one? Let's take a closer look at each of these healthcare options.
Exploring Home Health Care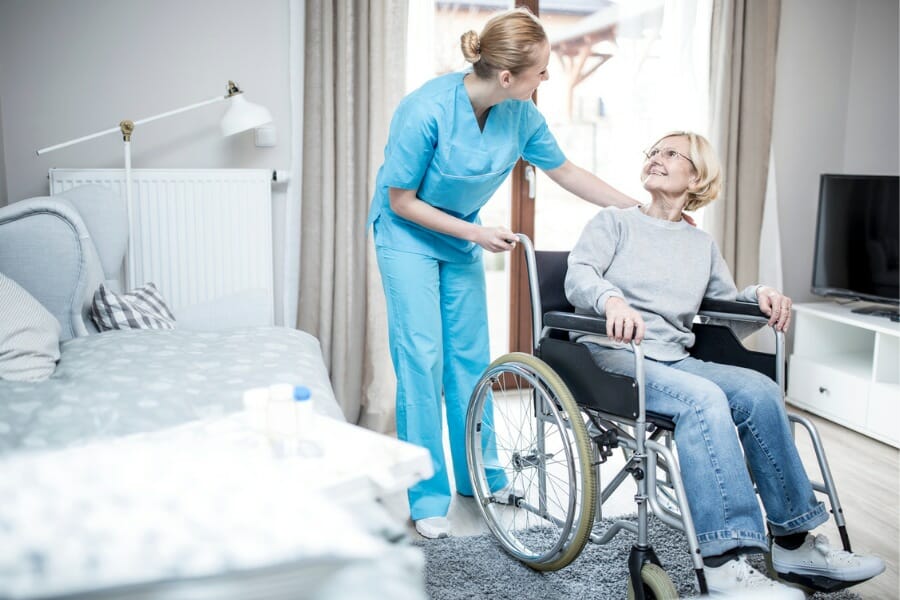 Home health care refers to a wide range of medical and non-medical services provided to individuals within the comfort of their own homes.
This type of care is gaining popularity due to the convenience and the level of personalized attention it offers to patients. Home health care can be both short-term and long-term, depending on the needs of the individual.
Examples of Home Health Services
General nursing care: Skilled nurses can provide skilled medical care, such as wound care, medication administration, and monitoring vital signs.
This service allows patients to receive necessary medical assistance while remaining at home, generally after being discharged from a hospital.
Physical, occupational, and speech therapy: Home health care includes rehabilitative therapies to help patients regain their abilities in daily activities.
Physical therapists focus on improving mobility, occupational therapists help with daily living tasks, and speech therapists work to improve communication and swallowing abilities.
Home health aide services: Home health aides assist with personal care tasks such as bathing, dressing, and grooming. Their primary responsibility is to ensure the patient's comfort and safety while they receive care at home.
Medical social services: Medical social workers provide support to patients and their families by helping them navigate the healthcare system, access community resources, and address emotional challenges related to their medical conditions.
Nutritional support: Dietitians can assess patients' nutritional needs, develop customized meal plans, and provide guidance on managing specific dietary requirements related to their medical conditions.
Telehealth services: Some home healthcare providers offer remote monitoring technology to track vital signs, communicate with patients, and ensure that proper care and intervention are provided when needed.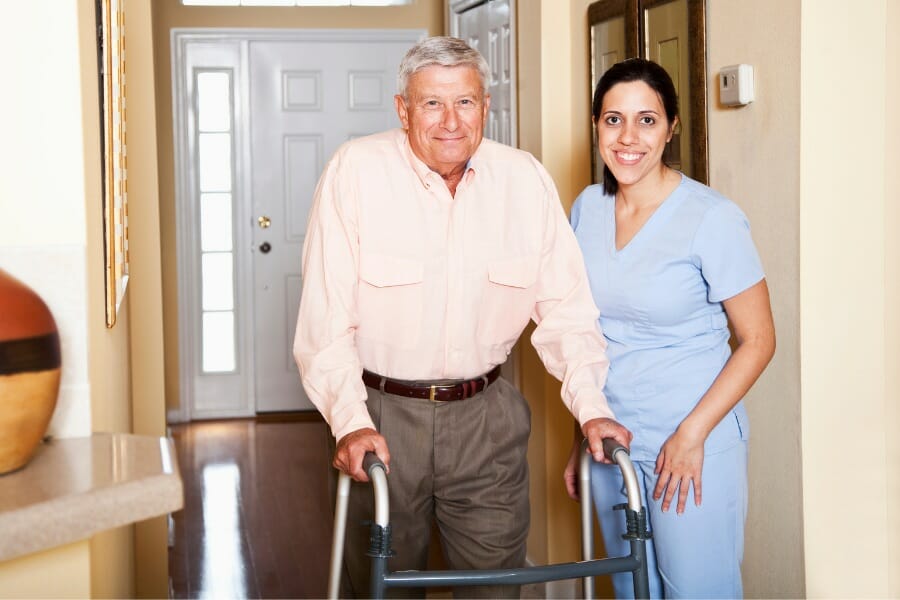 By addressing a broad range of medical and non-medical needs, home health care services can be ideal for individuals recovering from surgery, managing chronic illnesses, or requiring assistance with day-to-day activities.
The availability of these services allows people to maintain their independence and comfort while receiving personalized care tailored to their specific needs.
What is Private Duty Nursing?
Private duty nursing is a specialized type of home healthcare that provides hands-on, in-depth nursing care for individuals who need skilled nursing services outside of a hospital setting.
These services are typically provided by registered nurses (RNs) and licensed vocational nurses (LVNs) / licensed practical nurses (LPNs), who work independently or through private duty nursing agencies.
They offer personalized care tailored to the specific needs of the individual, which may range from managing chronic health conditions to providing post-acute care following surgery or a serious medical event.
Often a private pay option, private duty nurses offer specialized nursing care with greater scheduling flexibility for their clients. That can include 24-hour care.
Services Offered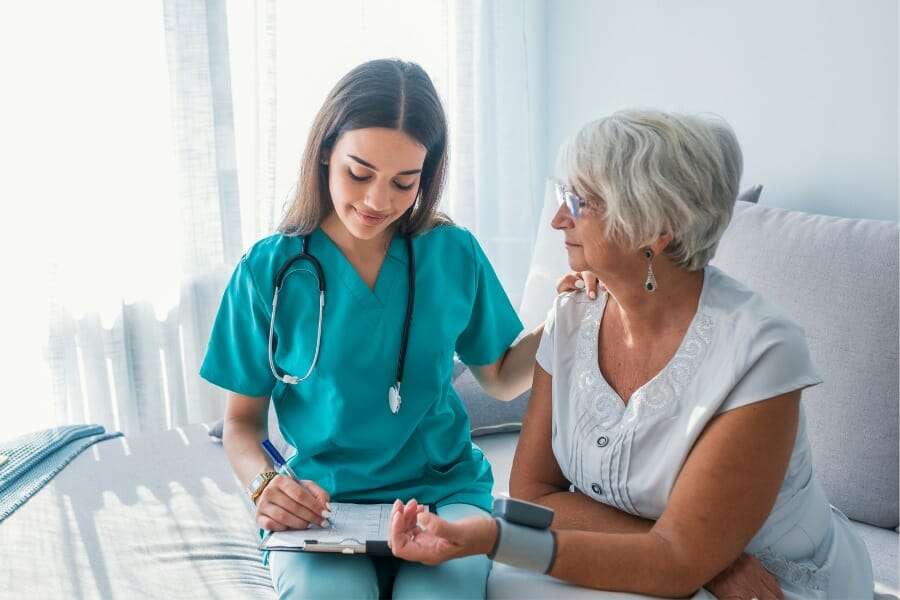 Private duty nurses provide a variety of services to support their clients' medical, therapeutic, and daily living needs. Services often include:
Skilled nursing care: This encompasses assessing vital signs, administering medications and injections, wound care, and monitoring medical equipment.
Post-surgical care: Private nurses can offer care and treatment after an individual returns home from surgery. In fact, private nursing allows you to return home even quicker following a surgical procedure – you don't have to remain at a medical facility long-term.
Personal care assistance: Private duty nurses may assist with bathing, dressing, grooming, and other activities of daily living.
Wellness Checks: Private duty nursing care involves checking in on loved ones and assessing their health and well-being
Medication management: This involves ensuring medications are taken as prescribed, monitoring for any potential side effects, medication reminders, and coordinating with healthcare providers regarding changes in medication.
Coordination of care: Similar to concierge nursing, private duty nurses may serve as a liaison between the client, family members, and healthcare providers to ensure seamless communication and the best possible care plan for the client.
By offering these services in the comfort and familiarity of the client's home, private duty nursing aims to promote independence, enhance the quality of life, and manage acute or chronic medical conditions more effectively.
Comparing Home Health and Private Duty Nursing Care
Costs and Insurance Coverage
When comparing home health and private duty nursing, it's important to consider the costs and insurance coverage for each type of care.
Home health care is generally more affordable as it is comprised of short-term visits.
Home health care is commonly covered by Medicare, Medicaid, and many private insurance policies when deemed medically necessary.
The costs for private duty nursing are higher due to the specialized care provided and the extended duration of care.
Since private duty nursing is not always considered medically necessary, insurance coverage can be limited or unavailable, which could lead to out-of-pocket costs for the individual or family.
Duration of Care
Another aspect to consider when comparing home health and private duty nursing is the duration of care provided.
Home health care typically involves shorter visits from caregivers, catered to the specific needs of the patient.
These visits can occur as needed, but usually last for a few weeks to a few months.
In contrast, private duty nursing offers more consistent and longer-lasting care. This type of care is designed for those who require continuous nursing assistance, which can range from a few hours per day to around-the-clock care.
Private duty nursing can last for an extended period of time, depending on the patient's needs.
In addition, clients may choose a private duty nurse for precautionary measures, even if immediate medical care is not necessary.
Choosing the Most Suitable Care Option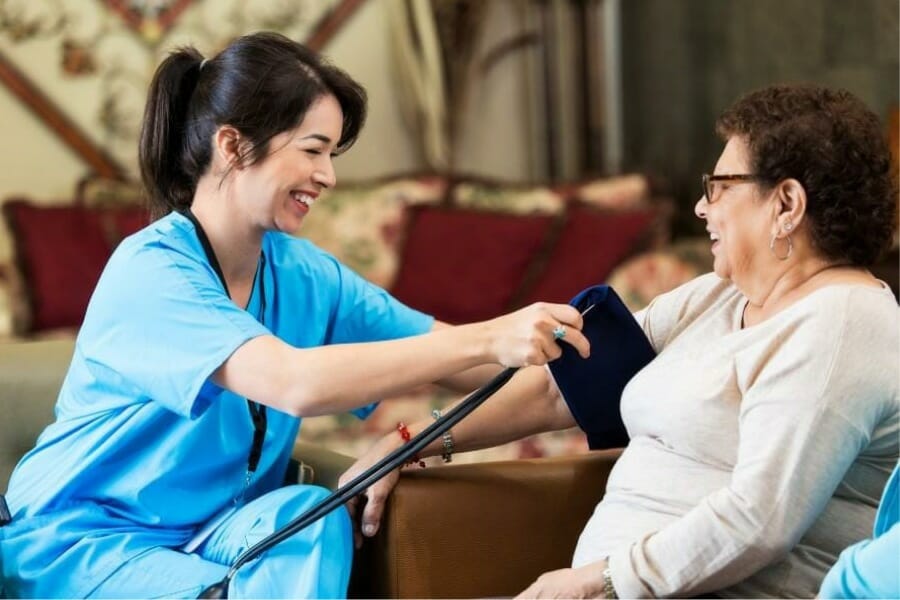 Assessing Individual Needs
When deciding between home health care and private duty nursing, it's important to carefully assess your loved one's needs.
The level of care required, the specific services needed, and the duration of care will vary greatly from person to person.
First, determine the specific type of assistance a patient requires. Home health care typically provides services such as:
Personal care:

assistance with bathing, dressing, grooming, and toileting

Mobility

: aid in walking, transferring, or repositioning

Meal preparation:

planning and cooking meals according to dietary preferences and restrictions

Light housekeeping:

cleaning and organizing the patient's living area
On the other hand, private duty nursing offers a higher level of medical care, including:
Skilled nursing care:

administering medication, wound care, chronic illness care, and monitoring vital signs

Post-surgical care:
Respiratory care:

administering oxygen or managing a ventilator

IV therapy: intravenous administration of fluids, nutrients, or medications
Consulting Medical Professionals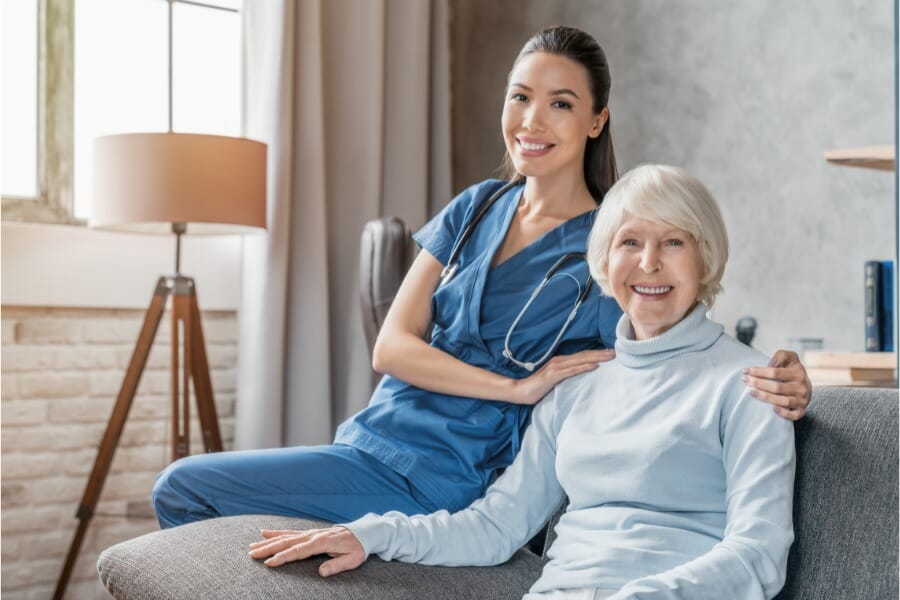 Once the individual's needs have been identified, it is wise to consult with medical professionals for guidance on the appropriate care option.
Discuss the patient's medical condition, current care requirements, and any anticipated changes in their health status.
Primary care physicians and specialists can all provide valuable input on the suitability of home health or private duty nursing.
Moreover, insurance companies may have specific guidelines and requirements for coverage, so it's essential to consult with these providers to understand the available support options.
If you'd like more information on private duty nursing specifically, NurseRegistry's Intake Specialist can answer any questions you may have.
By carefully considering the individual's needs and consulting with medical professionals, one can make an informed decision between home health care and private duty nursing, ensuring that the chosen option best meets the unique requirements of the patient.
Choose Professional and Personalized Care
Does private duty nursing appeal to you and fit your home healthcare preferences? If so, NurseRegistry can help.
We have over 500 nurses that offer specialized care, including IV therapy, wound care, respite care, post-surgical care, medication management, and more.
NurseRegistry also offers industry-leading scheduling flexibility, from two-hour shifts to complete 24/7 care. It is truly nursing care when and where you need it.
Click below to discover how seamless and convenient it is to get a private nurse from NurseRegistry today.