Providing care and assistance to a loved one suffering from illness can be difficult. It can be compounded if your loved one relies on a wheelchair for mobility.
So, how can you care for someone in a wheelchair?
Just as there are multiple reasons for wheelchair reliance, there are many usage parameters. Some individuals need wheelchairs for all movement, some just when leaving the house.
Depending on what your loved one needs, you'll have to make adjustments accordingly.
How to Care for Someone in a Wheelchair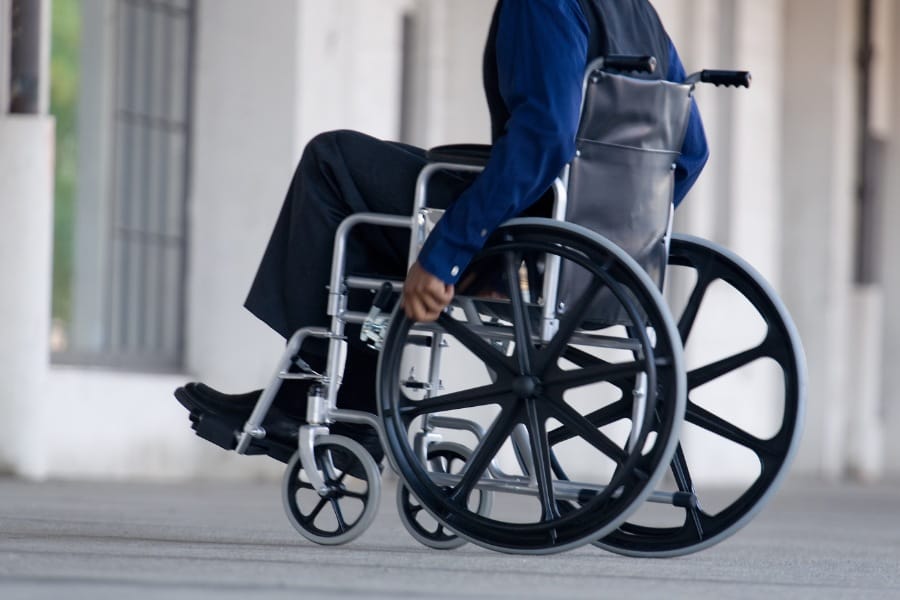 If your loved one doesn't have a wheelchair yet, help him or her choose an appropriately sized model. It's not comfortable to sit in a too-small chair for hours on end.
Consider wheelchair accessories like a side pouch for necessities, foldaway surfaces for laptop usage, and seating pads for comfort.
You'll also want to ensure your home or your loved one's home is adjusted for wheelchair usage. Install ramps, widen doorways, and lower counter heights for easier mobility and functionality.
The more adjusted your loved one's environment is, the more he or she can move around without assistance.
Independence is important for everyone, especially those who have to rely on outside assistance for so much.
Tips to Better Assist Your Loved One
If your loved one is still mobile:
– Experts at the Cleveland Clinic encourage patients to take steps using their good feet first. This helps in balancing. The exception is when going downstairs, begin with the bad foot so the good foot retains a holding.
– Help him or her walk around every two hours or so. It doesn't have to be far, just around the room. This will help with blood circulation and decrease the development of decubitus ulcers, or pressure ulcers.
– Prevent falls by walking behind or alongside your loved one. The exception is when descending stairs: being in front will help your loved one hold onto you should he or she lose balance.
Helping an individual into and out of the wheelchair can take some practice. Let's discuss more in-depth tips.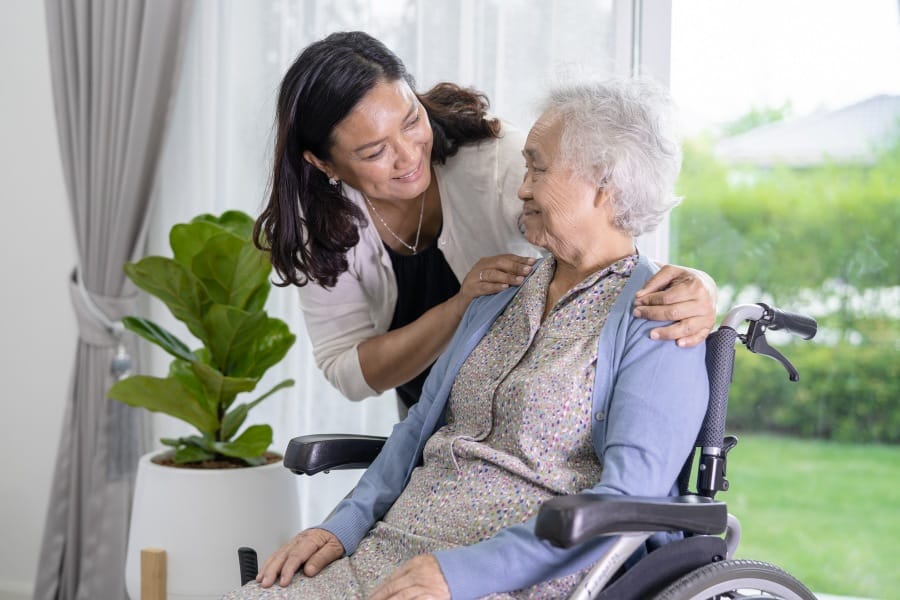 Assisting someone in a wheelchair requires proper techniques to ensure their safety and comfort. Here are some tips to keep in mind:
Proper Lifting Techniques
When lifting a loved one in a wheelchair, it's important to use proper techniques to avoid injury to both the caregiver and the person in the wheelchair. Here are some tips to follow:
Bend your knees and keep your back straight.
Get as close to the person as possible before lifting.
Use your legs to lift, not your back.
Lift with a smooth, steady motion.
Do not twist your body while lifting.
Safe Transfers
Transferring someone in and out of a wheelchair can be a challenging task. Here are some tips to ensure a safe transfer:
Make sure the wheelchair is locked in place before attempting to transfer the person.
Position the wheelchair as close as possible to the surface the person is transferring to.
Use a transfer board to help slide the person from the wheelchair to the surface.
If the person is unable to assist with the transfer, use a mechanical lift.
Positioning and Comfort
Proper positioning and comfort are essential for a person in a wheelchair to avoid pressure sores and other discomforts. Here are some tips to keep in mind:
Make sure the person's feet are properly positioned on the footrests.
Adjust the backrest to provide proper support for the person's back.
Use cushions or padding to provide additional comfort and support.
Encourage the person to shift their weight periodically to avoid pressure sores.
Daily Wheelchair Maintenance
Proper daily maintenance of a wheelchair is crucial to ensure its longevity and the safety of your loved one.
Cleaning the Wheelchair
Cleaning the wheelchair on a daily basis is important to prevent the buildup of dirt and debris, which can cause damage to the wheelchair over time.
Use a damp cloth to wipe down the entire wheelchair, paying special attention to the wheels, footrests, and armrests. For more stubborn dirt or stains, a mild soap solution can be used.
Inspecting for Damages
Inspecting the wheelchair on a daily basis is important to identify any damages or potential issues before they become more serious.
Inspect the entire wheelchair, looking for any cracks, dents, or other damages. Then, you can also check the footrests and armrests for any loose or broken parts. If any damages are found, they should be repaired as soon as possible.
Tire Pressure Checks
Checking the tire pressure on a daily basis is important to ensure that the wheelchair is safe and comfortable to use.
Use a tire pressure gauge to check the pressure of each tire, ensuring that it is within the recommended range. If the tire pressure is too low, it can cause the wheelchair to be difficult to maneuver, while too high pressure can cause the tires to wear out quickly.
By following these daily maintenance steps, the user or caregiver can help ensure that the wheelchair remains in good condition and that the user can continue to use it safely and comfortably.
Various points you may want to consider.
– Dress your loved one in comfortable clothing. Look for elastic, velcro, and big buttons to help with comfort and ease in removal (Washington State Department).
– While your loved one is in a wheelchair, move his or her body every two hours to reduce the risk of pressure ulcers and keep blood circulating throughout the body.
Learn how to identify and treat pressure ulcers.
– Look for spots on the skin, specifically over bony areas such as the hips, back, and buttocks. The discoloration will range from red to blue to purple depending on skin complexion. Remove whatever is causing the pressure point and check the area in 15 minutes to verify the skin is back to normal.
– If left unnoticed, the ulcer can enter Stage 2 where the skin is open. There may even be a blister filled with fluid. This can usually be treated with antibiotics.
– Once an ulcer reaches Stage 3, affecting the skin's fat layer, or Stage 4, affecting the bone or muscle, a doctor may have to surgically remove the area (Macon).
Navigating Different Terrains
People in wheelchairs need to navigate different terrains to go about their daily lives. Whether indoors or outdoors, there are different challenges that they may face.
Indoor Navigation
Indoor navigation can be challenging for people in wheelchairs. Here are some tips to make it easier:
Clear the path: Make sure that there are no obstacles in the way, such as furniture or clutter. This will make it easier for the person in the wheelchair to navigate around the room.
Use ramps: If there are steps or raised areas, use ramps to make it easier for the person in the wheelchair to move around.
Adjust furniture: Make sure that the furniture is arranged in a way that allows the person in the wheelchair to move around easily. For example, move chairs out of the way and make sure that there is enough space for the wheelchair to turn around.
Outdoor Navigation
Outdoor navigation can be even more challenging than indoor navigation. Here are some tips to make it easier:
Use wheelchair-accessible paths: Look for paths that are designed for wheelchairs. These paths are usually wider and smoother than regular paths, making it easier for the person in the wheelchair to navigate.
Be aware of the terrain: Different terrains can be more difficult to navigate than others. For example, gravel or sand can be difficult for a wheelchair to move through. Be aware of the terrain and choose the best path.
Use assistive devices: There are a variety of assistive devices that can make outdoor navigation easier, such as power wheelchairs or handcycles. These devices can help the person in the wheelchair navigate through different terrains more easily.
By following these tips, it can be easier for people in wheelchairs to navigate different terrains.
Get Professional Help
Caring for a loved one can be difficult. Knowing what to do when it comes to managing wheelchair care makes the job a bit easier.
Don't be afraid to ask for help. Consider hiring a registered nurse to stop by once in a while. Private duty nurses can show you new techniques, or just take over your loved one's care so you can run errands or just relax. Not sure how to go about hiring a private nurse?
To learn more about private duty nurses and respite care, click below.

Frequently Asked Questions
How to Care for Someone in a Wheelchair?
There are many ways to assist someone in a wheelchair with daily tasks. One of the most important things you can do is to ask the person what they need help with.
Some common tasks that people in wheelchairs may need assistance with include reaching high shelves, opening doors, and carrying heavy objects.
How can you make a home more accessible for someone in a wheelchair?
There are several ways to make a home more accessible for someone in a wheelchair. Some common modifications include installing ramps, widening doorways, and lowering countertops.
It is important to consult with a professional to ensure that the modifications are done correctly and safely.
What are some common challenges faced by wheelchair users and how can you help?
Some common challenges faced by wheelchair users include limited mobility, difficulty accessing certain areas, and social isolation.
You can help by offering assistance when needed, advocating for accessible spaces, and including wheelchair users in social activities.
What are the best ways to communicate with someone in a wheelchair?
When communicating with someone in a wheelchair, it is important to speak to them at eye level and to avoid leaning on their wheelchair.
It is also important to be patient and respectful, and to ask if they need any assistance.
How can you support someone in a wheelchair to maintain their independence?
You can support someone in a wheelchair to maintain their independence by offering assistance when needed, but also by encouraging them to do things on their own.
It is important to respect their autonomy and to provide them with the tools and resources they need to be independent.