As the delta and Omicron variants of the COVID-19 pandemic continue to spread, so are stress and burnout, especially for nurses.
If you know stress is affecting you, your patients, or your loved ones, then please skip to the resources section.
When nurses burn out, they're still buzzing around and doing everything at ten times the pace of normal people. So how do you know when a superhuman needs a break?
We're bringing you nurse burnout signs with real examples from everyday nurse life. Whether it's the little thoughts or the small changes in behavior, there are ways to know that it's time for self-care.
In this article, we're also sharing 7 real self-care tips that are easy and that you really can do.
There's help and support available for you.
Causes of Nurse Burnout
The list of causes of nurse burnout abounds. Today nurses are dealing with a severe nursing shortage, long hours, low pay, and a traumatic pandemic.
Even without the widespread pandemic, nurses are constantly seeing people at their most difficult moments, and sometimes without the ending that we all wish for. While taking time to grieve, meditate, and be mindful is known. Nurses can't afford that time. Nurses will say goodbye to a patient with teary eyes, then in the next room in the next moment, smile for a patient that needs support as they recover and rejoice victoriously.
Nursing Shortage
The shortage of nurses is real, global and a long-standing threat to health care. If as an international community, we aim to provide universal health coverage, the World Health Organization (WHO) estimates we'll need 9 million more nurses by the year 2030. 
What's the projected nurse shortage in the United States? According to the U.S. Bureau of Labor Statistics, we'll need 203,700 on average new registered nurses every year from 2016 to 2026. 
The need for new nurses in the United States is five to ten times more than any other career in the health and science sector.
Does California have a nursing shortage? RegisteredNursing.org set out to discover the truth about the nursing shortage. They analyzed government data from the National Center for Health Workforce Analysis. California's nursing shortage is among the most severe in the nation. By the year 2030, California will be short 45,500 nurses, approximately 11.5% of the state's need. Alaska tops the list with 22.7% of the projected need for nurses unmet.
Surely we have enough new nurses graduating every year, right? Unfortunately, that's not the case. Nursing shortage solutions aren't easy to come by. The American Association of Colleges of Nursing (AACN) says "nursing schools across the country are struggling to expand capacity to meet the rising demand for care."
What did we learn from these numbers? The demand for nurses is increasing, but the supply is not increasing fast enough. The nursing shortage is real, started long before the COVID-19 outbreak, and is only getting worse in the coming decade.
On average one nurse supports twenty patients in one day. The absence of one nurse impacts the health and lives of tens of people.
Nurse Burnout Statistics
"Burnout in health care professionals threatens quality and safety of patient care, as well as access to care," says Lotte Dyrbye, M.D., co-director of Mayo Clinic's Program on Physician Well-Being.
Dr. Dyrbye was on the National Academy of Medicine committee that recently released a consensus report presented to Congress some nurse burnout statistics with the not-so-shocking finding that "Clinician burnout has been identified as a major problem in the U.S., affecting 35%–54% of nurses and physicians."
When healthcare workers are picking up extra shifts in work environments with high levels of job stress, they start dropping their mental health.
When medical professionals start feeling any degree of job dissatisfaction, patient satisfaction soon follows.
Warning Signs of Nurse Burnout
If any nurse is asked, "What are the symptoms of nurse burnout?" They'll immediately answer: "While symptoms vary, the most common symptoms of burnout are disconnecting emotionally, losing motivation or interest, difficulty focusing or listening, and increasing exhaustion and fatigue," or something along those lines. The person asking would probably walk away with a list of tips hotlines to call. But, this same nurse will likely never ask themselves if they need to take a break.
As nurses, we tell our patients the importance of a healthy diet, but we'll consume caffeine and sugar in quantities off the charts. And when someone else is stressed we can spot it from across the hospital cafeteria. But when it's ourselves and we're busy, we don't see the signs until it's too late.
When times are tough, it's especially difficult to remember to take care of ourselves. So how can you tell when it's time to stop taking care of others and start taking care of yourself?
Take this nurse burnout quiz and find out. You know the drill: check signs that have persisted for more than two weeks.
1. Cognitive Difficulties
▢ 

1. Focusing or thinking clearly

You find yourself not listening while taking a patient history.

▢ 

2. Remembering details or conversations

You have difficulty remembering the medical orders you just read.

▢ 

3. Making decisions or problem solving

Simple questions are too much for you to answer, like "What do you want for lunch?"
2. Emotional Difficulties
▢ 

1. Depersonalization

You stop seeing your patients as people, but as tasks that you need to get through (take vitals, medicate, next).

▢ 

2. Irritability or frustration

You don't have the patience for others or changes in your routine. Your team, patients, and loved ones irritate you, and you let them know it (not in the best way).

▢ 

3. Emotionally Numb

You stop caring and spend your days going through the motions of work.
3. Behavioral Signs
▢ 

1. Risk-taking

You stop using PPE.

▢ 

2. Reduced capacity to support your team

When someone asks anyone on the team to help, you don't respond hoping someone else will step up, because you feel too drained to take on anything else.

▢ 

3. Misuse or increased use of drugs or alcohol

You're self-medicating to get through the day. Or, the evening glass of wine is a whole bottle.
4. Physical Signs
▢ 

1. Sleep

You have trouble falling asleep, staying asleep, or you wake up feeling unrested. Maybe, you spend your day in a sleepy stupor.

▢ 

2. Gastrointestinal irregularities

Your bowel movements are no longer regular.

▢ 

3. Headaches

You find yourself taking meds for your headaches several times a day daily, sometimes in increasing dosages.
If you checked off any of these symptoms as persistent for two weeks or more, then the stress has started taking a toll on you.
This list represents the most common signs of stress and burnout for nurses. You may be experiencing other symptoms.
Please take time to assess what's causing you stress, and what changes you can make.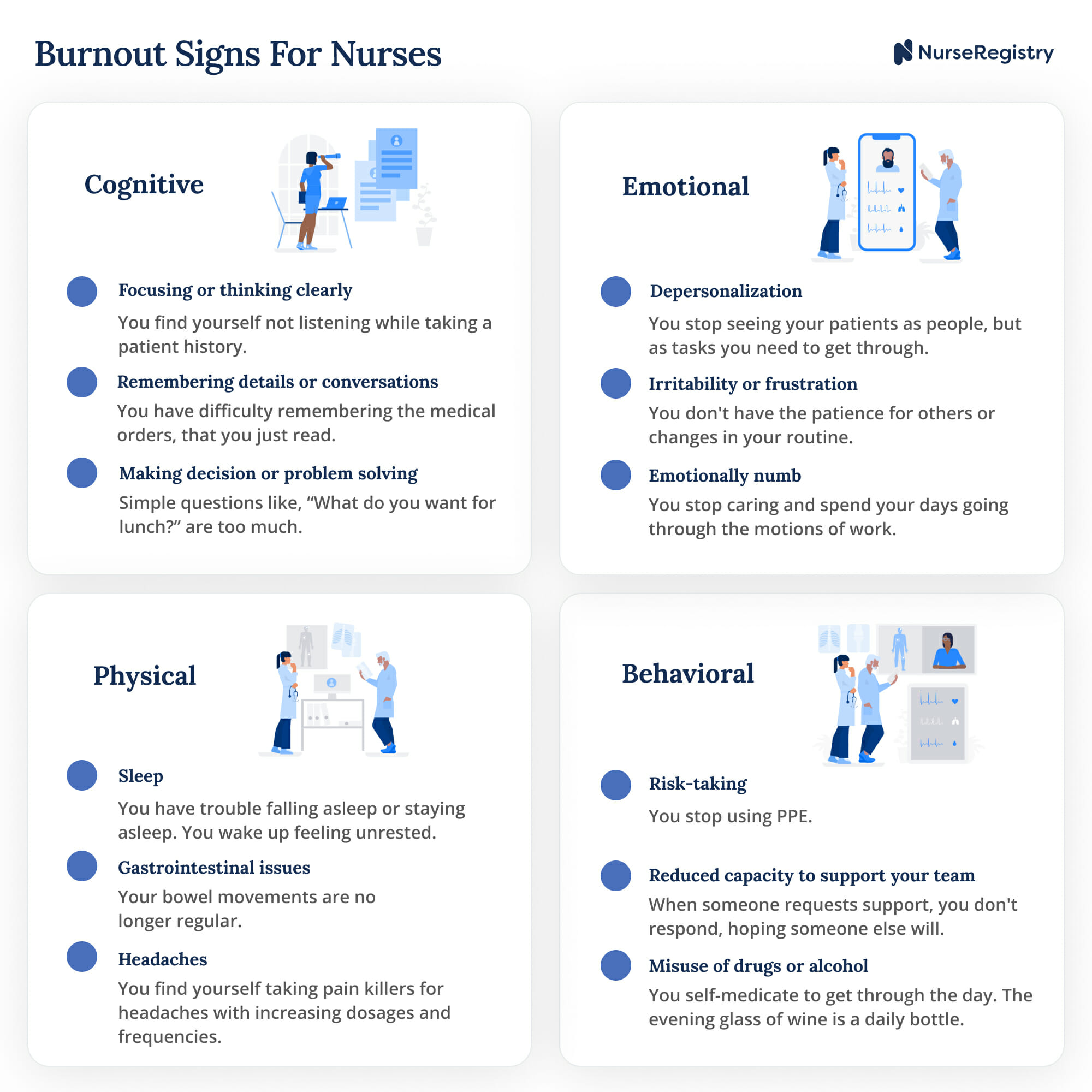 Why Self-Care
Self-care is the recharge that keeps us happy and contributing to other people's happiness. Without self-care, we're not our best selves. The people dearest to us might be affected, and our work may start to slip.
While those in charge in workplaces find ways to reduce the high stress and higher rates of burnout, nurses feel and know that they need to find ways to prevent nurse burnout from the get-go for themselves.
Metaphorically, we do need to put on our oxygen masks, so we can help others.
7 Self-Care Tips for Nurses
Here are seven practical self-care ideas that require minimum time and effort but can be high on impact. Try one or all to treat or prevent burnout.
1. Connect with Yourself
Mindfulness can go a long way in self-care. Try to take time alone to regain your headspace.
Running from one job to another, helping one person after another, can leave you feeling exhausted and worn out. In those rare moments of peace, notice what brought you peace and happiness. It may be something unexpected.
But also, pay attention to your stress triggers. What makes you feel fried or like a candle burning on both ends? When you know, you can find ways to prevent and relieve stressors.
Try this quick tip: After you arrive at work or at home, give yourself two minutes alone to regroup and refocus before facing your next set of responsibilities.
2. Connect with Someone
When we try to spare the people around us of the stress in our minds, we're actually isolating ourselves more. Connecting with someone, even a stranger, can help us feel less lonely and more ready to deal with our problems.
Burnout renders our mental health even more fragile. Talk to a friend, another nurse, a relative, or a professional. Organizations, like Talkspace are providing free access to online therapy for healthcare professionals.
Try this quick tip: Want to text someone? The American Nurses Foundation partnered with the Happy App to provide 24/7 support for nurses. Text your first name and ANA to (858) 367-3001 to connect with a Happy Support Giver.
3. Enroll in a Free Online Workout or Yoga Session
With gyms closed, many of us lost endorphins and gained the quarantine fifteen. Check out free classes and personal trainer offers for nurses. The exercise will help us be healthier and feel empowered.
There isn't a nurse who doesn't already know the countless health benefits of exercise and even more so regular exercise. And, no nurse doesn't know about the mental health benefits. This is a reminder that although you are a superhuman, you will benefit from exercise too.
4. Earn CE Credits in Self-Care for Nurses
The American Nurses Association is offering ways for nurses to get self-care tips and CE units at the same time. Do something for yourself and your career at once.
5. Get Outdoors
Not all indoor spaces are sufficiently ventilated. Low oxygen levels can result in sluggishness and reduced mental capacity. You can buy an oxygen meter to check the oxygen levels in your home. Until then, take 3 deep diaphragm breaths when you need a boost.
If you don't have time for outdoor activities, find other ways to get the sun and serotonin.
Try this quick tip: Have your next meal outdoors. Whether breakfast, lunch, or dinner sit outside, balcony, yard, or park.
6. Take a Baby Step
A lot of times, we know what's causing us stress, but the stress is paralyzing us.
Rather than looking at the problem as a large wall, break it down into small steps toward a larger goal. Then take the first step to solve the problem. Celebrate that small victory, then take on the next step.
If it's financial, then create a budget or pick up an extra private duty shift.
Just taking a step will put us on the right path toward a better you, and help you feel better.
Try this quick tip: Instead of focusing on the outcome, focus on the small change that you will make in your lifestyle and tie it to something that's already a habit, whether drinking an extra glass of water or taking your own meds.
7. Declutter
My 9th-grade world studies teacher's mantra was "A clear desk means a clear mind." As a snarky teenager, my silent retort was "An empty desk means an empty mind." Now that I'm older, I realize my teacher was right.
Try this quick tip: Try doing a music declutter challenge. Queue up a high-power music playlist–ten minutes can be enough. Pick a room, corner, or drawer that drives you nuts. Race against the tunes.
Odds are you can finish that cluttered drawer before the songs are over. (Pro-tip: Works with kids in the family room, too. Try the Coasters "Yakety Yak" for extra laughs.)
Resources
Call, text, or email one of the organizations below for an immediate response: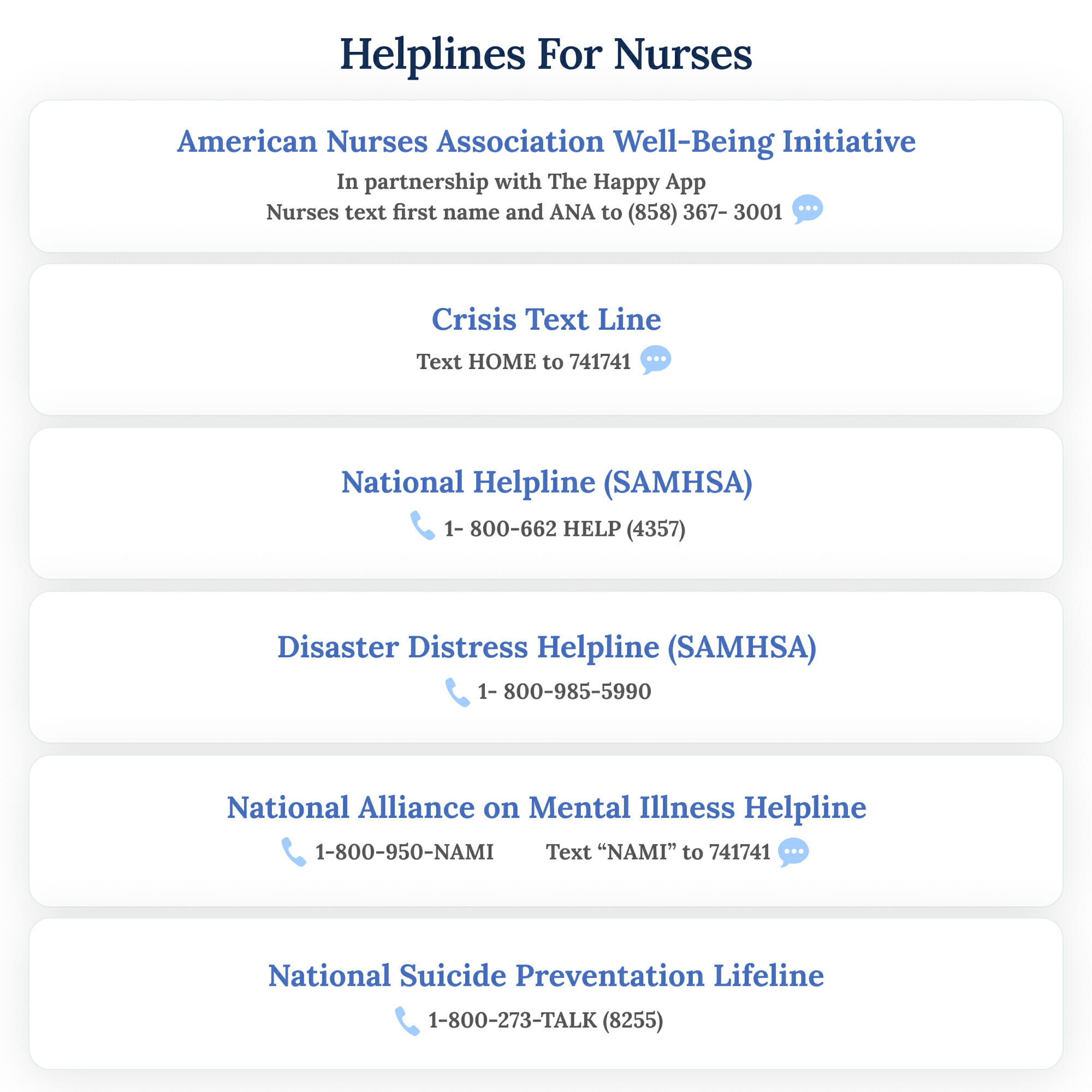 Conclusion
No one can care for you, as you do for yourself, and there are countless resources and people eager to help.
You're worth the time for self-care. So take that first step now.
You may also like these articles.