As the COVID-19 pandemic spreads, so are stress and burnout, especially for nurses. Times are tough and it's easy to forget ourselves.
In this article, we'll give you common warning signs of burnout for nurses and practical self-care tips you can start now.
Why Self-Care
Without self-care, we're not our best selves. The people dearest to us might be affected, and our work may start to slip.
Metaphorically we do need to put on our oxygen masks, so we can help others.
Self-care is the recharge that keeps us happy and contributing to other people's happiness.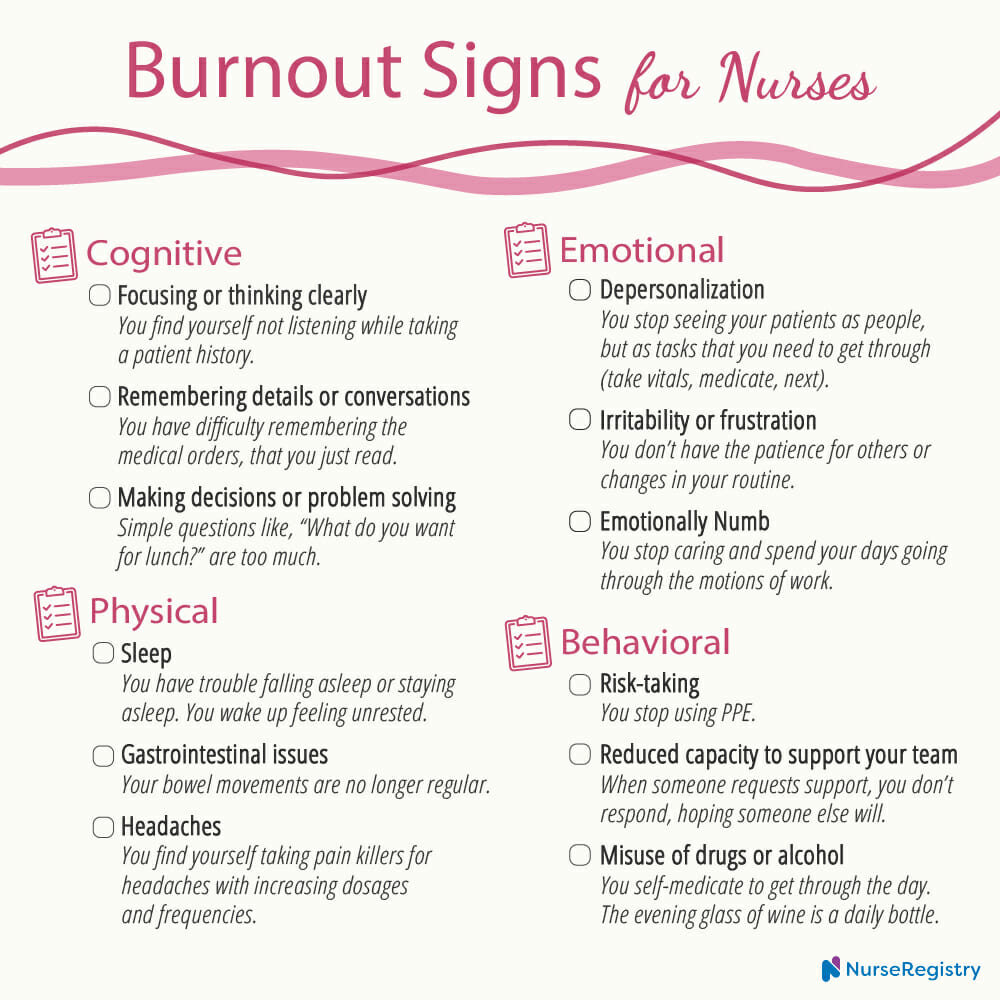 Warning Signs for Nurses
If you feel your stress is affecting you, your patients, or your loved ones, then know that there's help for you. Please skip this section and go straight to the resources available for you.
As nurses, we know all the tell-tale signs. We know when someone else needs to reach out for help. But, when it's ourselves and we're busy, sometimes we don't notice how burdened we are.
Here's a quick quiz to see how nurse burnout is affecting you. Check signs that have persisted for more than two weeks.
Cognitive Difficulties
Focusing or thinking clearly
You find yourself not listening while taking a patient history.
Remembering details or conversations
You have difficulty remembering the medical orders you just read.
Making decisions or problem solving
Simple questions like "What do you want for lunch?" are too much for you to answer.
Emotional Difficulties
Depersonalization
You stop seeing your patients as people, but as tasks that you need to get through (take vitals, medicate, next).
Irritability or frustration
You don't have the patience for others or changes in your routine. Your team, patients, and loved ones irritate you, and you let them know it (not in the best way).
Emotionally Numb
You stop caring and spend your days going through the motions of work.
Behavioral Signs
Risk-taking
You stop using PPE.
Reduced capacity to support your team
When someone asks anyone on the team to help, you don't respond hoping someone else will step up, because you feel too drained to take on anything else.
Misuse or increased use of drugs or alcohol
You're self-medicating to get through the day. Or, the evening glass of wine is a whole bottle.
Physical Signs
Sleep
You have trouble falling asleep, staying asleep, or you wake up feeling unrested. Maybe, you spend your day in a sleepy stupor.
Gastrointestinal irregularities
Your bowel movements are no longer regular.
Headaches
You find yourself taking meds for your headaches several times a day daily, sometimes in increasing dosages.
If you checked off having any of these symptoms as persistent for two weeks or more, then the stress has started taking a toll on you. It's time for you to stop what you're doing and start taking care of yourself.
This list represents the most common signs of stress and burnout for nurses. You may be experiencing other symptoms. If you are, please take steps toward a better you.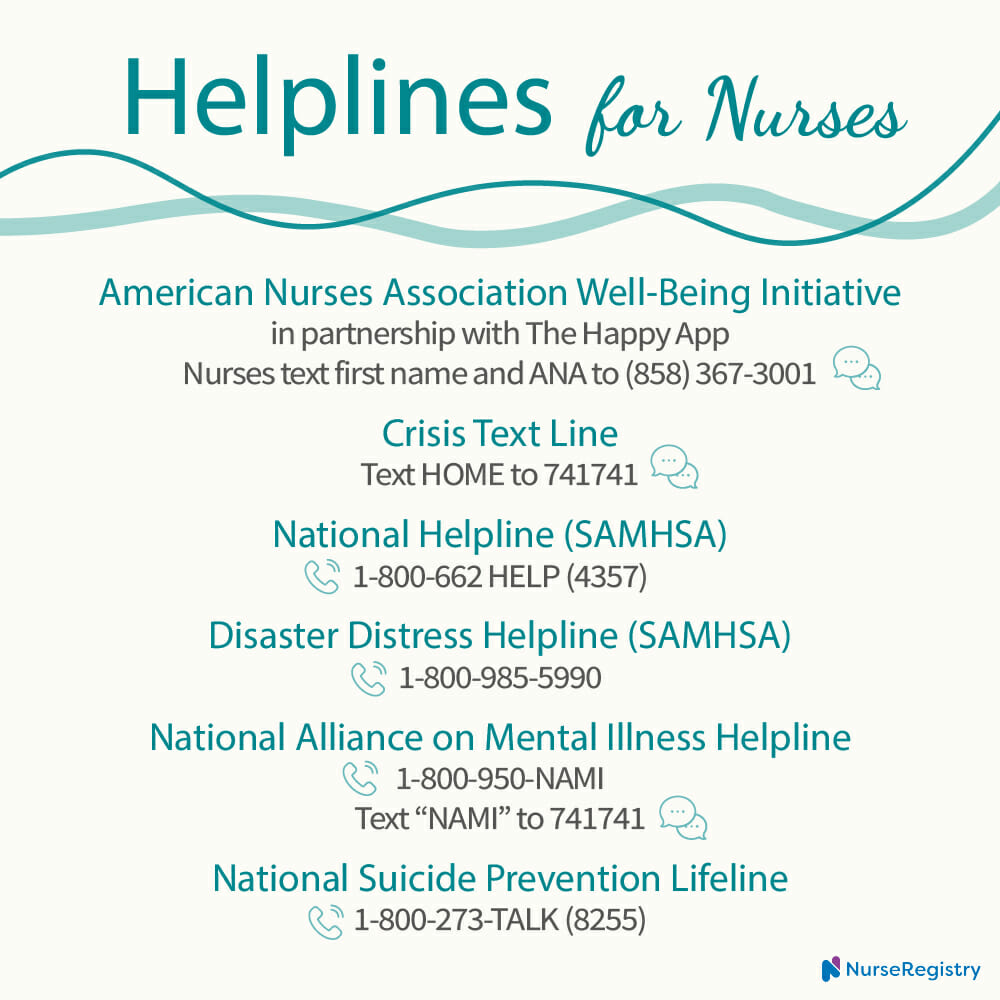 Resources
Call, text, or email one of the organizations below for an immediate response: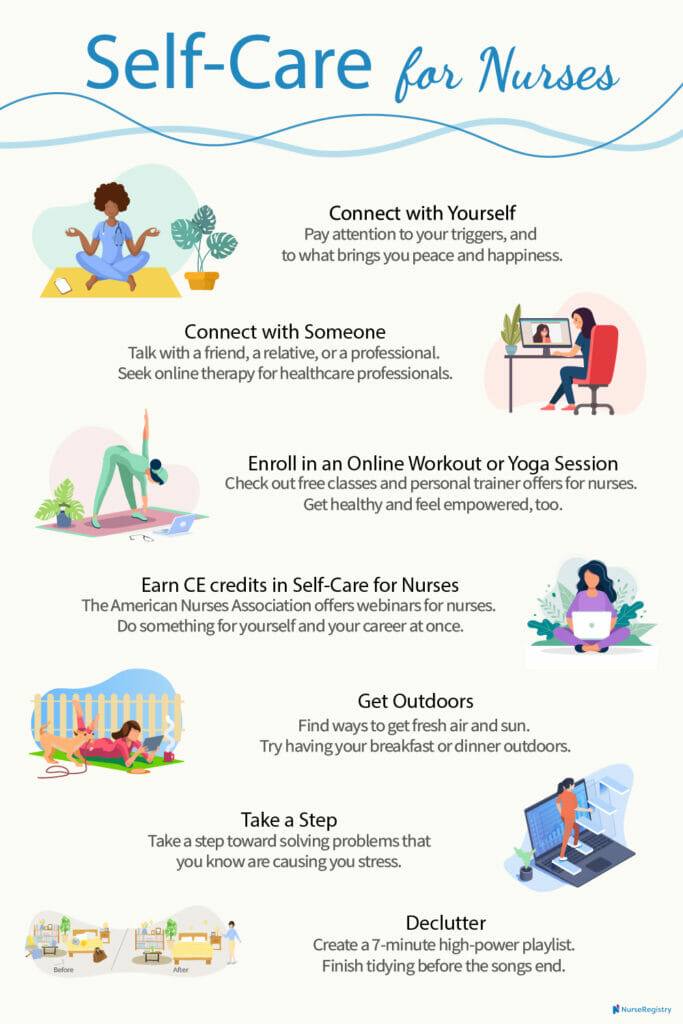 7 Self-Care Tips for Nurses
Here are seven practical self-care ideas that require minimum time and effort but have a great reward.
1. Take a Baby Step
A lot of times, we know what's causing us stress, but the stress is paralyzing us. Take a step to solve the problem. If it's financial, then create a budget or pick up an extra private duty shift.
Just taking a step will put us on the right path and help us feel better.
2. Learn about Self-Care for Nurses (and earn CE credits)
The American Nurses Association is offering ways for nurses to get self-care tips and CE units at the same time. Do something for yourself and your career at once.
3. Connect with Yourself
Mindfulness can go a long way in self-care. Try to take time to be alone and regain your headspace.
Running from one job to another can leave you feeling exhausted and worn out. After you park your car at work or at home, give yourself two minutes to regroup and refocus.
Pay attention to your triggers, but also pay attention to what brings you peace and happiness. It may be something unexpected.
When you figure out what makes your tension disappear, then do it, and do it regularly. You're worth it.
4. Connect with Someone
Talk to a friend, another nurse, a relative, or a professional. As we keep things pent-up, we feel like an over-filled balloon ready to pop. Relieve some of that pressure with someone you trust.
Organizations, like Talkspace are providing free access to online therapy for healthcare professionals.
The American Nurses Foundation partnered with the Happy App to provide 24/7 support for nurses. Text your first name and ANA to (858) 367-3001 to connect with a Happy Support Giver.
Connecting with someone, even a stranger, can help us feel less lonely and more ready to deal with our problems.
5. Enroll in a Free Online Workout or Yoga Session
With gyms closed, many of us lost endorphins and gained the quarantine fifteen. Check out free classes and personal trainer offers for nurses. The exercise will help us be healthier and feel empowered.
6. Get Outdoors
Not all indoor spaces are sufficiently ventilated. Low oxygen levels can result in sluggishness and reduced mental capacity. You can buy an oxygen meter to check. Until then, take 3 deep diaphragm breaths when you need a boost.
If you don't have time for outdoor activities, find other ways to get the sun and serotonin. Try having your breakfast or dinner outdoors.
7. Declutter
My 9th-grade world studies teacher's mantra was "A clear desk means a clear mind." As a snarky teenager, my silent retort was "An empty desk means an empty mind." Now that I'm older, I realize my teacher was right.
Do a declutter challenge. Create a short 7-minute high-power playlist. Pick a shelf or drawer that drives you nuts. Race against the tunes. Odds are you can finish that cluttered drawer before the songs are over. (Works with kids in the family room, too.)
Conclusion
There are countless resources and people eager to help. No one can care for you, as you do for yourself.
You're worth the time for self-care. Start now.
You may also like these articles.
Supporting Alzheimer's Efforts While Social Distancing
Burnout Recognized by World Health Organization (WHO)