As our loved ones get older, we are all faced with a difficult situation – where should they live?
Sure, they may receive exceptional care at a nursing home, but is that the best scenario for their day-to-day life?
On the other hand, many seniors prefer aging in place. Of course, that brings its own set of concerns. What if they fall and no one is around to help them back up? Thankfully, there are solutions that allow your loved one to remain at home and receive care.
Just to be clear, what qualifies as a senior living independently?
Independent living for seniors refers to any housing arrangement designed exclusively for older adults, generally those aged 55 and over. Independent living communities offer a wide array of services, such as in-home care, assisted living, memory care, and more.
Seniors living independently at home can maintain their privacy and autonomy while still enjoying social activities and events.
Additionally, independent living can be more affordable than other senior living options, such as assisted living or nursing homes.
If your elderly loved one is opting for independent living and the freedom that accompanies that, we have some tips, suggestions, and resources that may be helpful.
Key Takeaways
Independent living for seniors refers to any housing arrangement designed exclusively for older adults, generally those aged 55 and over.

Independent living provides seniors with freedom, independence, and access to a variety of amenities and services.

Seniors living independently may face challenges and need to prepare for the future by considering their support systems and making necessary modifications to their homes.

Benefits of independent living for seniors include emotional well-being, healthy aging, and a greater sense of belonging in their community.
Understanding Independent Living for Seniors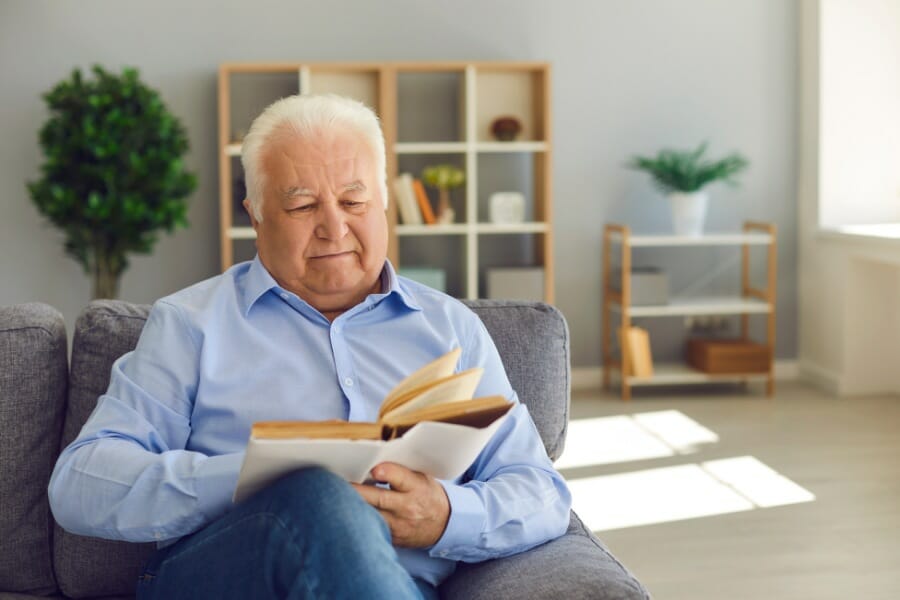 Independent living is a type of senior living community designed for older adults who want to maintain their independence while enjoying a social and active lifestyle.
Naturally, this is a popular choice for seniors who can still take care of themselves.
While this may mean that the senior is simply continuing to reside in their current home, it could also mean transitioning to a variety of housing options, including apartments, condos, and townhouses.
They are typically located in urban or suburban areas and offer easy access to local amenities such as shopping, dining, and entertainment.
Due to the nearby amenities, seniors can easily socialize with their peers and participate in a wide variety of activities, such as game nights, fitness classes, movie nights, and more.
Studies have shown that socialization can help combat feelings of loneliness and isolation, which can be common among seniors who live alone.
Let's take a look at a few benefits of independent living for seniors.
3 Powerful Benefits of Seniors Living Independently
Living independently can provide numerous benefits for seniors. Here are some of the most significant benefits:
1. Promotes Healthy Aging
Seniors who live independently often have more control over their daily routines, which can lead to healthier habits.
Even if they have a home schedule they should adhere to, for the most part, the seniors will have complete control over what they eat, when they exercise, what activities and hobbies they partake in, and how they socialize. 
This autonomy may help seniors maintain a healthy lifestyle and avoid health problems that are associated with aging.
2. Increased Emotional Well-being
When you have your own independence, there is a greater sense of purpose. For seniors, having control of their daily activities and life improves their emotional well-being.
They can pursue their interests and hobbies and maintain their social connections, which can help reduce feelings of loneliness and isolation.
Similarly, seniors living independently can also maintain their privacy and autonomy, which can help them feel more in control of their lives. This sense of control can lead to improved self-esteem and overall happiness.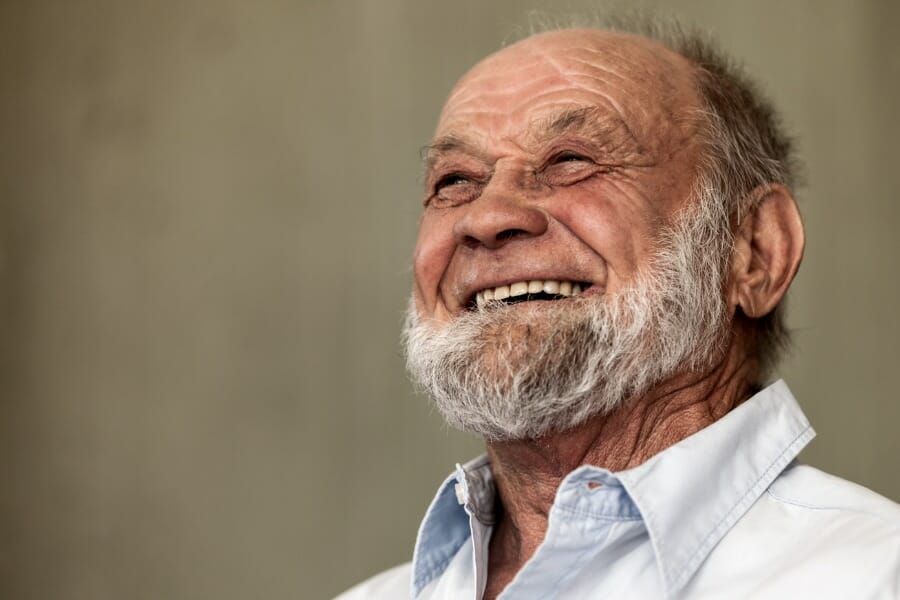 3. Family Peace of Mind
Whether the senior has a full-time private nurse or they reside in an independent living community, their family can collectively release a sigh of relief.
The peace of mind of knowing that their loved one is in good caring hands yet can live a fulfilling and independent life is invaluable.
While the senior engages in their normal daily living and hobbies, there will be health care providers that assist with daily tasks such as housekeeping, laundry, and transportation. If necessary, they can also help with medical care and medication management.
This can help ease the burden on family members who may be worried about their loved one's ability to live independently.
Challenges Faced by Seniors Living Independently
There are certainly still challenges that a senior may face should they choose to live independently and away from nursing homes.
Let's explore some of the most common challenges faced by seniors who live independently.
Health and Mobility Issues
As seniors age, they may experience a decline in their physical health and mobility. Unfortunately, this is inevitable and a natural part of life.
However, this can make it difficult for them to perform daily activities, such as cooking, cleaning, and running errands.
Seniors with mobility issues may also face challenges getting around their homes and accessing necessary medical care.
Financial Concerns
Another challenge faced by seniors living independently is financial concerns. Many seniors live on fixed incomes, which can make it difficult to afford the cost of living.
Low-income seniors may also face unexpected expenses, such as medical bills or home repairs, that can put a strain on their finances.
Preparation for Independent Living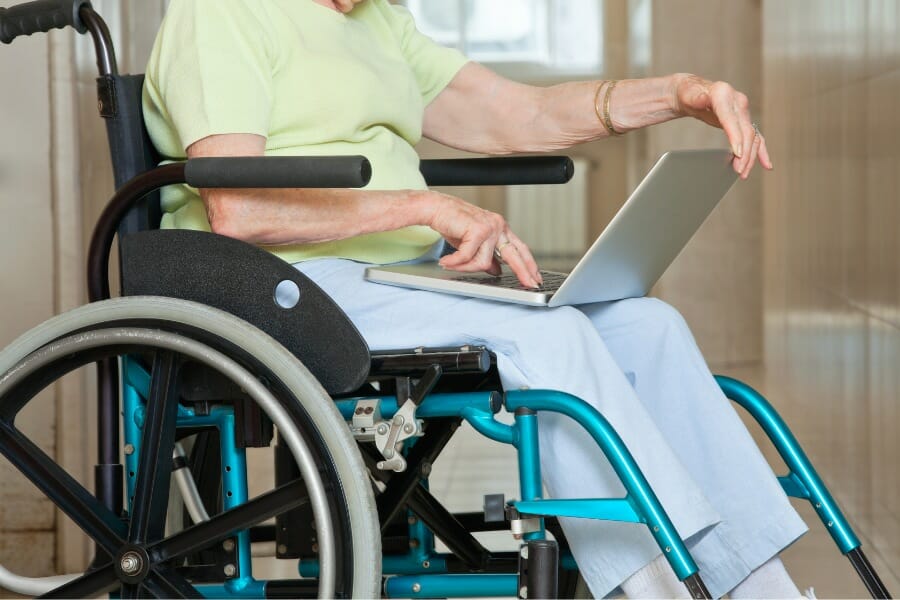 If the senior in your life opts for independent living, here are some steps you can take to prepare for this transition.
Creating a Safe Home Environment
Creating a safe environment at home is the first step to ensure seniors living independently are safe.
For instance, if the senior is in a wheelchair, make sure that the furniture is spaced out properly so they can navigate around the home.
Another area that is a major concern is the bathroom. Installing railings in the bathtubs and adding non-slip mats minimizes the opportunity for falls.
It is important to note that any alterations should be easily adaptable since needs and abilities change over time.
Plus, a safe home doesn't have to be unattractive; modifications can be beautiful and stylish.
Engage in Physical Activity
Engaging in regular physical activity is essential for seniors to maintain their physical and mental health.
It is strongly recommended that seniors engage in at least 30 minutes of moderate physical activity per day.
This can include activities such as walking, swimming, or yoga. Physical activity not only improves physical health, but it can also reduce stress and anxiety.
Building a Support Network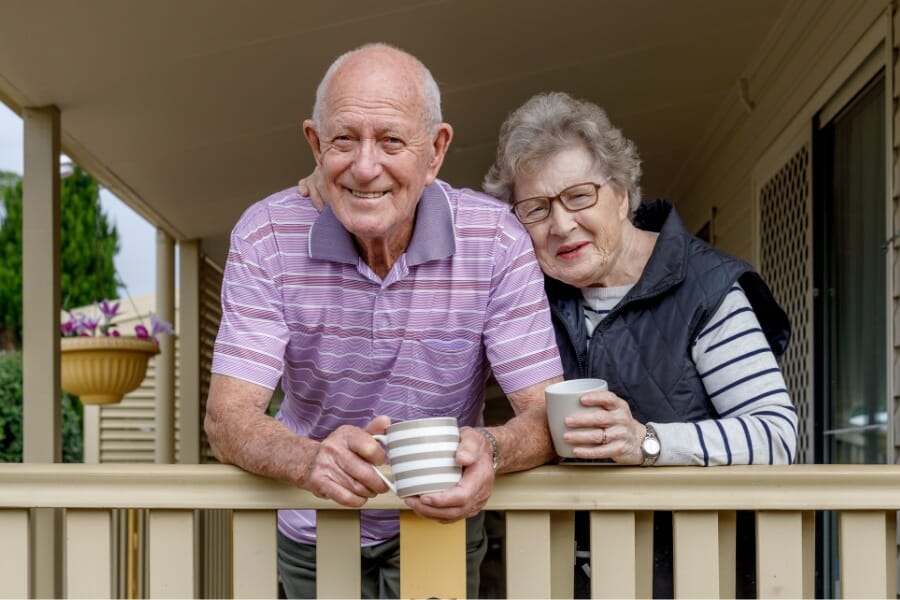 Building a support network is essential for seniors preparing for independent living.
Respite care will not be necessary since the senior will have healthcare assistance, but seniors should consider reaching out to family members, friends, or community organizations for support.
Beyond friends and family, seniors can also consider joining social groups or clubs to meet new people and build new relationships. Having a support network can help seniors feel less isolated and more connected to their community.
Support Systems for Independent Seniors
The world is constantly changing, and seniors may struggle to keep up. When you consider the latest advancements in technology, for instance, it is important for seniors to be up to date.
Activities like talking on the phone could easily be replaced with FaceTime so seniors can easily see their grandchildren and friends, but they must first know how to use the technology.
Let's take a look at a few support systems that seniors could take advantage of.
Community Services
Many communities offer services specifically designed for seniors.
Driving becomes more difficult and risky as folks age or they may have a medical condition that prevents them from driving.
That is where a transportation service becomes invaluable. Other services may include meal delivery or home maintenance.
Community centers may also offer classes and activities for seniors, providing opportunities for socialization and mental stimulation.
Technology Assistance
As previously mentioned, technology can be a valuable tool for seniors who want to live independently. For the most part, it comes down to connectivity.
Sure, the senior may want to know how to use a streaming service for entertainment and shows, but messaging and FaceTime calls hold more weight for elderly individuals.
Technology assistance programs can help seniors learn how to use these tools and stay connected.
Types of Independent Living Communities
While we recommend in-home nursing care, there are independent living communities, too.
Seniors who wish to live independently have several options available to them, including retirement communities, continued care retirement communities, and senior apartments.
Retirement Communities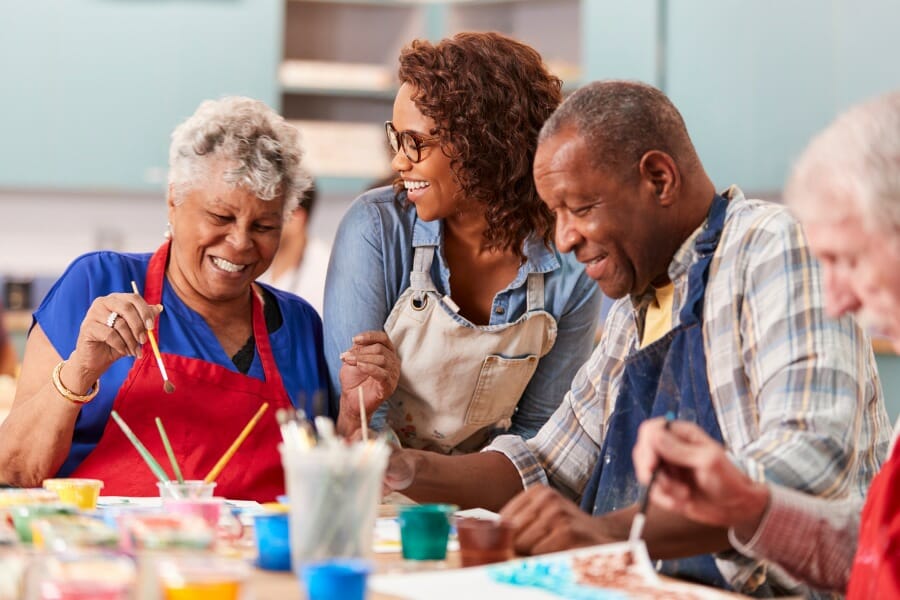 Retirement communities, which are also commonly called independent living communities, typically offer a range of amenities and services that are specifically designed to make life easier for seniors.
These communities may include any of the following: fitness centers, pools, social events, and transportation services. In addition, some retirement communities also offer meal plans and housekeeping services.
Retirement communities are often designed to be low-maintenance, with many units featuring modern appliances and other conveniences.
Seniors who live in retirement communities can enjoy the benefits of community living while maintaining their independence.
Senior Apartments
Senior apartments are designed specifically for seniors who want to live independently but do not need the range of services and amenities offered by retirement communities.
These apartments may be subsidized by the government, making them an affordable option for seniors on a fixed income.
Senior apartments typically feature one or two bedrooms, a kitchen, and a bathroom. Many senior apartments also offer community spaces where residents can socialize and participate in activities.
Let Your Elderly Loved One Keep Their Independence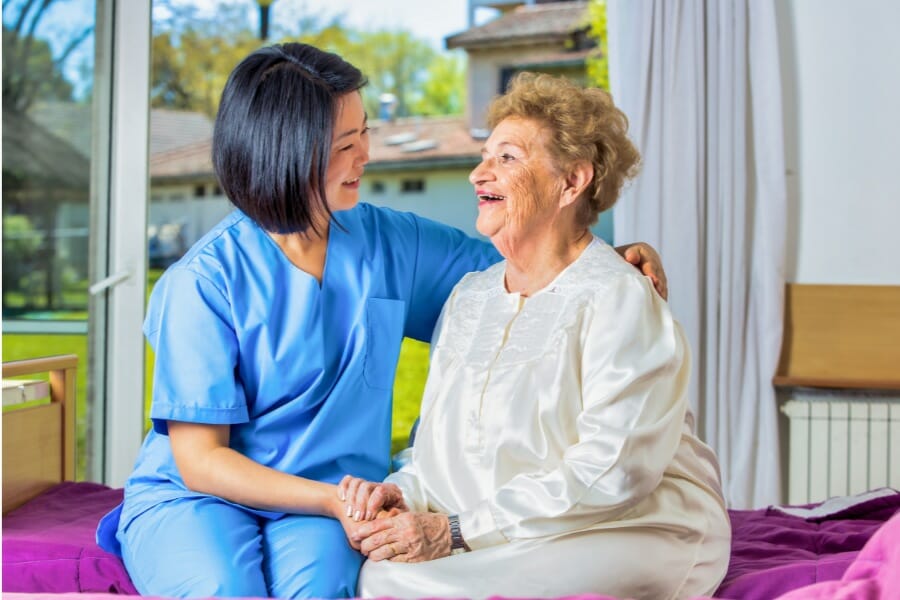 Overall, independent living can be a great option for seniors who want to maintain their independence while still having access to necessary services and support. With careful planning and the right resources, seniors can live independently for longer and enjoy a high quality of life.
Seniors who choose to live independently have many options available to them. From home nursing care to apartment-style independent living facilities, your loved one can stay safe, cared for, and retain their independence.
If you are looking for home nursing care, NurseRegistry is a great option.
We work with over 500 private duty nurses, so your loved one is guaranteed to receive a professional nurse with specialty skills and a personality that meshes with the senior.
From respite care to palliative care for seniors, we have a nurse that is perfect for your loved one.
In addition, we offer industry-leading scheduling flexibility so you will receive a nurse exactly when and where you need them. 
If this sounds beneficial to your elderly loved one's living situation, click below to get started on the nurse-matching process today.