Sleep is important. But after a long day's work, or alternating schedules, you may be restless. If you find it difficult to fall asleep, or you simply want to experience a more restful night's sleep, try the following tips.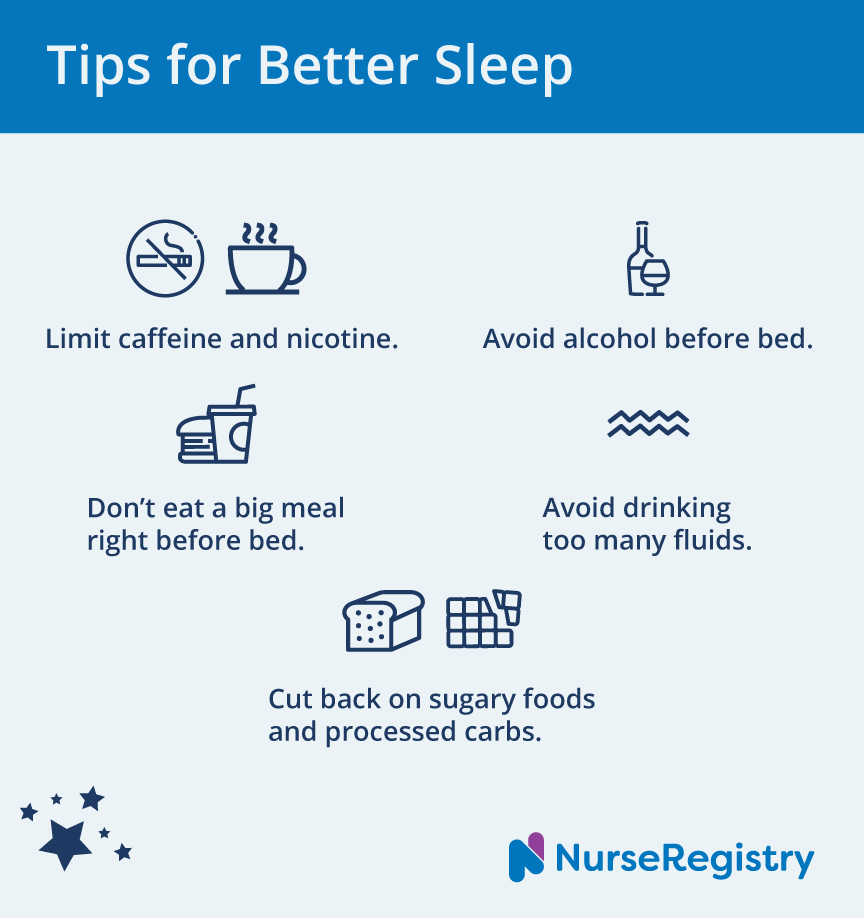 1. Limit caffeine and nicotine.
Both act as stimulants that can disrupt your sleep cycle. If you do smoke, consider quitting with the help of these 8 tips.
2. Avoid alcohol before bed.
This is another stimulant that can affect your sleep cycle. Enjoying one to two drinks is fine, but make sure to do it well before bed time.
3. Avoid eating a large meal right before bed.
Try to make dinner time earlier in the evening and avoid snacking right before bed. It can lead to indigestion for some people.
4. Avoid drinking too many fluids before bed.
Drinking a lot of fluid before bed can result in frequent bathroom trips, which interrupts sleep.
5. Cut back on sugary foods and processed carbs.
Refined, processed carbs include white rice, white bread, and pasta. Throughout the night, sugars and refined carbs pull you out of the deep, restorative phases of sleep; you may not fully wake up, but the disturbance will be enough to make you feel exhausted the next day.
Orexin is a neuropeptide that regulates arousal, wakefulness, and appetite. Studies have shown that intake of sugar decreases the activity of orexin; this leads to fatigue. This gives us the feeling of a "sugar crash", which is why we want to nap after eating high-carb or high-sugar foods. Napping, however, can lead to bad sleeping habits. On top of that, orexin can, in turn, affect mood and may even result in depression in some people.
For some people, snacks before bed may cause indigestion and discomfort. For others, a snack before bed may help ease them into their bedtime routine. If you prefer a snack, try one of the following: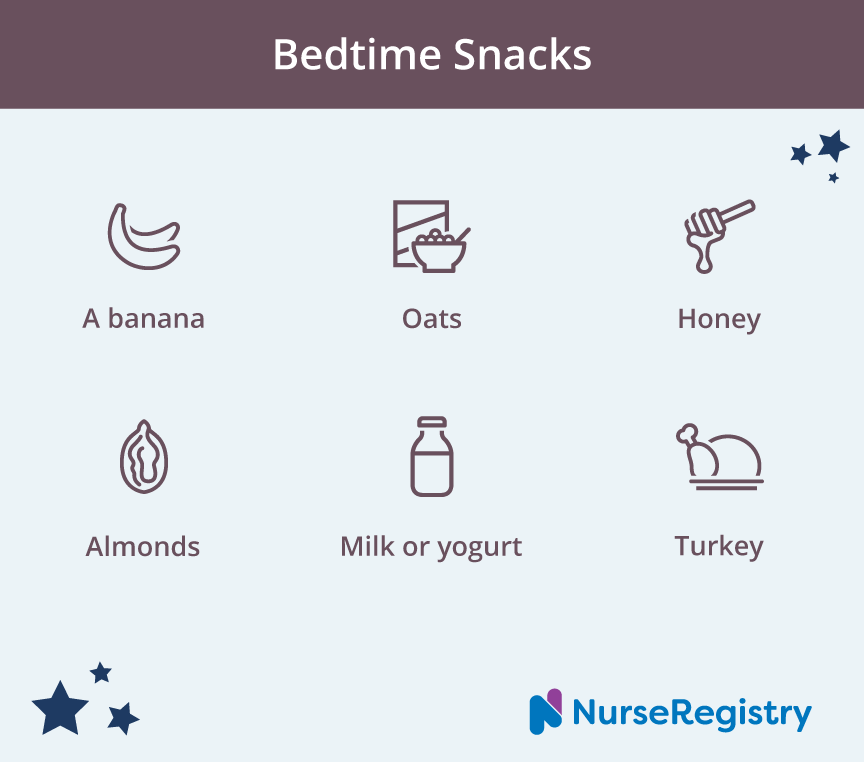 Banana. Bananas are packed with magnesium, which works as a muscle relaxant. They also contain serotonin and melatonin, both of which support a good night's rest.
Honey. A teaspoon can stimulate the release of melatonin. It can shut off orexin, which keeps us awake and alert.
Oats. Unlike sugary cereals, oats won't cause sugar spikes. In fact, oats steadily raise blood sugar and contain vitamins and minerals that naturally encourage the production of melatonin.
Tukey. This is one food known for causing sleepiness. It is full of tryptophan, an amino acid that triggers the production of serotonin and melatonin. It's also full of protein, so it will help you stay full through the night.
Milk or yogurt. Both contain tryptophan, which has a calming effect on the brain.
Almonds. A vegan alternative to turkey and milk, almonds contain tryptophan and magnesium, along with a good source of healthy fat.
Try these combinations before bed.
Oatmeal with warm milk
Banana and honey in yogurt
Half a turkey sandwich
Remember, lifestyle habits can impact the quality of your sleep. Eat healthy, exercise regularly, and try these tips for a more restful night's sleep
Sources
https://www.helpguide.org/articles/sleep/getting-better-sleep.htm
https://www.webmd.com/food-recipes/features/carbohydrates#1
https://sleep.org/articles/sugar-impacts-sleep/
https://www.wired.com/2011/12/why-sugar-makes-us-sleepy-and-protein-wakes-us-up/
https://en.wikipedia.org/wiki/Orexin
http://www.independent.co.uk/life-style/health-and-families/how-to-get-good-nights-sleep-food-before-bed-what-to-eat-a7559961.html