In the simplest of terms, an eating disorder is a very serious condition that is related to eating behaviors that negatively impact the health and emotion of the individual.
Due to the emotional and behavioral consequences, eating disorders majorly affect the ability to function in many aspects of normal, everyday life.
One common misconception that is often attributed to eating disorders is the gravity of the situation.
In a current social climate with the internet and social media at our fingertips, it is easy to pass off eating disorder behavior as a simple side-effect of witnessing IG models and attractive Hollywood stars 24/7.
According to Forbes, Americans spent 1300 hours on their phones, surfing social media websites last year.
So, there certainly is some credence to this perspective. However, this theory downplays the severity of eating disorders and what is at the heart of disordered eating behavior.
Eating disorders are dire and go beyond the mentality of fasting to get fit for that summer beach trip.
First, let's discuss truly how serious eating disorders are.
How Serious are Eating Disorders?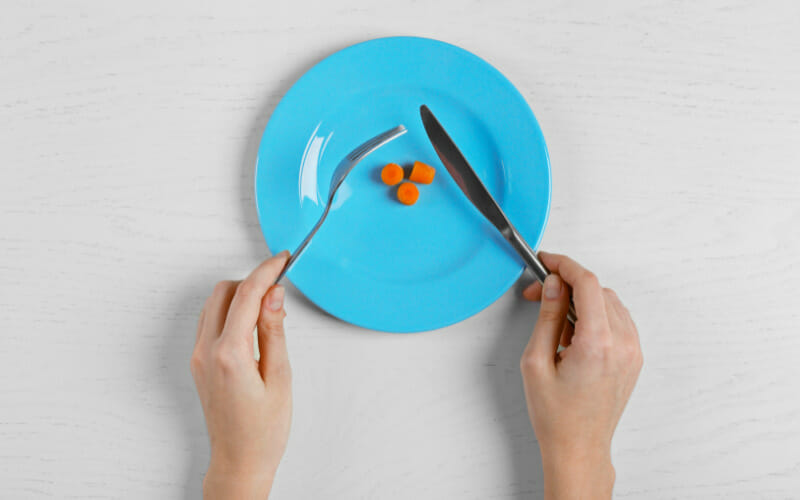 Here are a couple of startling statistics.
30 million people suffer from eating disorders

Eating disorders have the highest risk of death out of any mental illness

95% of folks suffering from eating disorders are between 12 and 25 years old
Both the severity and prevalence of eating disorders are alarming. So, how do eating disorders affect the body?
Damage that an eating disorder can do to the body includes:
Difficulty appropriating nutrition

Weak bones

Infertility

Depletion of electrolytes

A significant drop in blood pressure

Blood sugar fluctuations

Stomach pain

Sore throats and potentially an esophagus rupture

Kidney failure

Iron deficiency, which causes weakness, fatigue, and shortness of breath
What Classifies as an Eating Disorder?
It is important to note what an eating disorder is not. It is not a lifestyle choice, a diet gone wrong, or a phase someone is going through to acquire attention.
Eating disorders are behavioral conditions characterized by severe and persistent disturbance in eating behaviors and associated distressing thoughts and emotions.
Due to their severity and how impactful food and digestion are, eating disorders can affect a person's physical, social, and psychological functioning abilities.
A person's body weight and consumption turn into an unhealthy preoccupation that interferes with their day-to-day life.
What Causes Eating Disorders?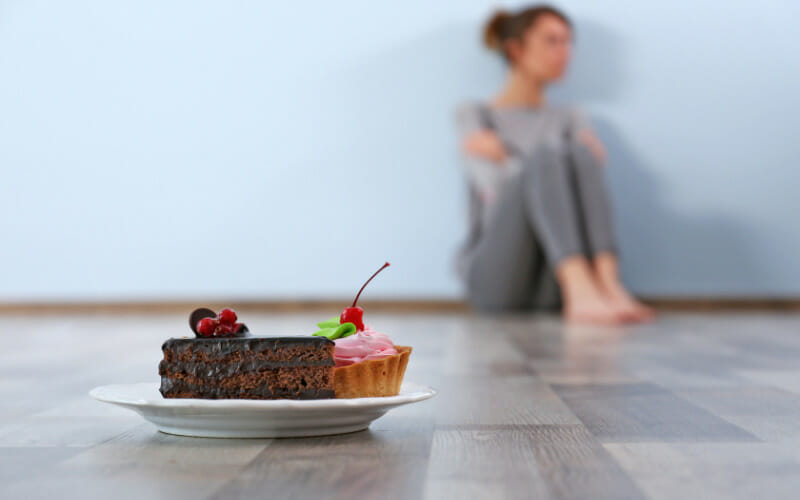 There are three main factors that can attribute to someone developing an eating disorder.
Co-existing Psychiatric Disorders
It is common for eating disorders to co-exist with additional psychiatric disorders. This often includes mood and anxiety disorders, alcohol and drug abuse, and obsessive-compulsive disorder (OCD).
Societal and Environmental Factors
The world is more connected than ever before, which comes with both advantages and disadvantages.
The social media, television, and movies that a person consumes can have a direct impact on their view of themselves.
In addition to eating disorders, this can lead to body dysmorphia. This is a form of distorted body image where the person critiques and nitpicks their appearance to an unhealthy level.
Biological Factors
There are studies that have determined that genetics do play a role in the development of eating disorders.
As we mentioned above, eating disorders seem to be linked to co-existing psychiatric disorders. Additionally, individuals with a family history of mental illness are more prone to experience mental illness themselves.
What are Examples of Disordered Eating Behaviors?
The Two Most Common Types of Eating Disorders
There is a variety of eating disorder types, but the most common two are:
Anorexia Nervosa

Bulimia Nervosa
Anorexia Nervosa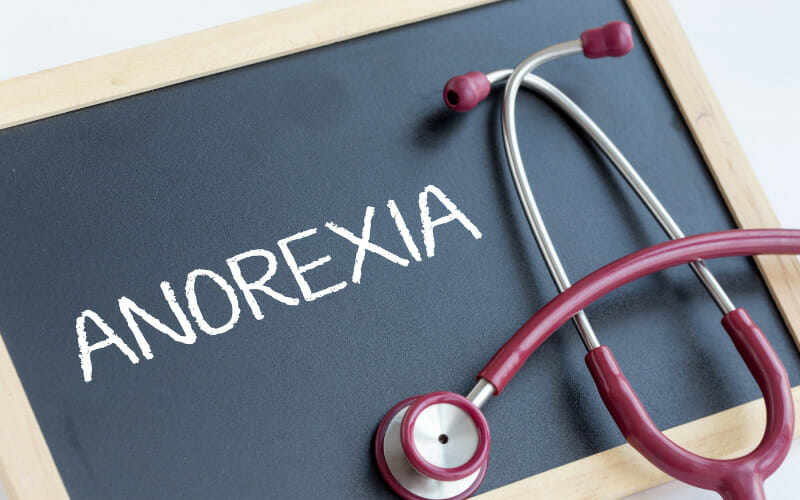 An anorexia nervosa eating disorder is characterized by weight loss due to self-induced starvation.
Because of the complete lack of nutrition and fatigue in the body, anorexia nervosa has the highest mortality of any eating disorder.
In fact, the only psychiatric diagnosis that has higher mortality is opioid use disorder.
Starvation is the end result due to an intense fear of gaining weight or becoming obese.
In addition to starvation, individuals that suffer from anorexia nervosa may eat small amounts followed by excessive exercise, vomiting, or misusing laxatives. This is known as restricting type.
Another kind of anorexia nervosa is called binge-eating/purging type.
This form of anorexia nervosa occurs when a person engages in intermittent binge eating along with purging behaviors.
Anorexia Nervosa Symptoms
Symptoms and medical complications of anorexia nervosa may include the following as starvation and purging behaviors continue:
Menstrual periods cease

Dizziness or fainting from dehydration

Muscle weakness

Heartburn

Brittle hair and nails

Intolerance to cold temperatures

Severe constipation

Bloating

Depression

Anxiety

Irritability
Bulimia Nervosa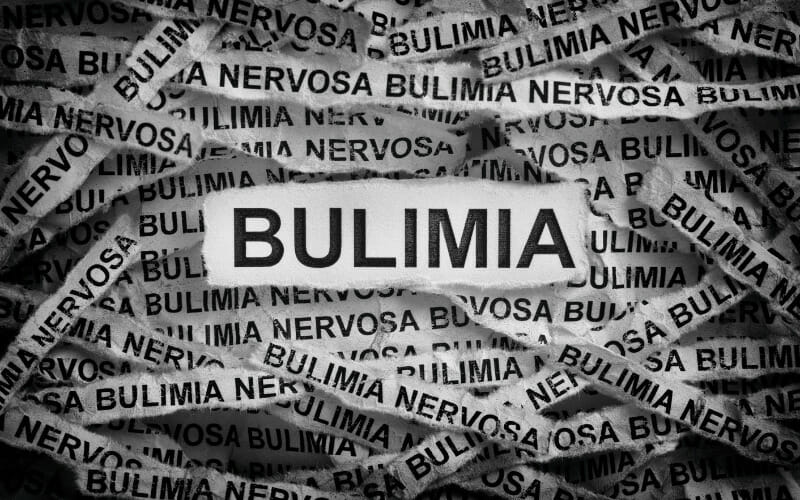 Bulimia nervosa is characterized by alternating dieting and eating "healthy, low fat" foods with binge eating foods that the individual knows are high caloric and unhealthy.
What classifies as binge eating?
Essentially, binge eating is eating a surplus amount of food in a short window of time.
Beyond that, the individual suffering from bulimia nervosa often feels a complete lack of control over what, and how much, they are consuming.
Binge behavior is typically secretive and is associated with feelings of embarrassment or shame. Binges proceed well beyond the stage of satiation, leaving the individual feeling nauseous.
The unhealthy back and forth that accompany binges involve at least a weekly binge that is followed by aggressive compensatory behavior to prevent gaining weight.
This type of behavior may include activities to the detriment of their physical health, such as excessive exercise, fasting, laxative misuse, or vomiting. 
Beyond the physical actions and activities, the individual suffering from bulimia nervosa is constantly considering their weight, shape, and appearance in general in a negative light.
This self-perspective can manifest negative thoughts regarding their value and self-worth.
Friends and family members of those suffering from bulimia nervosa may struggle to identify their eating disorder because the behaviors are often secretive and the individual is either a normal weight or a little overweight.
Common signs and symptoms that a person has bulimia nervosa include the following: 
Food seemingly disappearing or empty wrappers in the trash

Chronic sore throat

Frequent trips to the restroom immediately following meals

Swelling of the salivary glands in the cheeks

Heartburn

Dental decay

Recurrent diarrhea

Dehydration and dizziness
Get the Help You Need
If you or a loved one are suffering from an eating disorder, getting help and proper treatment is imperative.
As severe as eating disorders can be, the great news is that an individual can reverse many symptoms with healthy eating habits and medical care that focuses on emotional and psychological health.
The first step is finding a treatment center.
Rehab centers are uniquely constructed to support and assist anyone that has an eating disorder. They offer specialized care with skilled nurses and healthcare professionals that always display empathy and compassion.