Eating disorders impact close to 30 million people in the United States alone. That is around 9% of the USA's population, and this percentage doesn't even consider all of the family members these disorders affect, as well.
As you can see, eating disorders are dangerous and prevalent. Residential Eating Disorder Facilities are growing every year, and it is great to know that help is available, but alarming to see the trend our country is heading down.
To help you gain a better understanding and how much the behaviors and symptoms vary, let's discuss the most common types of eating disorders.
The Most Common Eating Disorders:
General Signs of Eating Disorders
Before we dissect the multiple types of Eating Disorders, it is good to have a grasp on some of the more common signs and symptoms.
Important note: many folks with eating disorders may not believe that treatment is necessary. Paying close attention to signs can be critical.
Staying alert for particular eating patterns and behaviors when an eating disorder is suspected can save lives.
Even if your loved one isn't initially ready to acknowledge an existing eating disorder, understanding signs and promoting conversation is a great first step.
Behaviors that can be interpreted as red flags and indicate a potential eating disorder include the following:
Frequently checking the mirror for perceived physical flaws
Consistently skipping meals
Making excuses for avoiding meals
Excessive focus on eating healthy foods
Making their own meals rather than eating with the family
Withdrawing from typical social activities
Adopting a rigorously restrictive diet
Repeatedly eating excessive amounts of high-fat foods, sugars, and sweets
Persistent discussion and worry about being fat
Calluses on knuckles due to self-induced vomiting (purging)
Leaving during meals or directly after to use the restroom
Expressing disgust or depression regarding their eating habits
Eating in secret (taking food to their room or eating in their car)
Loss of tooth enamel (due to excessive vomiting)
Now that you know some of the more common eating disorder signs, let's break down the most common types and how to treat eating disorders.
Anorexia Nervosa
An anorexia nervosa eating disorder is characterized by weight loss due to self-induced starvation. This is often caused by distorted body image and an intense fear of gaining weight.
Anorexia nervosa is incredibly dangerous due to the complete lack of nutrition and fatigue. In fact, anorexia nervosa has the highest mortality rate out of any eating disorder.
There are two subtypes of anorexia nervosa.
Beyond starvation, people with anorexia nervosa may eat small quantities but then overcompensate for their meals with excessive exercise, vomiting, or using laxatives.
This is considered restrictive type anorexia nervosa.
Another form of anorexia nervosa in which an individual engages in intermittent binge eating and purging is called binge-eating/purging type.
Medical complications and common symptoms of anorexia nervosa may include the following:
Depression
Dizziness or fainting from dehydration
Heartburn
Severe constipation
Muscle weakness
Brittle hair and nails
Intolerance to cold temperatures
Bloating
Dramatic weight loss
Menstrual periods cease
Anxiety
Irritability
Bulimia Nervosa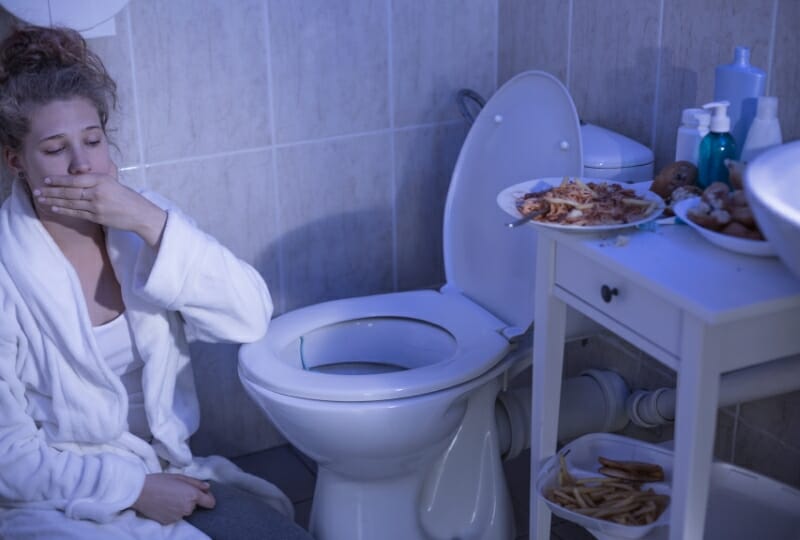 Bulimia Nervosa is characterized by switching between intensive dieting and eating "low fat" foods and binge eating foods that are high caloric and considered "forbidden."
Bulimia nervosa is characterized by alternating dieting and eating "healthy, low fat" foods with binge eating foods that the individual knows are high caloric and unhealthy.
Binge eating is defined as eating an excessive amount of food in a short period of time. Many individuals report feeling a complete lack of control regarding what, and how much, they eat.
Binging can be done in secretive manners, such as taking food away to a bedroom, storing food in unusual places for later consumption, or eating exclusively in a car.
People suffering from bulimia nervosa often consume beyond a healthy fullness to the point of discomfort and nausea. This behavior is followed by feelings of shame, depression, and embarrassment. The individual will devalue their value and self-worth.
Binge episodes typically occur weekly and are followed by aggressive compensatory behavior, such as intensive exercising, laxative misuse, fasting, or vomiting.
Close friends and family of people with bulimia may struggle to identify the disorder because the behaviors are often secretive and it often appears that the suffering individual has a normal body weight or is just a little bit overweight.
Common signs and symptoms that a person has bulimia nervosa include the following:
Chronic sore throat
Food seemingly disappearing or empty wrappers in the trash
Dehydration
Frequent trips to the restroom immediately following meals
Dizziness
Swelling of the salivary glands in the cheeks
Unhappy with body size despite a normal weight
Heartburn
Dental decay
Recurrent diarrhea
Binge Eating Disorder
Binge eating disorder shares similarities with bulimia nervosa and can be easily mistaken for bulimia nervosa.
Similar to bulimia nervosa, individuals that suffer from binge eating disorder have episodes of binge eating where they consume large amounts of food in a short period of time.
People with binge eating also experience a loss of self-control over how much they consume and are significantly distressed by their behavior.
The major difference between bulimia nervosa and binge eating disorder is the lack of compensatory behavior to rid the food from their body. This makes the disorder easier to detect by friends and family since the individual suffering is typically not an average weight.
People suffering from binge eating disorder do not fast, vomit, or engage in intensive exercising. Therefore, health complications such as obesity, diabetes, and cardiovascular diseases are bigger risk factors since there is no fear of weight gain.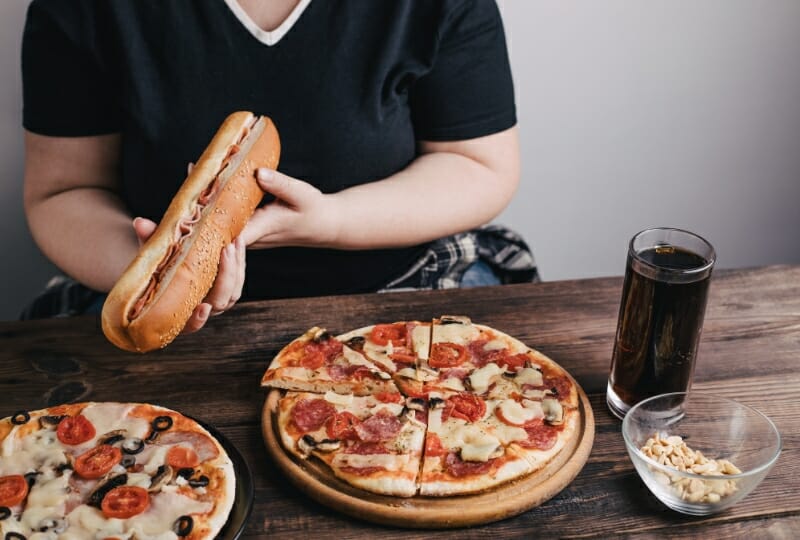 To classify as a binge eating disorder, an individual must binge once a week for at least three months. Binge eating can be classified as any of the following:
Eating beyond one's comfortable fullness
Eating more rapidly than usual
Loss of control when eating
Eating large quantities of food when hunger is not present
Feelings of disgust and guilt after consuming large quantities of food
Eating in secrecy or alone due to embarrassment
Avoidant Restrictive Food Intake Disorder
Avoidant/restrictive food intake disorder (AFRID) is when an individual is so picky with their food intake that it leads to a lack of necessary nutrition.
This condition differs from anorexia where an individual is restrictive of all food and may behave in purging behaviors due to body image.
Rather, the individual suffering from avoidant restrictive food intake disorder is limiting their food intake for any of the following reasons:
Minimal appetite and interest in food
Anxiety surrounding potential consequences of eating, such as nausea, choking, constipation, or allergic reactions
Sensory characteristics of food (texture, smell, color, etc)
In addition to nutritional deficiencies, people suffering from AFRID may have significant weight loss, difficulty socializing, and intense anxiety or stress.
In particular cases, these individuals may need to rely on a feeding tube for nutrition. Another option is consuming oral nutritional supplements.
AFRID typically develops in early childhood and may continue into adulthood, however, it is possible for a person to develop AFRID at any time.
Important note: AFRID is not food restriction due to a lack of food availability, cultural practices, temporary distress, or healthy dieting.
Pica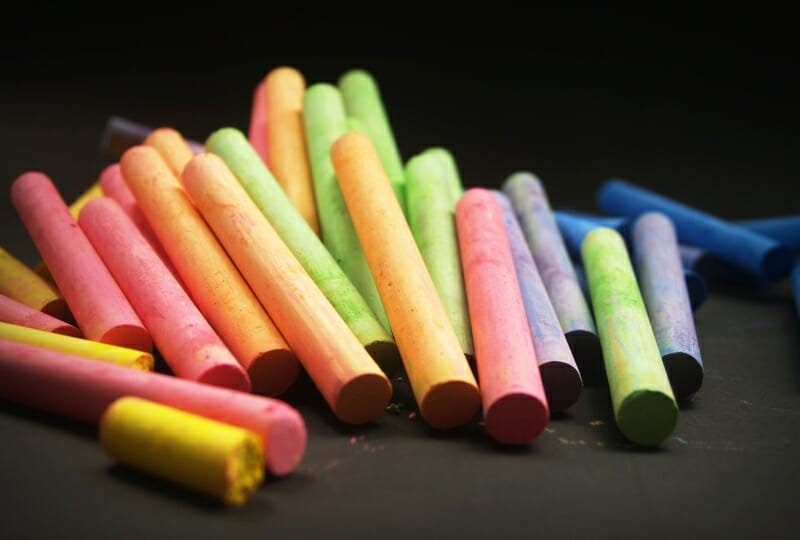 Pica is an eating disorder characterized why eating objects that are traditionally not considered food and hold no nutritional value.
To be classified as pica this behavior must persist for at least a month and be severe enough to warrant medical and clinical attention.
There are many substances associated with pica. The most common things consumed include:
Chalk
Paint chips
Paper
Hair
Cloth
Soap
String
Charcoal
Clay
Pebbles
Metal
Pica typically first occurs in childhood, however, it can occur at any stage of development.
Since babies often put small objects in their mouths as a normal developmental behavior, pica is not diagnosed until after the age of two.
Pica often occurs in people that are on the spectrum for autism and have an intellectual disability.
Other than the lack of nutrition, individuals that suffer from pica are at significant risk for toxins and intestinal blockages.
Rumination Disorder
Rumination disorder is when an individual repeatedly regurgitates and re-chews food after initially swallowing the food.
Sometimes the food is spat out before being placed back into the mouth for mastication.
It is possible for rumination disorder to develop during infancy, childhood, adolescence, or adulthood.
To be classified as rumination disorder, the behavior must meet the following criteria:
The behavior cannot be due to a gastrointestinal or medical complication
The behavior must occur repeatedly over a 30-day period
Rumination disorder must be separate from any other defined eating disorder
Other Specified Feeding and Eating Disorder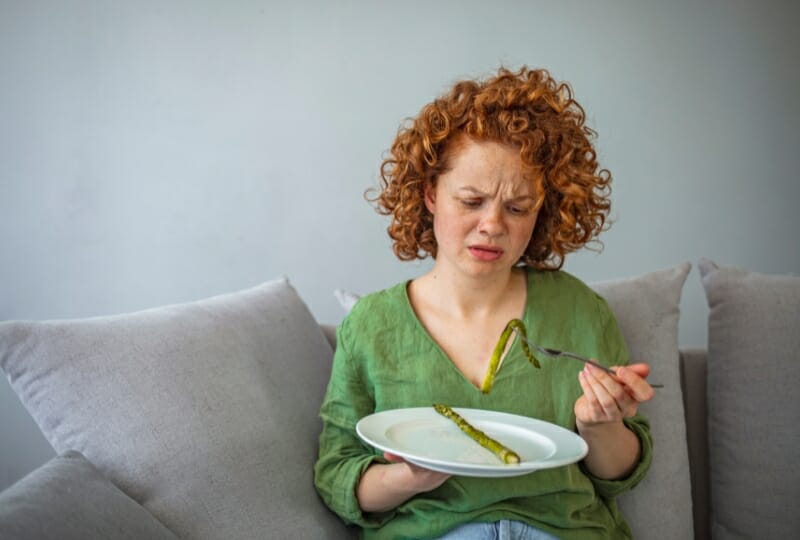 So far, each eating disorder has had very specific classifications and associated behavior.
However, we know there is a certain level of nuance when it comes to people and our behavior.
The diagnostic category of "other specified feeding and eating disorder" (OSFED) is for disturbances of eating behavior that causes impairment, stress, and anxiety in family and social functions but do not perfectly fit in any of the other diagnostic criteria that we've listed.
This is often due to the behavior frequency not meeting the outlined threshold. Individuals may experience behaviors or symptoms of other eating disorders, but if they do not have recurrent episodes they may not fall under those specific eating disorder types.
Disordered Eating Treatment is Available
If you or a loved one are suffering from an eating disorder, it is crucial to receive treatment to avoid further health risks.
Eating Disorder rehab centers are uniquely built to support and assist anyone that is suffering from these behaviors. They offer specialized care with skilled nurses and healthcare professionals that truly value your psychological and physical well-being.
Click here to find an eating disorder treatment facility near you.