Outsourcing nurse staffing is becoming increasingly popular in healthcare organizations.
Not only is it a level of convenience for healthcare facilities, but it is also a cost-effective way to manage staffing needs while maintaining a high level of patient experience and care.
However, choosing to outsource nurse staffing requires careful consideration of several key factors to ensure your healthcare facility benefits from this partnership.
Key Takeaways:
It is important to understand why your facility is in need of outsourcing nurse staffing, whether that be turnover, retention issues, an influx of new patients, or the current staffing shortage.

Choosing a trusted nurse staffing agency is pivotal in ensuring your healthcare facility receives high-end, licensed, and reliable nurses.

Additional considerations for outsourcing nurse staffing include the cost of nurse staffing, scheduling flexibility, skill level of nurses, client support, and nurse well-being.
Understanding Nurse Staffing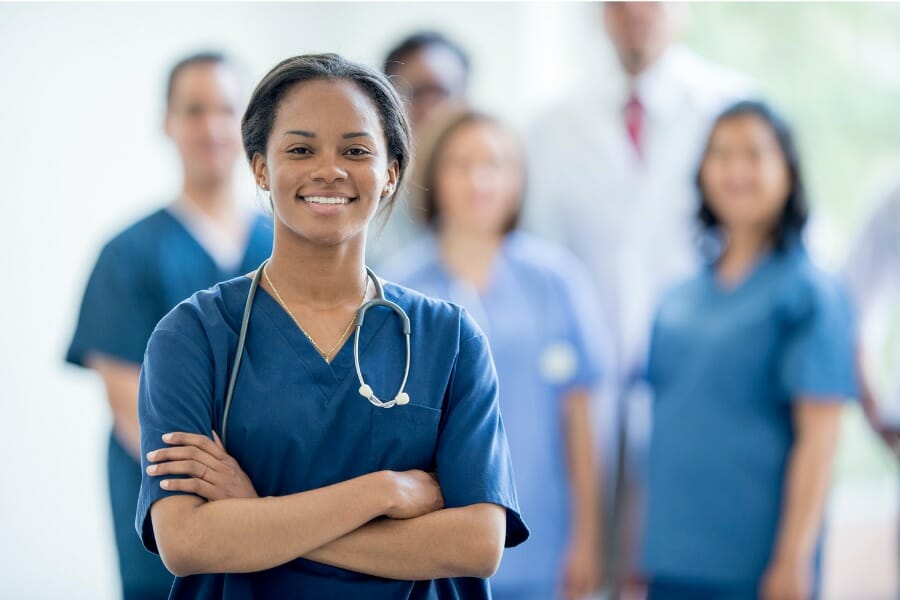 Understanding nurse staffing is crucial before beginning the outsourcing process.
Nurse staffing refers to the process of determining the appropriate number of nurses and the required skills that are needed to provide safe, effective, and efficient patient care and stay within ratios.
Appropriate staffing is critical to achieving positive patient outcomes, as well as staff satisfaction and retention.
The nursing workforce is a vital component of any healthcare system, and staffing decisions should be based on individual patient needs, stability, diagnosis severity, and required care.
Staffing plans should be developed at the unit level and always take into account the nuanced needs of patients.
The American Nurses Association (ANA) has released a set of principles for nurse staffing, which identify the major elements needed to achieve optimal staffing and enhance the delivery of safe, quality care. These principles apply to all types of nurse staffing at every practice level and in any healthcare or practice setting.
Outsourcing nurse staffing can be a complex process that requires careful consideration of various factors. 
Let's take a look at some of the key factors to consider when outsourcing nurse staffing.
1. Current Turnover Levels and Nurse Retention
Ask yourself this – why do you think your facility needs nurse staffing?
There are three main reasons that healthcare facilities feel the urge to bolster their staffing, which includes:
Significant internal turnover and difficulty with nurse retention

A high influx of new patients

A need for nurses with specialized care experience
If any of these points resonate with you, then you are making the right decision to supplement your medical facility with additional nurse staffing.
Investing in your nurse staffing and choosing high-quality nurses can lead to an increase in the quality of patient care and outcomes, which is what every healthcare provider and facility strives for.
2. The Staffing Shortage
In addition to staffing retention and turnover, one of the most significant factors affecting nurse staffing is the ongoing nursing shortage.
The shortage of qualified nurses has been a persistent issue for several years, and unfortunately, it is expected to continue into the foreseeable future.
This shortage has put pressure on healthcare organizations to find ways to maintain adequate staffing levels while facing a limited pool of qualified candidates. 
Outsourcing nurse staffing from a reputable agency with a significant pool of nursing professionals can be an effective solution to help bridge this gap.
3. Impact on Patient Care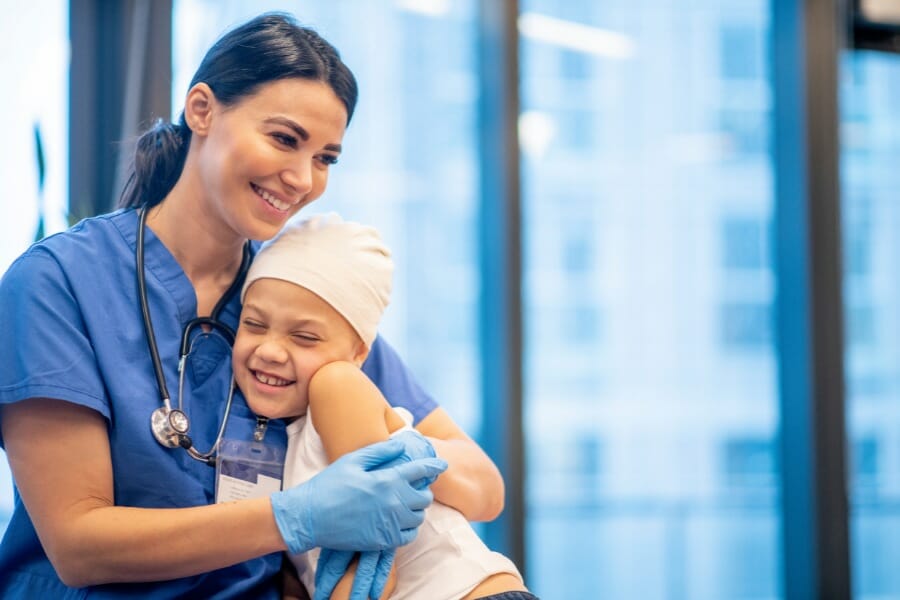 It is important to be mindful of how supplementing your facility's nurse staffing from a reliable staffing agency can impact your patient care and experience. 
Naturally, outsourcing nurse staffing can have a significant impact on the quality of patient care. These are the healthcare professionals who will be spending a large amount of time with your patients.
There are three main considerations you must have when it comes to patient care:
Patient safety
Patients require a high level of care, and any staffing changes can have a direct impact on their safety and treatment. Healthcare staffing companies must ensure that they provide qualified and experienced nurses who can deliver quality care and meet the patient's needs.
Quality of care
Patients expect to receive the best care possible, and outsourcing companies must ensure that they provide nurses who can deliver quality care. The outsourcing company must also ensure that the nurses are trained to handle patient care requirements and can provide care that meets the patient's needs.
Nuanced Care 
Patient complexity is another factor that must be considered when outsourcing nurse staffing. Patients with complex medical conditions require specialized care, and the outsourcing company must provide nurses who are trained to handle such patients.
4. A Trusted Nurse Staffing Agency
We've discussed the main reasons healthcare facilities require additional nurse staffing and how it may impact patients. 
Now, you must consider which staffing agency you will partner with.
Like any business relationship, there are a handful of identifiers to take a look at when making a decision, such as:
What type of nurses do they offer?

Does this staffing agency have positive reviews?

Are there cancellation fees or bonded contracts?

How long will it take for your healthcare facility to receive nurses?

What type of scheduling is available? Short-term contracts, long-term contracts, or both?

How is the cost and medical billing handled?
When choosing a trusted outsourcing partner, these are all very important questions to ask and consider.
5. Scheduling Flexibility and Workload Management
Sometimes you have weeks to prepare for the need to increase your staffing numbers. Other times, a specialized nurse may be an immediate need.
You need to ensure that the staffing agency you work with offers exceptional scheduling flexibility for both long-term and sudden placement needs. Be mindful of what shift lengths and placements your staffing partner offers.
If staffing scheduling is too rigid or placements are not swiftly filled, it can lead to inadequate staffing. 
Inadequate staffing levels can lead to increased workload, which can result in stress, burnout, and decreased job satisfaction among nurses.
Therefore, it is important to ensure that staffing levels are appropriate to meet the workload demands of the healthcare facility. 
6. Size of Nursing Pool
We all love options, and that rings true for nurse staffing, as well. 
It should not be the "be all end all," but when outsourcing your organization's nurse staffing you must consider their nursing pool.
The more nurses the agency has, the more likely they will be able to supply you with nurses quickly and nurses that have the required skill and experience you prefer for your patient's nuanced medical conditions.
7. Training and Skill Level of Nurses
It is important to consider the training and skill level of the nurses who will be providing care.
Your healthcare facility will dictate the type of nurse and specialized skills that are required. For a harmonious partnership, it is important that your nurse outsourcing agency has the nurse types your facility demands.
Check to see if the agency works more frequently with caregivers and CNAs or RNs and LVNs.
This matters dramatically for services, such as IV therapy and medication management, that require registered nurses.
In addition, nurses with a higher level of training and clinical experience are typically better equipped to handle complex medical situations and provide more advanced care. 
This may impact staffing rates, however, which is another factor to be mindful of.
Nursing expertise is also an important consideration when outsourcing nurse staffing. 
Outsourcing companies should have a diverse pool of nurses with expertise in various areas of nursing, such as critical care, medication management, and wound care.
This can help ensure that your healthcare facility can provide specialized care to your patients.
8. Nurse Well-being and Satisfaction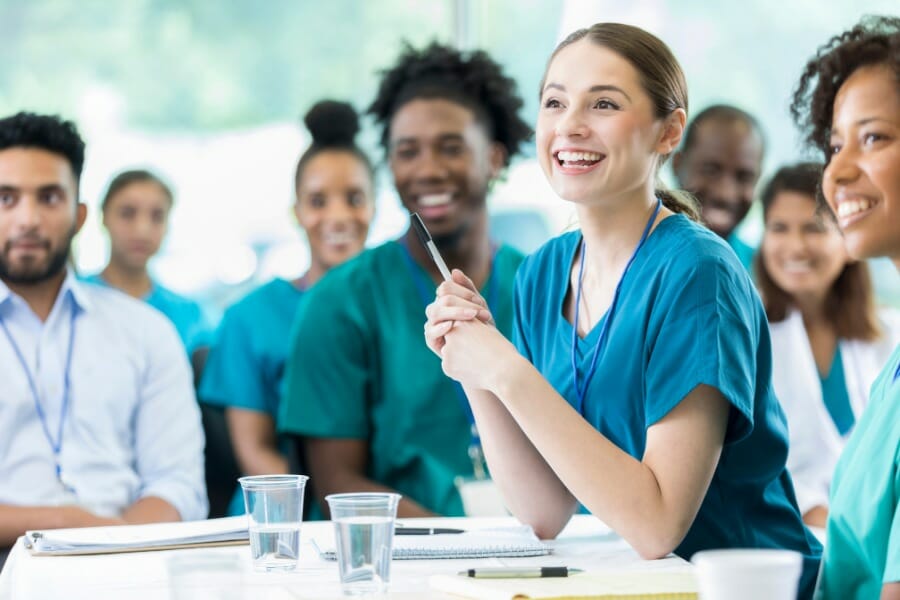 Outsourcing nurse staffing can be a strategic move for healthcare organizations to improve patient outcomes and reduce staffing costs. However, it is important to consider the impact on nurse well-being and satisfaction.
First things first, there is a great chance that implementing additional nurse staffing at your facility will alleviate some stress from your existing in-house staff.
Having another resource to pull for nurse placements will allow your staff to be able to take recommended rest periods and days off.
Nurse well-being is a critical factor in ensuring quality patient care. Burnout, moral distress, compassion fatigue, anxiety, depression, and post-traumatic stress disorder (PTSD) are common issues that threaten nurse well-being.
Secondly, you want to work with a nurse staffing agency that values its own nurses. This can be achieved by selecting agencies that offer competitive pay, benefits, and a supportive work environment.
Does the nurse staffing agency provide your facility with happy and ambitious nurses who feel respected?
Nurses who are satisfied with their work are more likely to provide quality patient care, which is a win-win for everyone involved. 
9. Cost of Outsourcing Nurses
Working directly with a nurse staffing agency can be an effective solution for healthcare facilities facing staffing shortages or even budget constraints.
However, it is important to consider the cost implications of outsourcing before making a decision.
The cost of outsourcing nurses can vary depending on several factors, including the location of the outsourcing provider and facility, the level of experience and qualifications of the nurses provided, and the length of the outsourcing contract.
If you need emergency staffing on short notice, you may end up paying a premium or rushed rate, as well.
However, by working with a nurse staffing agency and receiving reliable nurses at your facility, you are also removing the costs associated with recruiting, hiring campaigns, and all resources associated with turnover.
10. Client Support and Collaboration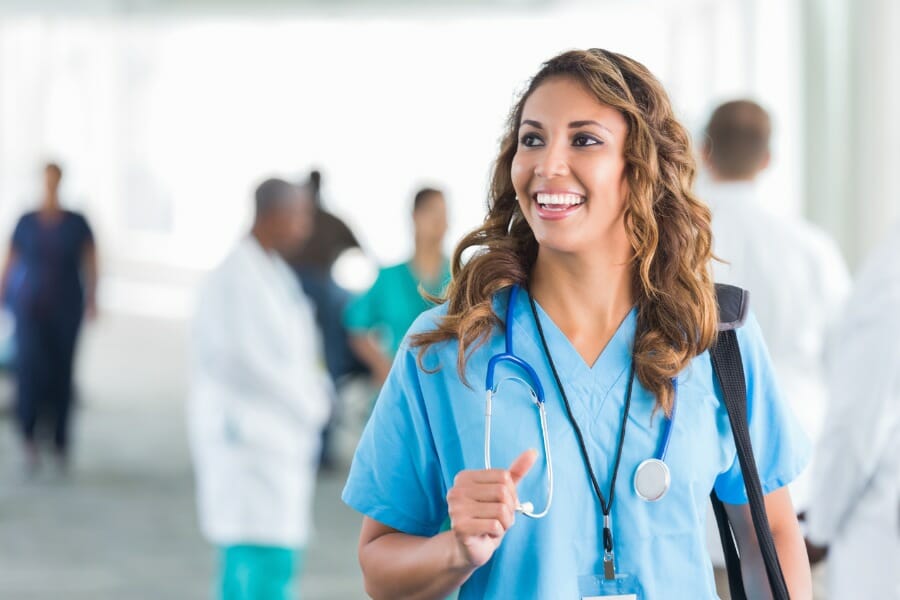 Collaboration and respect are essential when outsourcing nurse staffing. Trust is built through open communication and collaboration between the outsourcing company and the healthcare facility.
The healthcare facility must be very clear on the following information:
Location of the facility

Type of nurse required

Length of the placement

Whether it is a short-term or long-term placement

Any particular specialty skill that is required
Once this information has been presented, the nurse staffing agency should swiftly provide a nurse who matches the given criteria and stays communicative throughout the process.
If there are any concerns, such as a nurse being tardy or incompetent, it is important that the nurse staffing agency takes accountability and can remedy the situation.
Likewise, your healthcare facility should provide a safe and supportive work environment for the outsourced nurses. 
Open communication is key to ensuring collaboration and respect between the outsourcing company and the healthcare facility.
The outsourcing company should have a clear understanding of the healthcare facility's needs and expectations, and the healthcare facility should be open to feedback and suggestions from the outsourcing company.
Choose the Best Nurse Staffing Agency for Your Healthcare Facility
If you are considering supplementing your healthcare facility with additional nurse staffing, look no further than NurseRegistry. 
We are dedicated to providing the most qualified and experienced nurses to medical facilities. With over 500 nurses, we will confidently provide you with an exceptional RN or LVN/LPN to fit your specific criteria and nuanced facility.
With NurseRegistry as your main nurse staffing resource, your facility will benefit from:
Reliable, professional, and skilled RNs and LVNs/LPNs to ensure your facility always receives top talent

Flexible scheduling that is available 24/7

Swift placements, often within 48-hours for last-minute needs

Positive reviews from happy nurses and satisfied clients

A dedicated client coordination team to make the nurse staffing process as streamlined as possible and to answer any questions you may have

Absolutely zero upfront costs, hidden fees, or overtime charges
Click below to discover how NurseRegistry can become your healthcare facility's premier nurse staffing resource today.