Concierge medicine and healthcare is becoming increasingly popular. More and more people are choosing to receive exceptional healthcare at their homes or on the road with them while they travel rather than the traditional steps of visiting a medical facility.
Therefore, if you are a nurse or healthcare professional and want to open up your work schedule without losing out on pay, you may want to consider how to become a concierge nurse.
And it isn't just about the lifestyle or pay. Becoming a concierge nurse is a popular career path among registered nurses (RNs) who want to provide personalized, high-quality care to their patients.
Important to note: A concierge nurse is a healthcare professional who provides medical assistance and support to patients outside of a hospital or clinic setting.
They work with individuals, families, and businesses to provide customized healthcare services that meet their unique needs.
So, what steps can you take to become a professional concierge nurse?
To become a concierge nurse, you must first earn a nursing degree.
There are three main paths available toward earning an RN license:
1. Obtaining an associate degree in nursing
2. Earning a bachelor's degree in nursing
3. Or completing a hospital nursing program.
Once you have earned your RN license, you can pursue additional education and training in concierge nursing. This may include certification programs or continuing education courses that focus on the skills and knowledge needed to provide personalized healthcare services.
Understanding the Role of a Concierge Nurse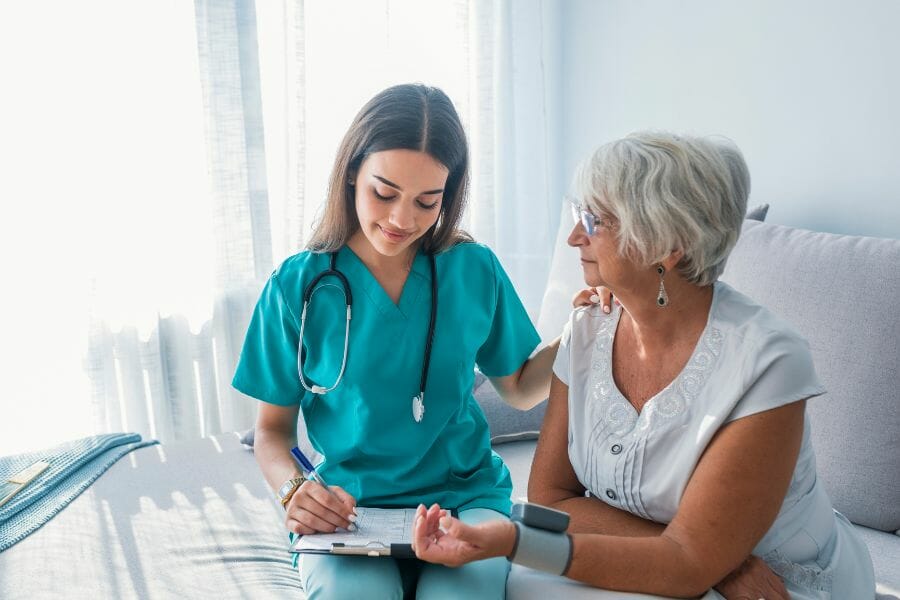 Concierge nurses are registered nurses who provide personalized and customized healthcare services to patients in a private setting.
They work independently, outside the traditional healthcare system, and offer a wide range of medical care and services tailored to meet the needs of their clients.
Let's discuss what exactly is considered a concierge nurse's responsibility.
Duties and Responsibilities
The duties and responsibilities of a concierge nurse vary depending on the needs of the patient. They can include:
Providing in-home and personalized care, including wound care, palliative care, respite care, post-operative care, medication management, and IV therapy
Coordinating with physicians, pharmacists, and other healthcare professionals to ensure that patients receive comprehensive care
Educating patients and their families on disease prevention, management, and treatment options
Advocating for patients and ensuring that their healthcare needs are met
Assisting with travel arrangements for patients who require medical attention while away from home
Providing end-of-life nursing care and support to patients and their families
Concierge Nursing Skills and Qualifications
To become a concierge nurse, you must have a nursing degree and a valid RN license. These are non-negotiables. In addition, there are a handful of skills and qualifications that you should possess if you'd like to succeed.
These include:
Strong communication and interpersonal skills to build relationships with clients and potentially their families
Ability to work independently
Excellent time management and flexibility
Your own medical equipment and supplies
Attention to detail and strong organizational skills to manage patient records and schedules
Knowledge of medical terminology, pharmacology, and disease management
Strong compassion and empathy
In summary, a concierge nurse is a medical professional who provides personalized, customized healthcare services to patients in a private setting. They work independently and offer a wide range of services tailored to meet the needs of their clients.
3 Steps to Becoming a Concierge Nurse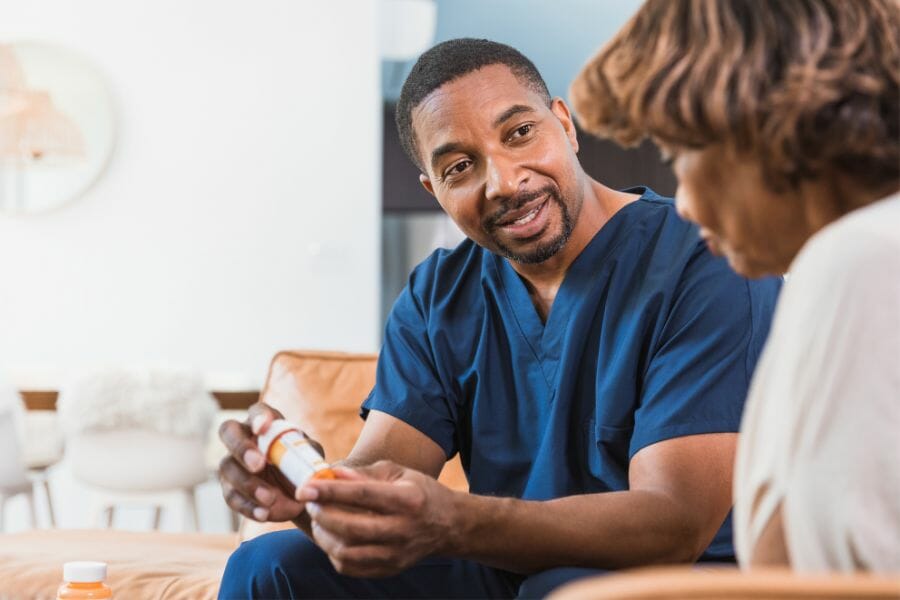 Here are the steps you must take if you'd like to begin a career in concierge nursing.
1. Obtaining the Necessary Education and Certifications
To become a concierge nurse, you must first obtain a nursing degree and become a registered nurse (RN).
There are multiple paths you may take to become an RN, including:
Obtaining an associate degree in nursing (ADN)
Earning a bachelor's degree in nursing (BSN),
Or completing a hospital nursing program.
After obtaining an RN license, nurses can pursue additional certifications to specialize in areas such as wellness coaching or health advocacy.
For example, the National Wellness Institute offers nurses a Certified Wellness Practitioner (CWP) certification.
This certificate requires completing a wellness coaching program and passing an exam.
Similarly, the Patient Advocate Certification Board offers a Certified Patient Advocate (CPA) certification, which requires completing a patient advocacy program and passing an exam.
2. Gaining Relevant Work Experience
A client is going to want a concierge nurse that has extensive relevant work experience, especially for the price most clients are willing to pay. Therefore, having a strong foundation in nursing practice and experience is critical for concierge nurses.
This may make the transition to concierge nursing a bit difficult for newer nursing professionals, but there are a multitude of ways to gain valuable experience.
RNs can gain relevant work experience by working in a variety of healthcare settings, such as hospitals, clinics, and private practices. Working in a specialty area, such as cardiology or oncology, can also provide valuable experience and knowledge.
In addition to clinical experience, concierge nursing service requires strong communication and interpersonal skills to build relationships with clients and their families.
Nurses can develop these skills by participating in professional development opportunities, such as local communication workshops, leadership training, trade shows, and networking events.
3. Building a Professional Network
Building a professional network is essential for concierge nurses to establish themselves in the healthcare industry.
Remember – working as a concierge nurse is not just showing up to a medical facility or hospital and starting your day's work. As a concierge nurse, you must establish a professional network to lead to work opportunities.
There are many professional organizations you can join and help build your network, such as the American Nurses Association or the National Association of Healthcare Advocacy Consultants. These organizations assist you in connecting with other healthcare professionals and staying up-to-date on industry trends.
Concierge nurses can also build relationships with healthcare providers, such as primary care physicians, hospitals, and healthcare specialists to establish referral networks and provide coordinated care to patients.
Additionally, we live in a time when social media is king. You might as well take advantage of it and leverage social media platforms, such as LinkedIn and Twitter, to connect with potential clients and promote your concierge services.
Overall, becoming a concierge nurse requires obtaining the necessary education and certifications, gaining relevant work experience, and building a professional network.
What is a Concierge Nurse's Salary?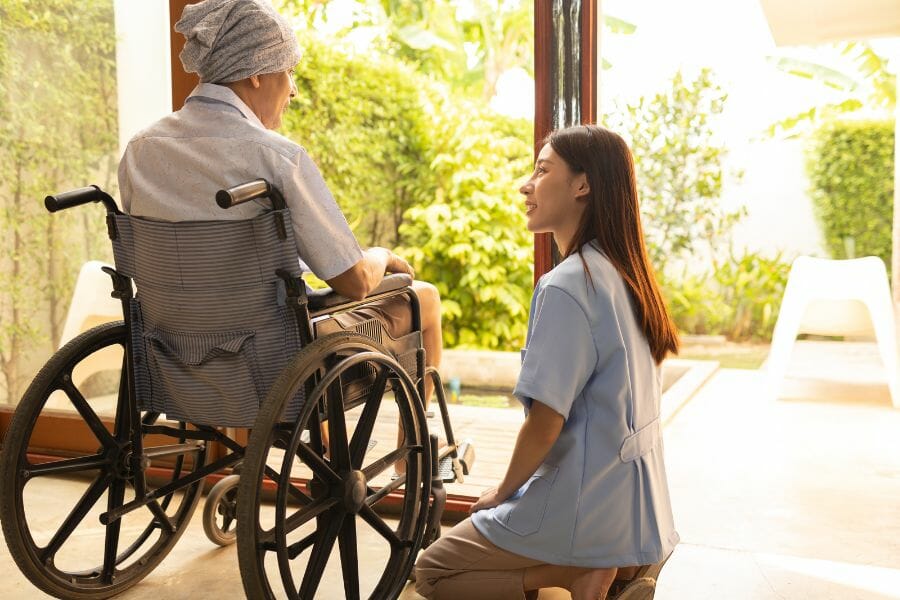 We've discussed how nurses fit in the concierge medicine industry and the steps to becoming a concierge nurse, so what is the salary outlook like?
According to Glassdoor, the estimated total pay for a Nurse Concierge in the United States area ranges anywhere from $42,947 to $81,713 per year, with an average salary of $58,204 per year as of January 2023.
However, it is important to note that the salary range varies based on where you work in the concierge nursing business. According to ZipRecruiter, the average salary of a concierge nurse in California is $67,258.
Consider a Per Diem Nursing Career
If you're taking the time to research a career in concierge nursing, there is a great chance you want the work-life balance that concierge medicine provides.
However, the stress of being completely independent and establishing your own network can be a bit daunting.
What if you could work with an agency that assisted you in finding clients while being able to dictate your own rates and schedule?
That is exactly what NurseRegistry offers you as a per diem private nurse. We are a leading nurse staffing agency in California and have countless private duty clients and opportunities.
Click below to contact NurseRegistry and discover how we can benefit your nursing career today.