While each healthcare facility has its own stressors, there is one aspect that seems to spread across every organization, company, and industry – the nursing shortage.
Without professional nurse staffing, it can be difficult to confidently accept new patients or guarantee exceptional care.
To combat this growing concern, per diem nursing has become more and more popular. 
Whether you are looking into per diem nursing for your facility or you're thinking about leaning into per diem nursing for yourself, we have all the information you need to make the best choice for you and your career.
Everything You Need to Know About Per Diem Nursing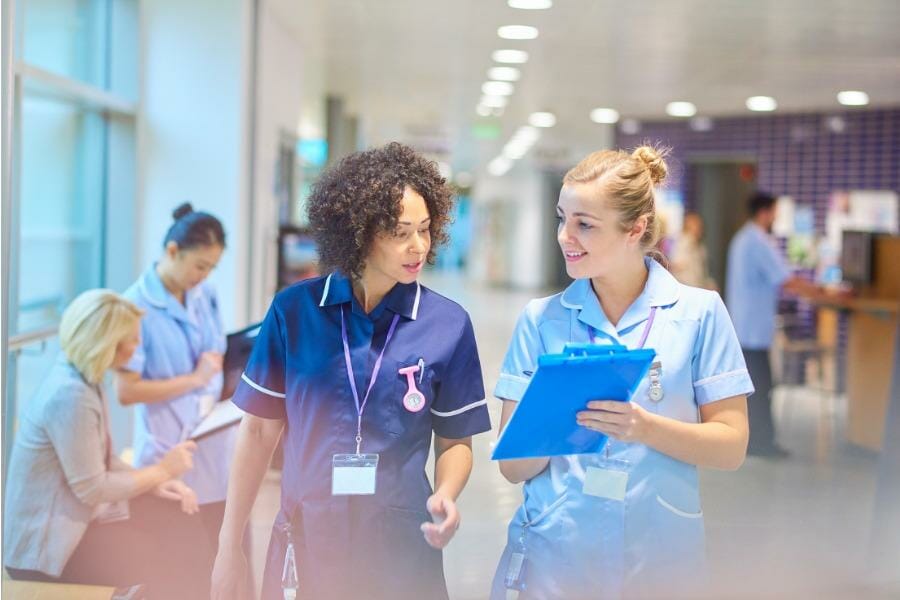 Per diem nurses have become an incredibly vital resource for healthcare facilities.
What exactly does per diem nursing mean in healthcare?
"Per diem" is Latin for, "by the day," meaning, these are nurses that are hired specifically for particular schedules and placements rather than being employed by the facility itself.
Per diem nurses work on an as-needed basis, which means they may work in multiple different locations and at multiple hospitals and healthcare facilities.
Oftentimes, their availability is provided by a staffing agency, which can then choose subsequent shifts that need coverage. Due to the critical nature of healthcare, this is typically done at the last minute.
When a facility needs a last-minute nurse, either due to incoming patients, scheduling issues, or nurse shortages, the staffing agency works with them to choose a qualified nurse that can provide coverage.
Why do per diem nurses get paid more?
Rather than being on a salary, per diem nurses' pay is tied to the number of hours that they work. Typically, per diem nurses will earn more per shift than other nurses because the shifts are often covered last minute or with less advance notice.
So, how valuable is per diem nursing, and what is it like to work as a per diem nurse?
What Does it Mean to Work "Per Diem"?
The value of per diem nurses for facilities is immense. It is the difference between having complete coverage vs. having to reject patients from a lack of nurses.
For the nurses themselves, it allows them to be like freelancer nurses that work with an agency to consistently discover great opportunities to work.
The work is typically short-term, however, that doesn't mean that more long-term shifts don't arise.
Shifts can also last from a couple of hours to intensive 24/7 care, it just depends on the per diem nurse's preferences and skills.
Where can a Per Diem Nurse Work?
Per diem nurses have many options when it comes to working environments. They may find themselves covering shifts at nursing homes, skilled nursing facilities, clinics, homes, and hospitals.
Depending on the type of facility and its requirements, per diem work can take many different forms.
The per diem nurse is likely to work in different specialties and units, based on their qualifications and what is needed by the hospital or facility. 
Examples include the emergency room (ER), labor and delivery, or staying with patients at a residential eating disorder facility.
For the facilities, it always comes down to two main reasons:
To fill existing gaps in staffing

To supplement the current full-time staff when they are experiencing periods of high demand.
This can be due to a significant influx of patients or around anticipating times when nurses that work at institutions take vacations, such as summer and the holidays. 
The need for nurses and medical care also tends to increase in the winter during the flu season.
Understanding these seasonal demands can be beneficial for per diem nurses since it's when they can expect to be busier. However, nurses are always in demand and many facilities are experiencing staffing shortages.
So, it is never a bad time to be a per diem nurse looking for work.
How is Per Diem Nursing Different From PRN Nursing?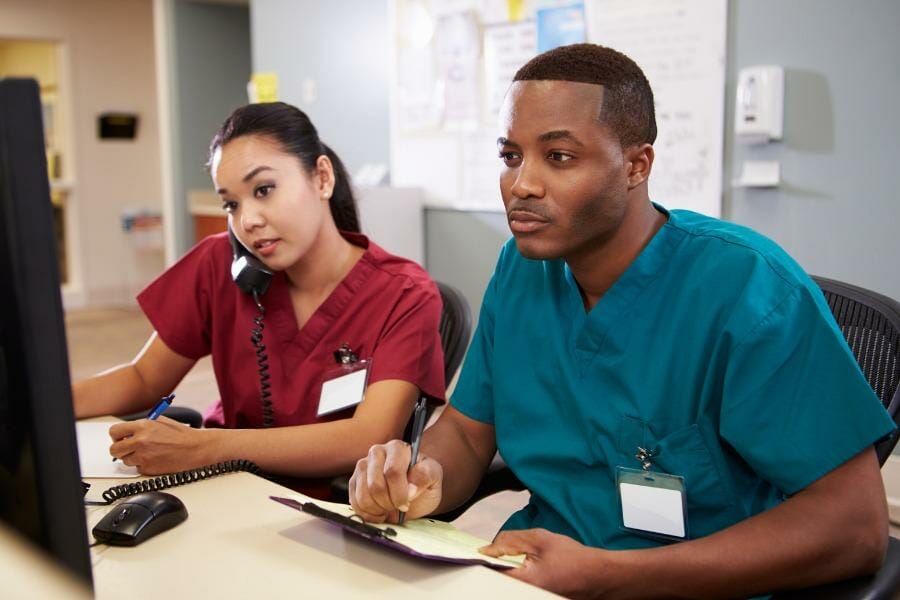 Pro re nata (PRN) nurses, a Latin phrase that translates to "as the circumstance arises," is viewed similarly to per diem nursing, but there are stark differences.
PRN nurses only work for a single healthcare facility or institution and within a single unit. On the other hand, and as we've discussed, per diem nurses are similar to freelancers and may work for multiple facilities at the same time.
This means that PRN nurses have less flexibility in their schedule than per diem nurses. Despite the lack of flexibility, PRN nurses are guaranteed a particular number of shifts. 
While it can be expected that a per diem nurse should not struggle to find shifts, they never have a guaranteed amount of work.
Another separating factor is benefits. Since PRN nurses work for a single employer, they typically receive benefits, such as health care. Per diem nurses, due to the nature of their work and bouncing between different clinics, do not.
If you're looking to get into either per diem or PRN nursing, it is important to weigh the pros and cons of each and decide which makes the most sense for your situation and needs.
What Does a Per Diem Nurse Do?
Healthcare facilities, clinics, and hospitals' needs are never confined to just a single discipline, which leaves immense opportunities for per diem nurses in a wide variety of specialties. 
This is especially true during nurse staffing shortages.
It all comes down to what shifts need to be covered and the specific qualifications of a per diem nurse. What you are qualified for varies depending on if you are a nurse practitioner, nursing assistant, LVN, or a RN.
However, the fundamental responsibilities and tasks that a per diem nurse completes are not different from a full-time, facility-employed nurse.
Per diem nurse responsibilities include:
Performing examinations

Medication management

Constructing treatment plans

IV therapy

Diagnosing and treating conditions

General nursing care

Education for patient family members

Consulting with other physicians and medical professionals.
Like full-time nurses, per diem nurses also follow doctors' orders.
Despite the way per diem nurses land their particular placements at home, hospitals, or facilities, the same type of education and training is required.
Per diem nurses must have the necessary education, hold an active nursing license, and pass a certification exam.
The Pros and Cons of Per Diem Nursing Work
A career in per diem nursing can be very rewarding and comes with many advantages.
However, that doesn't mean there aren't drawbacks. Essentially, it comes down to the individual and what you value in a nursing career.
Let's take a look at some of the pros and cons of working as a per diem nurse.
Pros of Working as a Per Diem Nurse
1. You Work When You Want to Work
You know those days when you wake up and you just don't feel like working that day? Or, if you have a big family event, wedding, or vacation trip planned and you're feeling the stress to call off?
That is never a concern when you work as a per diem nurse.
Instead, you have the ultimate flexibility to work the shifts you want to. You're never obligated to work at a particular hospital or clinic, you can pick and choose placements based on your schedule and desire to work.
This is a major pro for nurses that want the ultimate work-life balance.
2. Increased Pay
The difference in pay between being a per diem nurse and a full-time staff nurse is one of the biggest benefits.
Due to not being on a full-time payroll, a per diem nurse's hourly rate is higher. A per diem nurse is solving a major issue during a staffing and scheduling crisis. 
Therefore, the pay always reflects that.
Other factors included in the higher pay include:
Per diem nurses are not receiving benefits 

The per diem nurse is filling coverage that the facility may find critical

The shift is likely covered at the last minute, so urgency and pay increase
3. Year Long Schedule and Vacation Freedom
Everyone needs to get away for a while and enjoy some r&r. For per diem nurses, planning vacation time is a breeze.
You never have to worry about requesting PTO or marking down vacation time in advance from an employer. You have the freedom to pack your bags and travel as you'd like.
This is a very freeing feeling for per diem nurses and can have a positive impact on the mental stress that accompanies such a demanding job.
4. You Can Travel and Work at the Same Time
One major pro about working as a per diem nurse is the ability to pick up contracts and be paid to travel.
You can cover shifts anywhere you'd like, so while working and making a profit you can simultaneously be checking out new cities and states that have been on your bucket list.
Just be sure you have the proper credentials to work in the locations you'd like to visit.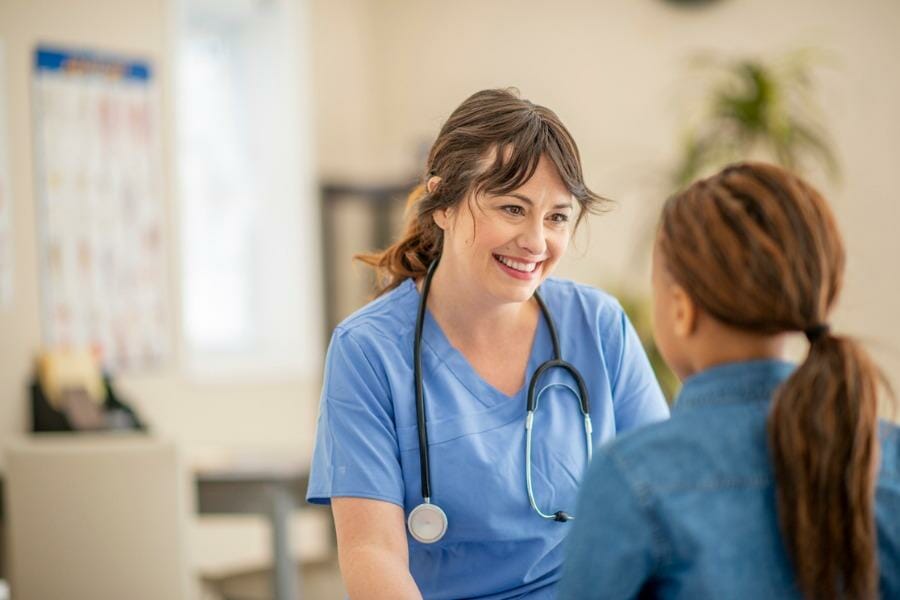 5. Working Multiple Jobs
You're never tied down to one specific hospital or facility when you're a per diem nurse.
This is beneficial for two main reasons:
You're never stuck
While the general care a nurse may provide remains the same, there are intricacies to any workplace.
You'd hate to work full-time at a clinic where you didn't like the physicians or perhaps the way they conducted their business was less than ideal. 
It can even be the commute or specific location that you're not particularly fond of.
As a per diem nurse, you get a sample of different facilities without ever having to commit to one institution. Plus, you have the freedom to choose favorable working environments once you discover the location that you prefer.
You get variety
If you are a go-getter that likes a jam-packed schedule, the freedom to stack on multiple jobs is a major benefit for per diem nurses.
This is a great way to remain flexible but add variety and increased pay.
6. Picking Up Seasonal Work for Extra Cash
Flu season, summer, and holidays provide per diem nurses the opportunity to pick up additional shifts for extra money.
Since you can work multiple jobs and have the flexibility to choose your shifts, bringing home extra cash and how many hours you work is completely up to your discretion.
More so than anything, the benefit of per diem nursing is having the ability to choose to pick up additional seasonal work.
7. You may have a decreased risk of burnout.
Nurse burnout is a very real thing for many healthcare professionals. The reality is, nursing is hard. 
You're dealing with patients in difficult, potentially life-changing conditions in high stake situations.
It's natural that this workplace intensity would take a toll on nurses.
However, per diem nurses have the ability to take significant time off and recharge. Mental health should be the utmost priority, and full-time nurses on salary sometimes don't get the time away that is needed.
8. Excellent Work-Life Balance
This has been acknowledged throughout the article, but you can't overstate how valuable per diem nursing is for work-life balance.
The peace of mind that per diem nurses have knowing that they never have to miss children's sporting events, dance recitals, school plays, or family vacations and birthdays is monumental.
Never having to choose between work obligations and family is a major pro.
Cons of Per Diem Nursing
1. No Guaranteed Pay
While it is safe to say the demand for efficient and highly qualified nurses will never run out, there is the notion that a per diem nurse will never have that guaranteed paycheck.
That doesn't mean that the opportunity for pay is worse than a full-time, salaried nurse, it just means you have to stay on top of your schedule and jump on different shift opportunities.
It is like looking at a freelancer vs. someone working 9-5. One isn't necessarily better or worse than the other. Depending on what you need and your values, you can find happiness and success in both working styles.
2. Per Diem Nurses Often Get Floated to Other Units First
Per diem nurses are almost always the first to be floated to other units in the facility.
Some nurses may find this frustrating because you can never fully get your feet under you or get into a groove with the constant change.
Jumping from unit to unit in a single shift is certainly less than ideal, but it's important to remember you are there at the facility to fill specific needs and requirements—and that your work is important
3. No Paid Vacation Time.
Sure, you can travel to different locations based on different shifts that you pick up, but a per diem nurse will never receive the benefit of paid vacation time.
This goes back to the understanding that a per diem nurse works as a freelancer. You have the benefit of being able to work for multiple institutions based on your schedule preferences rather than being all-in on one facility as a full-time nurse with benefits and paid vacation.
Per diem nurses are only paid for the agreed-upon number of hours.
How to Begin Per Diem Nursing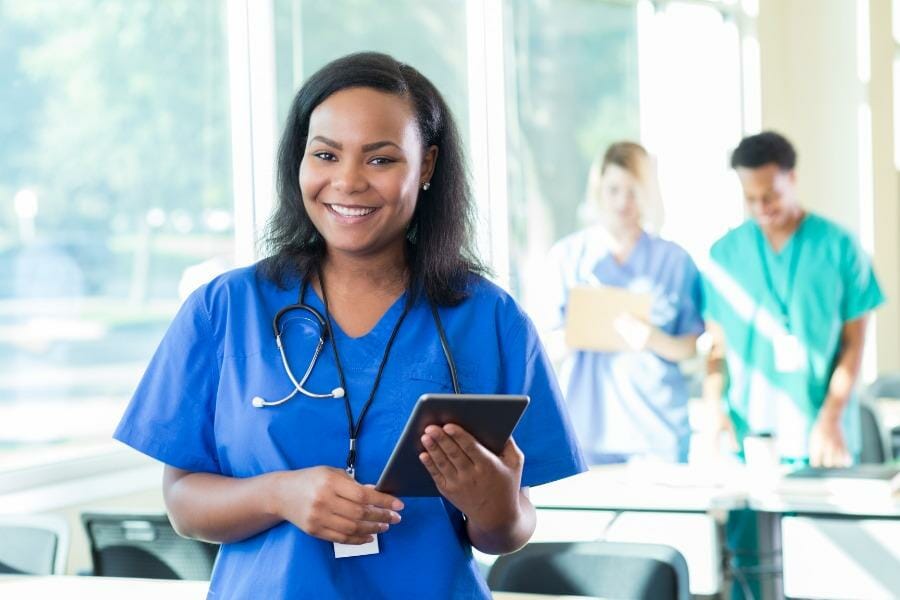 To begin the process of becoming a per diem nurse in general, here are some steps you need to take:
You need to become a Certified Nursing Assistant (CNA), a Licensed Practical Nurse/Licensed Vocational Nurse (LPN/LVN), or a Registered Nurse (RN)

Apply for a state license

Connect with a local agency to discover how they assist per diem nurses and what opportunities are available
If you are an RN or an LVN in California, NurseRegistry provides exceptional opportunities for per diem nurses. 
We have strong relationships with countless facilities and institutions in the state, along with multiple VIP clients that prefer private home nursing.
NurseRegistry is the West Coast's leading nurse staffing agency and allows you to create your own schedule, set your own rates, and pick the placements you prefer.
In addition to all of that, we have an in-house coordination team to help you get the shifts you need (and want).
If that sounds beneficial to you and your per diem nursing career, click below to begin the application process with NurseRegistry today.