Alzheimer's disease can be one of the most distressing conditions to watch a loved one experience. Figuring out how to best support your loved one with Alzheimer's as a caregiver can be even more difficult. Understanding the biology of the disease and knowing the basics of care for different stages of Alzheimer's can help to alleviate the stress of providing care.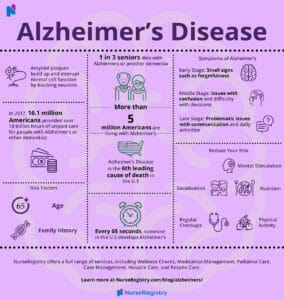 Click here to enlarge infographic.
Alzheimer's disease is caused by brain cell death, ultimately causing brain shrinkage as brain cells and the connections between them collapse (Macgill). Alzheimer's afflicts 5.3 million Americans, yet there is no cure and no approved treatment to slow the progression of the disease (Macgill). Because Alzheimer's disease is marked with memory loss and increased inability to perform day-to-day tasks, there is great need for conscientious caregiving, particularly for those with moderate to severe Alzheimer's.
Alzheimer's disease is commonly divided into three stages: mild, moderate, and severe. You may also see these stages characterized as early, middle, and late stage, respectively. Because the behaviors associated with each stage varies dramatically, the recommended care for each stage is different.
Mild Alzheimer's Care
Although not every person experiences the same symptoms in early stage Alzheimer's, the National Health Institute (NIH) states that people commonly have trouble with directions, repeat questions, take longer to complete daily tasks, misplace things, or have moderate personality changes (National Institute of Health). The Alzheimer's Association has provided the following recommendations for those caring for someone with mild Alzheimer's :
Start your caregiving by finding the right balance of independence for your loved one. At this stage, your loved one may still be able to work and perform some daily tasks, but it is important to communicate directly how you will support your loved one during difficult situations.
Prioritize your loved one's safety when approaching an unfamiliar situation. Ask yourself whether completing this task poses any immediate danger to your loved one, and proceed with supervision.
Emphasize clear communication; check up with your loved one on the level of support they feel that they need.
Give your loved one the benefit of the doubt on completing tasks to maximize their independence.
Tasks such as managing medications, grocery shopping, and remembering appointments may become difficult for your loved one at this time. Offer help and support to surmount these challenges.
Moderate Alzheimer's Care
Moderate Alzheimer's is mostly commonly characterized by increased memory loss or confusion, difficulty recognizing friends and family, problems with unfamiliar situations, or delusions and hallucinations (NIH). Consequently, people with middle stage Alzheimer's require more attention and care than those with mild Alzheimer's. The Alzheimer's Association provides the following suggestions for caring for someone with moderate Alzheimer's:
As your loved one's dementia progresses, they may struggle more with communication and basic, day-to-day tasks. It is most important to remain patient and flexible with your loved one in this challenging time.
When your loved one expresses a problem to you, try to respond to the emotion before the problem. Your loved one may just need emotional reassurance.
Try to speak slowly and clearly to your loved one if they begin to have trouble with following conversation or expressing their thoughts.
Develop a daily plan or routine for your loved one to follow. This strategy can help incorporate meaningful activities and regulate activities like eating and dressing that may become more difficult as Alzheimer's progresses.
Again, your loved one's safety remains the paramount priority, and during this stage it may become unsafe for your loved one to live alone or drive. Make sure to monitor your loved one's condition to prevent dangerous wandering or driving situations.
Severe Alzheimer's Care
In its final stage, Alzheimer's renders people dependent on their caregivers, and serious symptoms emerge such as weight loss, seizures, loss of communication, and inability to recognize those closest to them (NIH). In these trying times, family and friends can face the most difficult caregiving decisions and will need to provide the highest degree of supervision and care. The Alzheimer's Association provides the following recommendations for caring for a loved one with late stage Alzheimer's:
In late stages, your role as a caregiver revolves around preserving dignity and quality of life. Communicate your caring through sensory enrichment, such as playing their favorite music or reading favorite books aloud.
Make decisions about late-stage care with your loved one's close family and friends. Research different options, such as a live-in care facility or hospice, and ultimately decide what option works best for your situation.
Monitor your loved one's eating; try supplementing meals with plenty fluids and encourage self-feeding when possible.
Your loved one may have difficulty with bowel movements and need assistance using the restroom. To increase regularity of restroom use, keep a bathroom schedule of when your loved one uses the restroom and try to limit liquids two hours before bedtime.
Because those with late stage Alzheimer's may become bedridden, it is important to maintain skin and joint health. Assist your loved one with bathing, and improve circulation by changing your loved one's position every two hours.
Losing the ability to communicate also means that your loved one cannot communicate when they are in pain. Look for physical signs of pain or behavioral changes that may signal pain.
Having  a loved one suffer from Alzheimer's can be incredibly difficult, and a heavy responsibility falls on the  sole caregiver. A registered nurse can offer expertise and ease the challenge of caregiving.
Click here to learn more about NurseRegistry's at home care services.
How to Communicate with a Loved One Who Has Alzheimer's
Reports estimate that over 106 million people will have Alzheimer's disease by 2050. As the number rises over the years, it is more important now than ever before that family members, friends, and healthcare professionals are educated on the effects of Alzheimer's and how to interact with people living with the disease. Alzheimer's affects an individual's ability to communicate effectively; the person may have difficulty finding the right words, may make up new words, or repeat the same word, among other difficulties. We have put together the following 7 tips to help you communicate effectively with a loved one living with Alzheimer's or other form of dementia.
Minimize distractions. Create a distraction-free environment by eliminating external stimuli, allowing your loved one to focus on the conversation at hand. For example, turn off the television, radio, or other sounds that may be distracting before proceeding with the next discussion or activity.
Use short, simple sentences. One study found that speaking in simple sentences can be an effective communication strategy. Allow your loved one the time to process their thoughts by speaking in short, direct sentences.
Ask one question at a time. Allow your loved one to answer one question before asking another question. Individuals with Alzheimer's or dementia need to process one thought before attempting to answer another question. Try to avoid any question starting with "why", as it may be too complicated and may cause frustration.
Use visual cues and make eye contact. Keep your loved one's attention by smiling, pointing to objects, keeping eye contact, and using a simple touch to keep the person engaged. Effective communication involves verbal and non-verbal cues. When making eye contact, make sure you are at the same level and use their name to capture their full attention.
Be positive. Turn negatives into positives; say "let's go here" instead of "don't go there". Being positive will encourage a calm environment and reduce chaos. Along the same lines, avoid arguing, criticizing, or correcting your loved one. These actions will provoke anger; instead, try to find meaning in what he or she says.
Don't say "remember". Your loved one may have difficulty recalling memories, so asking them to remember things will put them on the spot and cause frustration, anger, or embarrassment.
Be patient, respectful, and kind. Above all, practice patience with your loved one. Speak calmly and slowly, and let him or her know that it is okay if they are having difficulty communicating. Encourage them to continue explaining their thoughts, and appreciate the moments that you have together.
Communication may become increasingly challenging as the disease progresses. Remember that your loved one may be frustrated with the changes they are experiencing, and continue to practice these tips to help improve your communication with them and create a caring environment.
For more resources on Alzheimer's and ways to communicate with your loved ones, contact your local Alzheimer's Association chapter.
Additional Information
If you want to learn more about the intricacies of Alzheimer's or want more information on providing care, the following websites are excellent supportive resources:
www.nia.nih.gov/alzheimers
References
Macgill, Markus. "Alzheimer's Disease: Causes, Symptoms, and Treatments."Medical News Today. MediLexicon International, 29 Apr. 2016. Web. 19 Sept. 2016.
"About Alzheimer's Disease: Symptoms." National Institute on Aging. U.S. Department of Health and Human Services, n.d. Web. 19 Sept. 2016.
"Stages and Behaviors." Alzheimer's Association. N.p., 2016. Web. 20 Sept. 2016.