Pancreatic cancer is the third leading cause of cancer-related death in men and women. According to the American Cancer Society, it is predicted that 55,440 adults in the United States will be diagnosed with pancreatic cancer this year alone. As of now, the 5-year survival rate is 8 percent. Without a specific diagnostic test, pancreatic cancer can be difficult to diagnose.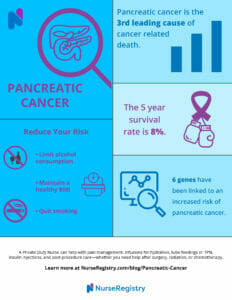 The pancreas, an organ in the body that is located behind the stomach, helps with digestion and controls the metabolism of sugars throughout the body. It is comprised of exocrine and endocrine cells. The exocrine cells make up the exocrine glands and ducts. The endocrine cells make up smaller portions of the pancreas, such as islets. These islets create and release much-needed hormones—like glucagon and insulin—to help control blood sugar percentages.
Pancreatic cancer begins when the cells located in the pancreas grow at an enormously unusual rate. Much is known about pancreatic cancer, yet the illness in often diagnosed later in an individual's life. The illness spreads very quickly to other parts of the body, and the prognosis can be difficult for medical professionals to determine.
Symptoms
During the early stages of pancreatic cancer, there are no obvious symptoms. Symptoms will show only in the later stages. A few examples are weight loss and lack of appetite; however, they are difficult to relate to the illness. Individuals with pancreatic cancer may experience pain in the middle back or abdomen areas. Some other signs are dark urine or yellow skin and eyes.
Current Diagnosis
Pancreatic cancer is mainly diagnosed with the use of magnetic resonance imaging, computed tomography scans, endoscopic ultrasound, laparoscopy and biopsy. Yet, these test are not perfect and may miss small lesions and pre-cancers. There is not a specific tool used by medical professionals to detect the illness in the early stages. Early screening methods using a combination of tools are highly important for individuals with known pancreatic cancer in their family.
What about all the individuals who don't have a family history of pancreatic cancer? Recently, a team discovered gene mutations linked to pancreatic cancer in people with and without a family history of the disease.
Over 3000 pancreatic cancer patients were seen for genetic testing at the Mayo Clinic over a sixteen year period. Twenty one cancer genes stood out to researchers; these were compared to genetic tests of nearly 125,000 patients without any sort of cancer.
They found six gene mutations related to an increased risk of pancreatic cancer. These mutations provide medical professionals and patients with a better estimate on the amount of cancer risk associated with each individual gene.
It's important to note that researchers discovered the genetic mutations in individuals without a prior family history of pancreatic cancer. The genetic mutations were discovered in 5.5 percent of all individuals with pancreatic cancer, which includes those with and those without a family history of the disease. In pancreatic patients without a family history, 5.2 percent had the genetic mutations as well—a statistically significant number.
Fergus Couch, senior author for this study, says,
"This study provides the most comprehensive data to date supporting genetic testing for all pancreatic cancer patients
." 
Tweet this
Gloria Peterson, researcher and senior author for the Mayo Clinic, believes genetic testing should be performed on all patients, rather than just the ones with a family history of pancreatic cancer, which is the current standard of care. In the future, genetic testing will allow for an easier and earlier diagnosis of pancreatic cancer than the methods currently used by medical professionals.
If you or a loved one has received a pancreatic cancer diagnosis, learn how a private duty nurse from NurseRegistry can help. Our full list of services is available on our private care page.
Resources
Find out more about the research study at Medical Press.
Mayoclinic.org offers many resources and information about pancreatic cancer.
American Cancer Society is another great resource for pancreatic cancer.
The Pancreatic Cancer Action Network provides useful information about pancreatic cancer.
Disclaimer: The information provided in this article is not intended to diagnose health problems or take the place of professional medical advice or care you receive from a health care provider. A pancreatic cancer diagnosis must be confirmed with a licensed medical professional. Always consult your health care provider about symptoms, health problems, medications, and treatment.
Written by Jesse Rio